As we explained last week, hotels' direct sales are experiencing a sweet moment, as their quotas are growing and they are turning into one of the sector's most important channels.
NB: This is an article from mirai, one of our Expert Partners
Now that it seems the pandemic is starting to recede and economic recovery is well underway, certain questions arise: How many of the things that changed will remain a part of so-called "normality"? How much of it will become permanent? And what is perhaps the most relevant question: What must hoteliers do to consolidate these direct sales quotas without affecting the recovery of their total revenue? Let's dive right in.
Subscribe to our weekly newsletter and stay up to date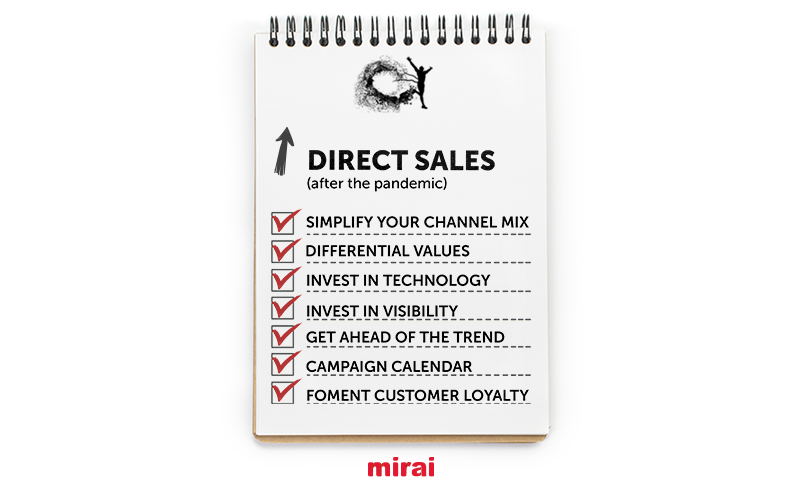 Why will part of this change be permanent?
Many are the reasons that lead us to think that several temporary changes implemented throughout the pandemic will go on to become permanent structural features.
The largest digital transformation in history
In only 18 months we have jumped forward about 10 years in digitisation, especially with regards to not being afraid to shop online. We now buy everything online, something we used to think was insane. This is backed up by the 2020 data of the largest businesses in the world. Will consumers go back to their previous habits having learned the lesson? It doesn't look likely.
Mobile phone use has skyrocketed further
Our data confirm that hotel website consumption from mobile phone devices has skyrocketed, often accounting for 70% of a website's total traffic (it's worth noting that this figure varies wildly depending on the country of origin and average age of the clients).
2020 saw the largest increase of bookings made from mobile phones, 43% more than in 2019. That figure has continued to grow in 2021, though at a slower rhythm. In absolute terms, there are now hotels with up to 60% of their sales coming from mobile phones. Again, this number varies depending on each hotel's client profile, their country of origin and age.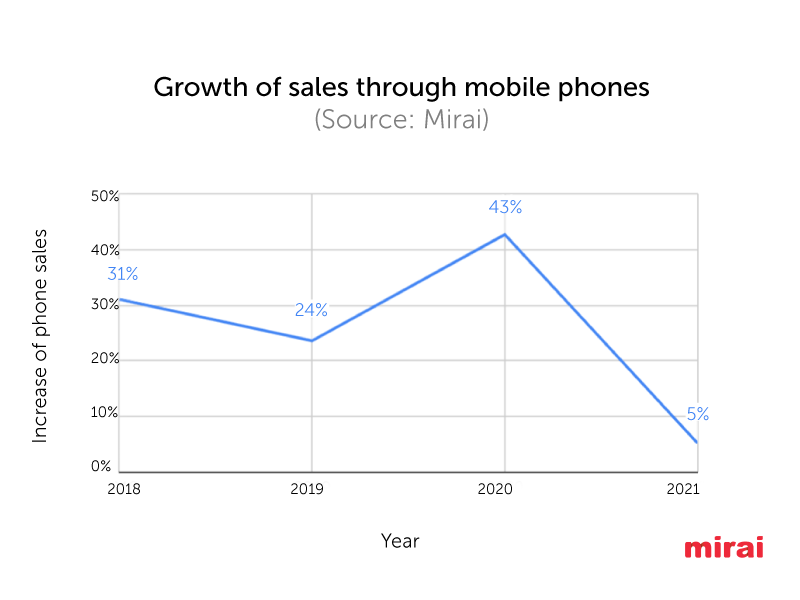 Many users have discovered direct channels for the first time
And they have understood that it is a valid and safe alternative that more often than not has added value. This was inconceivable only 18 months ago. Many of these users will consider booking through direct channels from now on.
Likewise, many hoteliers have also discovered the power of their direct channel
Having seen that it works and yields results, they have started to focus more decidedly on this strategy. Investing more in marketing and providing better conditions than OTA's are only a couple of examples of actions that many hotels were until recently afraid to do.
Travel agencies will not recover quickly
A travel agency is a business that needs lots of travellers in order to carry out its operations and routes. Few have the financial means to do this, and many will probably never open again or, if they do, they will be considerably smaller. In any case, the gaps in the market they might have left will probably be filled up by other newer travel agencies, but part of their overall share loss is now irretrievable.
Furthermore, they also face the risk of airlines taking over routes previously run by travel agencies, making it even more difficult for their operations to return to normal.
Permanent closure of wholesalers and physical agencies
This past year and a half of crisis has been dramatic for many small and medium businesses, which were forced to close and were thus unable to sell. Unfortunately, many agencies will never open their doors again insofar as physical establishments. Those that remain will conduct sales online. Again, a large part of the demand has migrated from the offline to the online world, where direct sales can compete and even increase a business's sales quota if done well.
Many hotels remember the foul play of intermediaries (not paying or unilaterally changing cancellation policies) when they showed their bitter side. The truth is, whether we like it or not, when intermediaries must choose between their clients and the hotels they represent, they will always turn their back on hotels. This is well known, but never had it been more apparent. Though now many Genius hotels are offering mobile discounts to OTA's (which is completely absurd), the moment the situation stabilises, many hoteliers won't hesitate to stop working with or reduce their dependence on the intermediaries they can do without.
More direct channel visibility on Google through Hotel Ads
Google's free booking links, which are free links within the Hotel Ads module, have given an extra boost to hotel direct channels with an increase of 0.84% to 4.32% in direct sales.
Action plan to maintain or even increase your direct sales quota once the pandemic is behind us
When borders reopen, restrictions end and demand grows in all sectors… many of the reasons which led online shopping and, specifically, direct channel sales to do so well over the last year and a half will disappear.
Though that day hasn't yet come, we are certainly heading in that direction, and let's face it: if you don't do anything to avoid it, your direct sales quota will drop – even if your overall volume will not.
Below is an action plan to help you make sure this doesn't happen or happens to a lesser extent. In some cases, it will even help your quota to continue to grow.
Simplify your channel mix. When it comes to distribution, less is more.
You now have a unique opportunity to get rid of channels that you don't need, are distracting and can even create disparities. The fact that a channel brings in sales doesn't necessarily imply that these sales are incremental. In fact, they usually aren't. Forget about the myth of "the more channels the better" or "there is room for all". Here is some advice on how to get rid of superfluous channels:
Those that mostly only sell you during the high season and not as much during the rest of the year.
Those that don't provide incremental sales but always the same clients you would have found anyway through different channels.
Those that target clients in very specific markets you could easily reach by your own means.
Those that have caused you disparity problems, especially bed banks.
Those that have left you with a very low net average price compared to the other channels (due to low average sales price or high price).
Those that don't provide information about the guests who book a stay: where they are coming from, whether they use a mobile phone or whether they paid by card or PayPal.
The truth is that in 2021 you can concentrate your entire direct sales efforts in 2 or 3 OTA's (the most important ones) and your direct channel. You don't need much help from B2Bs for the online world. They are helpful in the offline world of retailers and businesses, but that world, I'm afraid, is becoming increasingly smaller.
Define and implement some well-defined differential values in your direct channel
Provide a clear answer to the following question for your clients: "Why should I book through your website?" Avoid trite unimpactful expressions like "best price guaranteed" or "direct payment" and persuade your client with perks with real value, for instance, something as relevant as including COVID tests or medical insurances in the price. In any case, remember that for most it is less risky to book a stay at your hotel through Booking.com or Expedia than through your website. What will you give me in exchange for booking through your site?
Emphasise the price as a differential value as it continues to be the most powerful and effective lever for persuading your client to book through your site. You can offer this best price directly to the general public or fence it off with a loyalty club. And it is completely compatible with your strategies for gaining visibility in OTA's using multiple Genius or mobile discounts. Gain visibility there, but always offer the best price through your website. To do the contrary would be a strategic mistake.
Invest in the best technology
It might sound obvious, and we aren't going to explore the matter in depth, but make sure your website looks professional, is in every necessary language and has the right content. The same goes for your booking engine: it must be good, practical and geared towards conversion (simple, direct, safe, facilitating internationalisation, etc.). When it comes to technology, what's cheap at first will cost you a lot in the long run. Choose a good product because you will always get more value for money as time goes by. At Mirai we can help you find and manage the technology you need to sell directly.
Invest in visibility and direct as much qualified traffic as possible towards your website
Online marketing will be an essential part of your direct channel strategy. Take advantage of the times we are living in and relaunch or launch online marketing campaigns to attract quality visits to your website. Especially now that cancellation levels seem to have stabilised, which is key for CPC (cost per click) investments.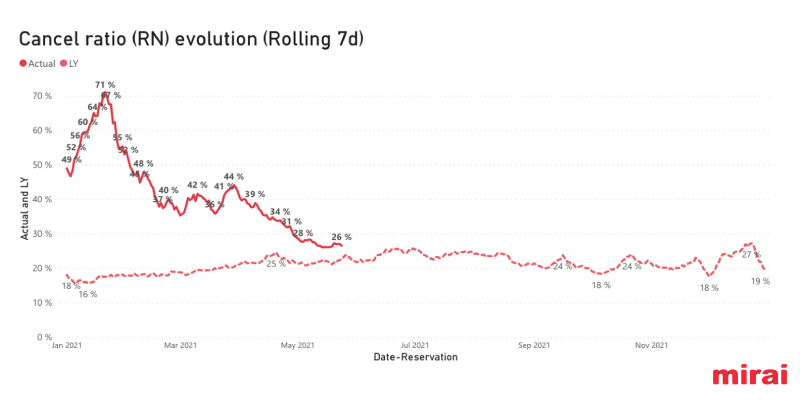 You should always start by the lowest part of the funnel and move upwards from there. Activities having to do with brand protection are the most profitable and the ones you must make sure are always active to not miss a single opportunity, as your goal is to capture your present demand. To that end, it is essential you activate brand campaigns on Google and Bing Ads, as well as on metasearch engines, of course.
Also, if you have a good web traffic volume, you should activate remarketing campaigns targeted at those users who have visited your website but didn't end up booking.
Email marketing deserves special mention. Maintaining a good relationship with your database is key. Carefully define and plan the campaigns and commercial messages you want to send them. This channel usually generates favourable results.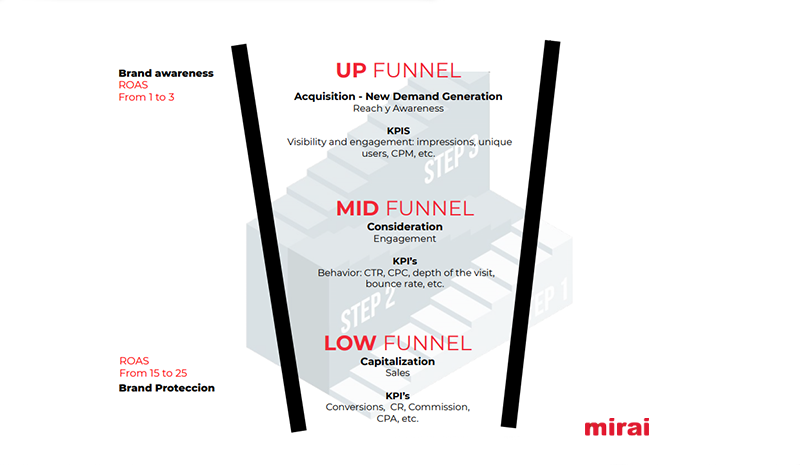 Once you have started to address this aspect, invest further up the funnel where you will access more volume but with lower profitability. You will reach users who want to travel and are currently making plans. You will move on to actions such as visibility through generic or long-tail keyword searches on Google Ads; Google Property Promotion Ads or prospecting actions on Google's Display network on qualified audiences; or paid social, especially through Facebook or Instagram, whose performance has dramatically increased.
Pinpoint trend changes and get ahead of the game
The recovery is going to be gradual and will vary depending on where travellers come from and where they are travelling to. In order to analyse the situation, it is essential that you have the data and a good Business Intelligence (BI) tool to alert you about the changes in trends so you can get ahead of the game reactivating your marketing campaigns with a focus on those markets. The following example shows the change in pickup experienced in the market of Germans travelling to Barcelona over the last few weeks.
There are many key dates on which you can plan special actions beyond Black Friday. These are dates on which you can take the initiative and not depend on the OTA's doing it for you. Reach out to your clients (email marketing), offer them something special and unique by booking directly through your site, create new sales and this way educate your clients. Tactical campaigns help you slowly increase your quota in a more discreet manner.
All it takes is ideas, a landing page on your website to which you can redirect your guests, a well-done booking engine and an email marketing tool or service. With 6-8 tactical campaigns a year you have a lot to win and maintain.
There is no doubt about it: customer loyalty is the underlying end-game of all the other goals we've mentioned, and the one you most want to imprint on your team's DNA. Customer loyalty means not having to fight for another sale in the future. But it's not only a matter of making guests repeat a stay; they must repeat using your direct channel. The hotels with the highest rates of repetition always have higher direct sales quotas. At that point, most of the work is done.
Getting your guests to return and book directly through your site greatly boosts your profitability, helps you create a sustainable model that doesn't rely on intermediation and enables you to crawl out of the crisis we are living through much sooner. The advantages are endless.
Another great advantage of customer loyalty is that it lets you to be more aggressive and invest more money in the first sale, going above and beyond a 50% commission. If you get your guests to come back 3 or 4 times over the next few years, this cost will quickly spread out over time.
And working on achieving customer loyalty from the get-go is not that hard. All you need is a clear added value proposal (see above), to create a bond with your guests and to keep that relationship alive over time with more valuable proposals (not spam). That is why it is so important that you have a loyalty club in your direct channel (at Mirai we can also help you with the club integrated in our booking engine) allowing you to successfully carry out all the actions we have mentioned earlier.
Conclusion
Ensuring your direct sales maintain their quota is in your hands – more so than your think. If you don't do anything and wait for everything to go back to "normal", OTA's will be the ones to exploit the many changes that have come to stay. However, if you analyse your hotel, understand the dynamics that have changed in your segmentation and channel mix, you will find many opportunities to exploit and not only maintain your direct sales quota but also make it grow further.