Do you know how to take advantage of this remarkable occasion?
NB: This is an article from The Hotels Network, one of our Expert Partners
Picture this: flashy sale signs around shop windows and people eagerly waiting in very long lines before opening hours in the hope of getting their hands on highly discounted doorbusters. Seems crazy, huh? This is the Black Friday frenzy.
Subscribe to our weekly newsletter and stay up to date
With its roots in the day after Thanksgiving, Black Friday has evolved into a global shopping phenomenon, and it's no longer just a Friday – it now typically runs for several weeks. The one thing that remains consistent, however, is the expectation of discounts, very big discounts, whether customers are buying retail or travel related items during this period.
Last year, we published a Black Friday report showing the impact on hotel bookings, where we observed a 47% jump in campaign conversions and a 58% increase in direct revenue. This unique opportunity comes around just once a year so now is the time to put your 2021 campaign plan in place. To help your team strategize to drive higher conversions and generate more revenue during this upcoming Black Friday, we have collected several compelling hotel campaigns and best practices to share with you.
1. Attracting subscribers with a pre-Black Friday campaign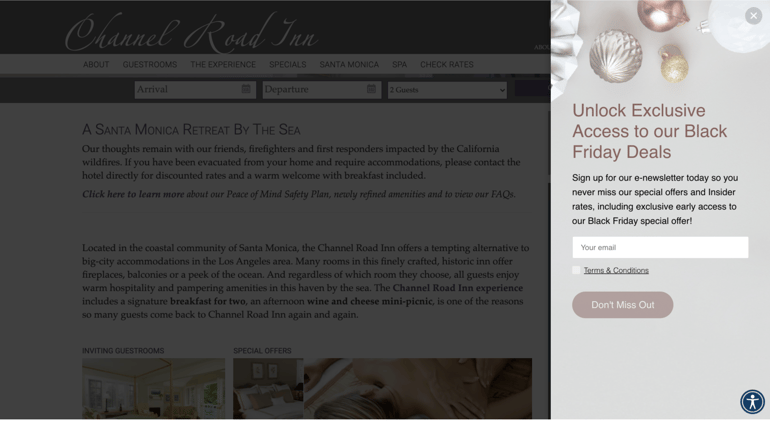 Welcome Layer with integrated email capture
Channel Road Inn, a charming 4-star hotel located right next to Santa Monica beach, really knows how to make the most out of Black Friday. While most hotels slash their prices during Black Friday season at the last minute, the property has decided to start building interest around their upcoming offers a few months prior to the event.
It's all about sparking the interest of website visitors. By communicating the promise of exclusive offers across their hotel website and including an email capture tool, the hotel is tempting potential guests with something hard to resist and encouraging them to leave their email address to unlock these irresistible deals. This initiative helps the hotel to not only grow their marketing database, but also provides them with a fantastic opportunity to launch a targeted Black Friday email campaign towards these members when the date approaches.
What's more, by showing the message during a longer period of time, the property is able to reach a wider audience with their Black Friday campaign and ensure that their message is not lost among the multitude of deals and offers vying for the attention of visitors during the Black Friday sale.
2. Creating excitement with limited-time offers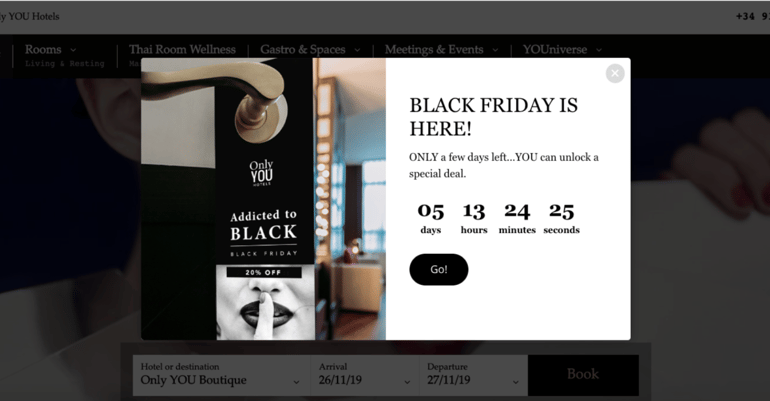 Welcome Layer with integrated countdown clock
Only YOU is a distinctive hotel brand that designs a new way of traveling inspired by the local and human connection where each hotel turns into a reflection of its environment. The group manages to convey this message extremely well throughout their marketing campaigns, portraying a consistently strong brand image.
As a client of THN, Only YOU uses a variety of our tools to personalize the experience on their hotel website to improve user engagement. One tactic that has worked particularly well for them each Black Friday is using a countdown clock. By creating a sense of urgency in this way, you can make it clear that your hotel's Black Friday offers are time limited, making visitors feel the need to book now so they don't miss out on a great deal (the infamous FOMO). This practice has been proven to be extremely effective across many of our hotel clients, generating instant reservations and guaranteeing additional direct revenue.
3. Using social media to boost awareness of your campaigns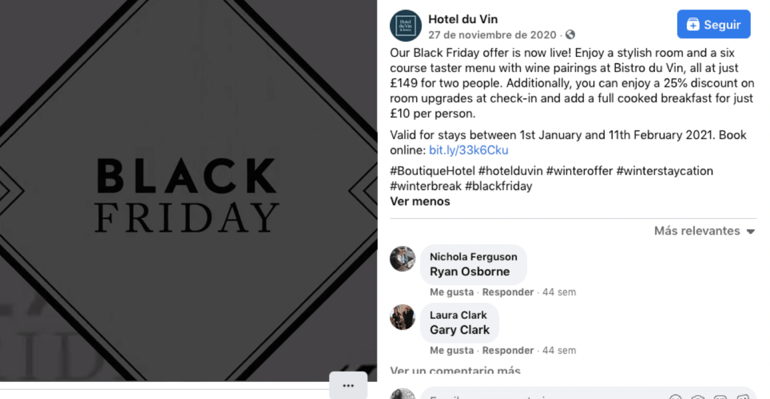 Organic post on Facebook promoting Black Friday campaign
Hotel du Vin & Bistro, a chain of luxury boutique hotels in the UK, grabbed our attention with their Black Friday campaign last year offering customers an exclusive culinary package: a four-course tasting lunch at Bistro du Vin, their hotels' restaurant, with wine pairings and overnight stay at a discounted price.
The strategy behind this carefully curated package was to get their restaurant clients to become hotel guests. By doing this, the hotel aimed to generate additional revenue by taking advantage of their restaurants to encourage those who wanted to book a table to spend a night at the hotel as well.
To reach more guests, they promoted their Black Friday package through organic social media posts which is a great way of generating visibility without requiring marketing spend. This approach has worked well for Hotel du Vin as they reached over 50k followers giving them the opportunity to engage with a large number of potential guests quickly and easily. As you can see in the example above, people who wanted to share the campaign with their friends or family often did so by tagging them in the comments, helping to create a viral effect and further spread the word about the campaign.
4. Increasing ABV by encouraging longer stays
Smart Note promoting a 2-night stay
PREM Hospitality is an International hotel and hospitality management company operating a collection of unique properties and places for guests to stay across Europe. On their website, the brand promises guests a warm welcome and excellent service while reminding them to always book directly on their website to lock in the best available deal.
As Black Friday is all about sales and package deals, PREM Hospitality has cleverly used a Smart Note to promote a two-day package to encourage guests to stay more than just one night, helping to keep the average booking value higher. It is also the perfect opportunity for hotels to add extras such as complimentary parking, restaurant offers or use of additional facilities to deliver more value with their offer. The options are endless!
Top tips for your hotel's Black Friday campaigns
Above are just a few examples of the types of campaigns that can be done at your properties. With plenty of opportunities out there, here are some other tried-and-true strategies to help you appeal to users and encourage them to book directly this Black Friday:
Don't forget about Cyber Monday. Cyber Monday is also a key date your hotel can definitely take advantage of. Consider providing extended deals for both occasions, exclusive add-ons for that date or even carefully curating a dedicated Cyber Monday campaign so that your clients have an extra incentive to book at your hotel.
Showcase attractive hotel voucher offers. Promoting deals on gift cards or restaurant vouchers could be a great way to encourage impulse purchases during the Black Friday dates. Eliminate any booking date uncertainty and tailor the voucher offers so that they match the Black Friday ambiance.
Give back to the community. Consumers appreciate companies that give back to others, especially around the holiday season. Creating a campaign that gives something back to the community should help your hotel to stand out and show guests that you care. Why not get guests involved and communicate it across your hotel website? It could be as simple as offering to make a small donation to a charity organization for every direct booking made on Black Friday.
Help visitors remember you. When browsing, allow users to save their hotel search so it's easier for them to return to confirm their booking. With our Save Your Search feature, visitors are able to receive an automatic email with their browsing details and return to their previous search options by simply clicking a link in the email. With so many hotels competing for attention, it's a terrific way to ensure that your hotel stands out among the sea of Black Friday deals.
Want to join our webinar for hoteliers?
With Black Friday 2021 right around the corner, now's the ideal time to start building and promoting your campaigns.
In need of a dose of inspiration? Be sure to join our upcoming webinar on the 19th of October at 17:30 CEST to get a whole host of ideas around building effective Black Friday campaigns to take advantage of this unique occasion to provoke a spike in your hotel's direct reservations.