Just like Ads campaigns, Google Hotel Ads has long been allowed to apply bid adjustments (called multipliers) to metasearch campaigns.
NB: This is an article from mirai, one of our Expert Partners
So, instead of working with a linear bid, you can have a dynamic bidding strategy that meets your needs better by using these multipliers.
User-related multipliers are some of the most used multipliers when it comes to both Ads and Hotel Ads:
Location: "Users in France", for example.
Device: "Mobile users", for example.
Remarketing list: "Users who visited the website but left without booking", for example.
Subscribe to our weekly newsletter and stay up to date
On the other hand, there is another group of multipliers that apply to Hotel Ads only and allow you to alter your bid based on stay-related variables:
Check-in day of the week: "bookings checking in on Monday", for example.
Length of stay: "booking with 3 nights minimum stay".
Advance booking: "bookings within 1 month or more", for example. Until now, it was the only multiplier that allowed you to manage your bid for the dates of stay, although it did so very inaccurately.
With this in mind, Google has finally launched the new multiplier that resolves this gap and allows hotels to work with a more familiar format which OTAs also use: by check in date.
From now on, you can adjust your bid for a specific point in time and make decisions based on your occupation and expected demand.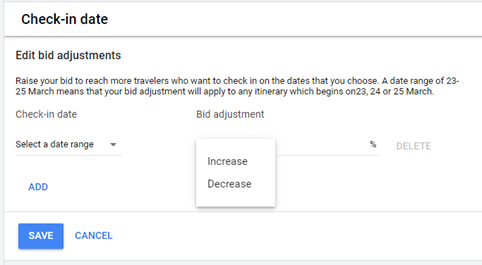 Potential use cases
You can use the new check-in date bid multiplier interchangeably both in classic Google Hotel Ads campaigns and Property Promotion Ads campaigns. That means that there are multiples scenarios in which you can apply it:
Scenarios where you may want to increase your bids by stay date:
Up in the funnel, where Google Property Promotion Ads plays out:

Opening a hotel, when you need a boost in visibility.
Low occupancy dates due to sudden peaks in cancellations, days between two hot dates or simply days of the week when occupancy tends to be lower. So far, hotels only had the option to increase commission in OTAs to get extra visibility. Thanks to this multiplier, now they have an alternative.
Events when you have something special to offer such as Thanksgiving or Christmas exclusive packages. 

Low in the funnel you may also want to use this multiplier:

To compete with OTAs that are very aggressively bidding but just some specific dates.
Those dates with very high ADR that allow you to get good ROI even overbidding.
Scenarios where you may want to low your bids:
When the direct channel is the only one with inventory and prices as you have closed all other channels. If so, you would want to significantly decrease the bid as you are the only one in the bid. Just be sure you're above the reserve bid.
Serious parity issues: Minimise your bid when you have parity problems especially with strong OTAs such as Expedia or Booking.com and actually have nothing to do on those dates. Fix those parity problems asap and get back on track.
Although it is a very versatile multiplier, we hope it becomes prominent in times of high demand. It will allow us to be more competitive in the auction under the pressure of the OTAs and not lose visibility on key dates.
Whatever its application, this new multiplier opens up a wide range of optimisation opportunities that you'll be able to align much more with Revenue Management decisions.
For now, this new multiplier is available in Hotel Ads in the CPC and Commission per conversion models, for the time being out of the Commission per Stay. 
Conclusion
With this new multiplier, Google continues to improve its product, allowing you to accurately adjust bids to the different stages of the life of the hotel property where demand may fluctuate, thus achieving a better performance in this specific metasearcher.
From the Mirai Metasearch team, we look forward to implementing it to discover its full potential.