As a hotel revenue manager, one of your core functions is understanding and anticipating customer behaviour so that you can make the right strategic decisions and optimise your prices accordingly.
NB: This is an article from Beonprice, one of our Expert Partners
This is the most effective method for increasing the level of revenue your business generates. Part of this is down to instinct, but you also need to rely on the right data. That's why it's so important to have access to the right performance analytics. The obvious KPIs that you should be tracking include RevPAR and occupancy rates but tracking your lead time is equally important.
Subscribe to our weekly newsletter and stay up to date
What is lead time and how do you calculate it? Why is tracking it so important? Read on to find out.
What is lead time?
Lead time is a powerful KPI in revenue management that provides valuable insights into customer behaviour. Essentially, it is a formula used to calculate the time between a guest confirming a reservation at your hotel, and their arrival date. The aim, as a revenue manager, is to optimise your lead time as this can lead to a significant increase in revenues.
A longer lead time can help you anticipate revenues and optimise resource costs. This is because each department in your hotel has enough notice to prepare for a guest's arrival. For example, the kitchen can buy supplies and plan menus in advance, and housekeeping can make sure they have enough staff on duty to manage busy periods (and, conversely, make sure there are fewer members of staff on duty during periods that are anticipated to be quiet). You can also plan promotions and price adjustments if you know that certain dates are going to be quiet and get those all-important occupancy rates up in advance.
However, it's not always as simple as aiming for a longer lead time. If it is too long, then it might suggest that there is an issue with your pricing strategy. For example, if you are filling rooms much quicker than your competitors then it could suggest that your prices are lower than the market value.
Optimising your lead time is all about understanding the specific nuances of your booking window and finding the right balance, also taking into account your cancellation rate and no-show rate.
How do you calculate it?
So, how do you calculate lead time?
It's simple. You just need to calculate the number of days between a guest making a reservation and their actual check-in date. So, for example, if a guest makes a reservation on August 1st and they check in on August 15th, then the lead time for that reservation is 15 days. If, for the same booking, they reserve on the same day as arrival, then the lead time is 0 days.
Although the calculation is simple, calculating each guest's lead time manually can take a lot of time, especially if you are a large hotel with a high level of occupancy. You can speed up the process slightly by using Excel and the right formulas to quickly calculate your lead time, but you still have to manually enter names, booking dates and arrival dates, and that can quickly eat into your time and prevent you from working on more strategic matters such as working on fair pricing strategies.
Another more efficient method for calculating your lead times is using revenue management software. An RMS streamlines the process by taking the data straight from your channel manager. To view your lead times, simply access the platform and run reports on the automatically generated KPI. The booking pace curves can also help you understand your lead time.
High lead time would create this kind of booking curve: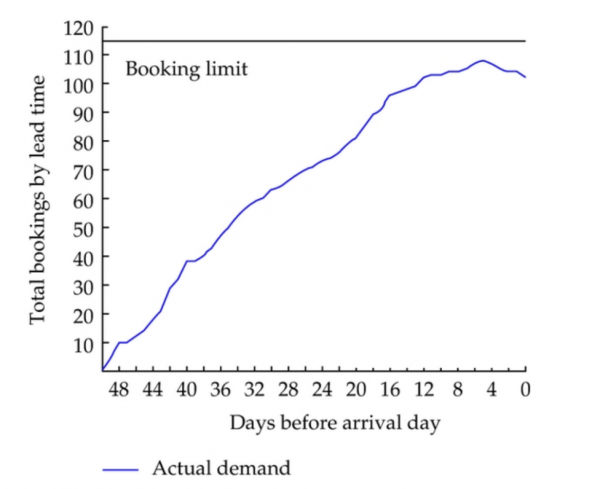 Low lead time will show a different booking curve: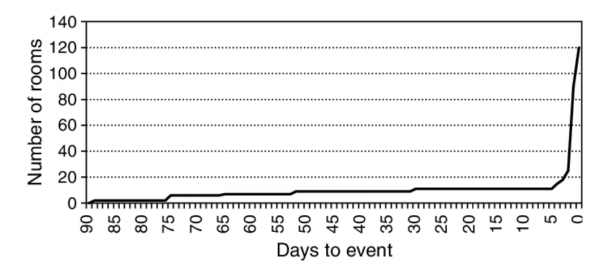 Why is tracking lead time so important?
Consumer behaviour has changed since the pandemic. Part of this is down to the unpredictable nature of demand these days. But the way in which people make reservations has also changed as a result of the boom in technology and the proliferation of booking platforms and channels. Traditionally, guests would plan a journey far in advance, which made it easier for hotels to plan ahead and ensure they had the right staffing levels and supplies to provide the best possible experience. They also had time to implement alternative strategies in order to fill rooms during quiet periods. However, these days people can make a last-minute reservation straight from their phone within a matter of seconds. This makes it much harder to predict consumer behaviour.
Tracking your this KPI can be a valuable piece in understanding your target market and it can help you predict future trends and anticipate high and low demand. With the right data, you can begin to identify patterns and learn how your target market works. You can then make adjustments to your pricing and marketing strategies in order to sell more rooms to more guests at the right price.