Imagine not having to spend time switching between suppliers to book a room, a flight, and local activities.
NB: This is an article from Altexsoft
Think about a trip-booking solution that allows flexibly changing your tour content. Consider a platform that can easily align your budget with the entire tour, including accommodation and activities. Well, such solutions have existed for a long time and they are powered by dynamic packaging systems.
Subscribe to our weekly newsletter and stay up to date
Unfortunately, there are few travel industry players that have employed this approach.
Several decades ago, packaged holidays were exclusively in the province of tour operators. Time passed and new technologies opened doors to the dynamic packaging world for online travel agencies (OTAs), travel suppliers, and vacation planning tools. The old-fashioned practices combined with emerging technologies have been transformed into an innovative tool, fueling travel industry disruption.
What is dynamic packaging in travel and tourism?
Travel dynamic packaging software is a technology that allows travelers to get customized tour packages comprised of various inventories including hotels, flights, car rentals, attractions, and events. Customers have an opportunity to take the driver's seat in their trip and vacation planning thanks to the in-built flexibility of dynamic packaging engine solutions.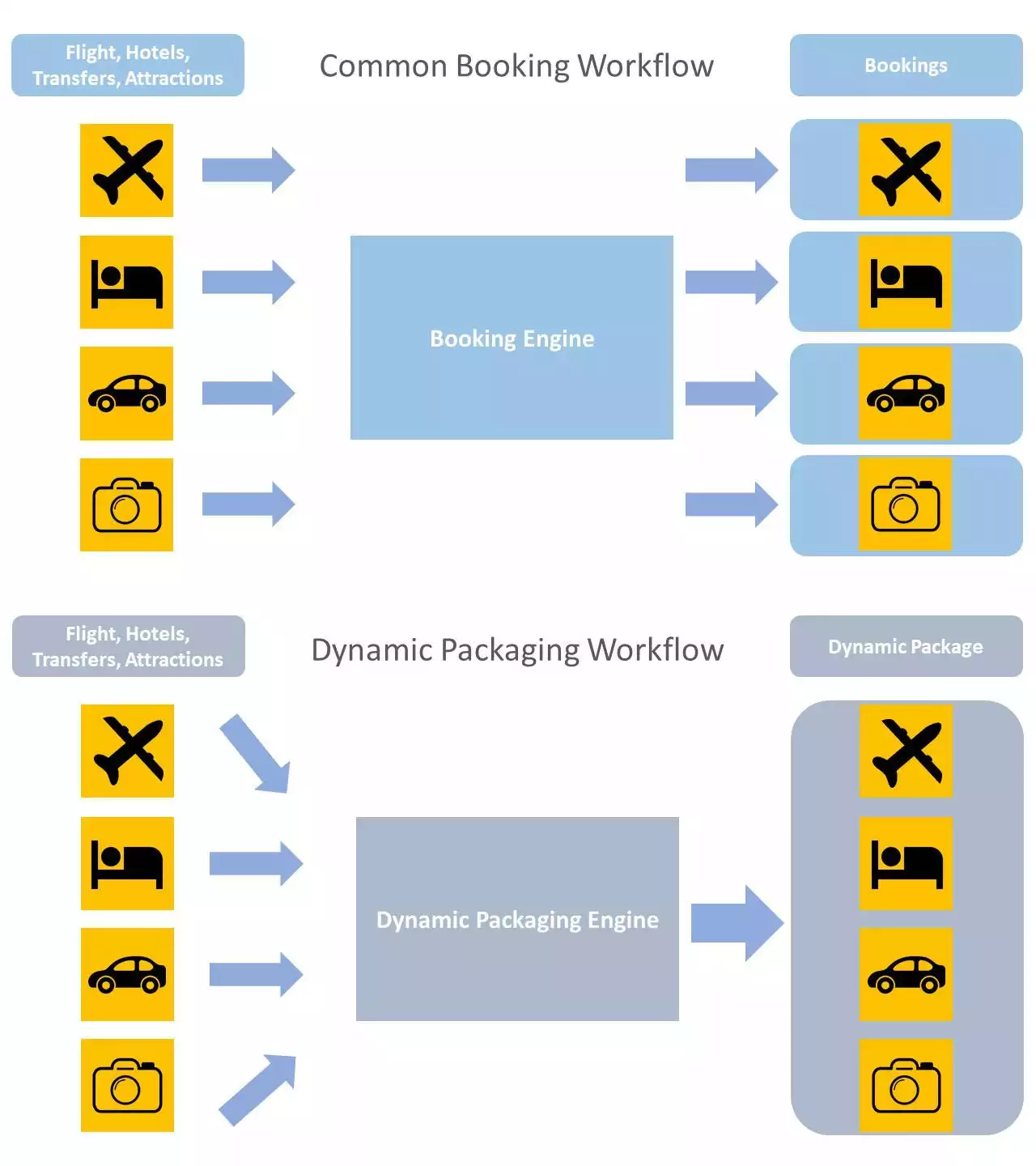 Dynamic packaging engine vs traditional booking engine
And that's one of the main differences between traditional packaged tours and dynamic packages. Users can configure their trips via a single packaging interface and receive a full fee estimate based on individual pricing and availability of each component in dynamically generated tours.
In addition to travel content customization, package dynamism is defined by price quotation.
Types of dynamic packaging
Depending on how the pricing models are built, dynamic packaging mechanisms can be classified into the following types:
Semi-dynamic packaging. The total price of the package changes based on selected components while the price of inventories remains static. This approach is more common for systems with legacy revenue management modules. Prices are centralized and rarely changed. But when the time comes to change something, the process is done manually.
Dynamic pricing. The cost of the package is a sum of variable inventory prices. Price variability depends on factors that apply to each inventory. These can be a customer type, an inventory supplier, services availability, or demand, to name a few.
Full dynamic packaging. In this case, yield management is applied to the whole package, based on value for the customer, combination of inventories, etc. For instance, if a user chooses more expensive flights, the price of a hotel can be increased respectively.
Dynamic packaging is a win-win for both sides. Customers get rid of the headache of buying different travel-related products on different platforms. This is in addition to getting a lower price for a packaged deal than if they purchased each component individually. Suppliers, in turn, can hide their discount rates and gain greater profit.
How dynamic packaging helps travel businesses increase revenue
While dynamic packaging is not new to the travel industry, many online travel agencies are still at an early stage of adopting it. The good news is that the approach is gaining more and more popularity due to the demand for the one-stop booking shop — when consumers can reach multiple services with a single search.
So, what are the potential benefits?
Reduction of spending on marketing. Many travel companies spend lots of money on advertising and marketing to attract new customers and win back the existing ones after the pandemic.
According to the advertising AI platform MediaRadar, in 2021, travel businesses increased their spending on marketing and advertising campaigns by 38 percent compared to 2020. Not to mention commissions paid to large travel marketplaces like Booking.com or Airbnb to increase bookings.
While dynamic packaging won't free you from third parties completely, it can help attract more customers to use your direct booking services as they can have everything they need for a trip in one place.