What's your hotel's strategy once third-party cookies have been retired? If you don't have one yet, you're dangerously late to the party.
NB: This is an article from Triptease, one of our Expert Partners
Email marketing is a crucial channel for maintaining customer relationships long after they've left your website. Traditionally, hotels have used email to communicate with guests post-booking, focusing on in-stay information and building loyalty.
Subscribe to our weekly newsletter and stay up to date
Email marketing up until now has typically involved a lot of manual work, inaccurate data and an unclear view of the types of guests interacting with your website.
We know from conversations with our customers that hoteliers typically fall into two camps – there are the ones with no time, tools or capacity to build their own email campaigns but who are desperate to engage with customers on this impactful channel. Then there are larger, more established hotels that are looking for a new, high-value source of customer data to plug into their own CRM system so they can fully manage their own email campaigns.
Approach #1: Instant, set-and-forget, fully automated emails
Right now, your booking engine is losing revenue in two ways:
Cart Abandonment: 80% of your potential guests abandon their cart right before completing a booking. Imagine this: your almost-booked guests are just a click away from confirming their stay, and suddenly, they vanish.
No Availability: According to our global hotel data, the average no-availability rate for hotels is 20%. This means high-intent customers are often met with a no-availability message, leaving them no choice but to seek alternatives, possibly from your direct competitors.
However, hoteliers without sufficient time, customer data, or a CRM face challenges in addressing these issues directly. That's why hoteliers can now choose pre-built Triptease email templates to re-engage both types of guests and encourage them to complete their bookings.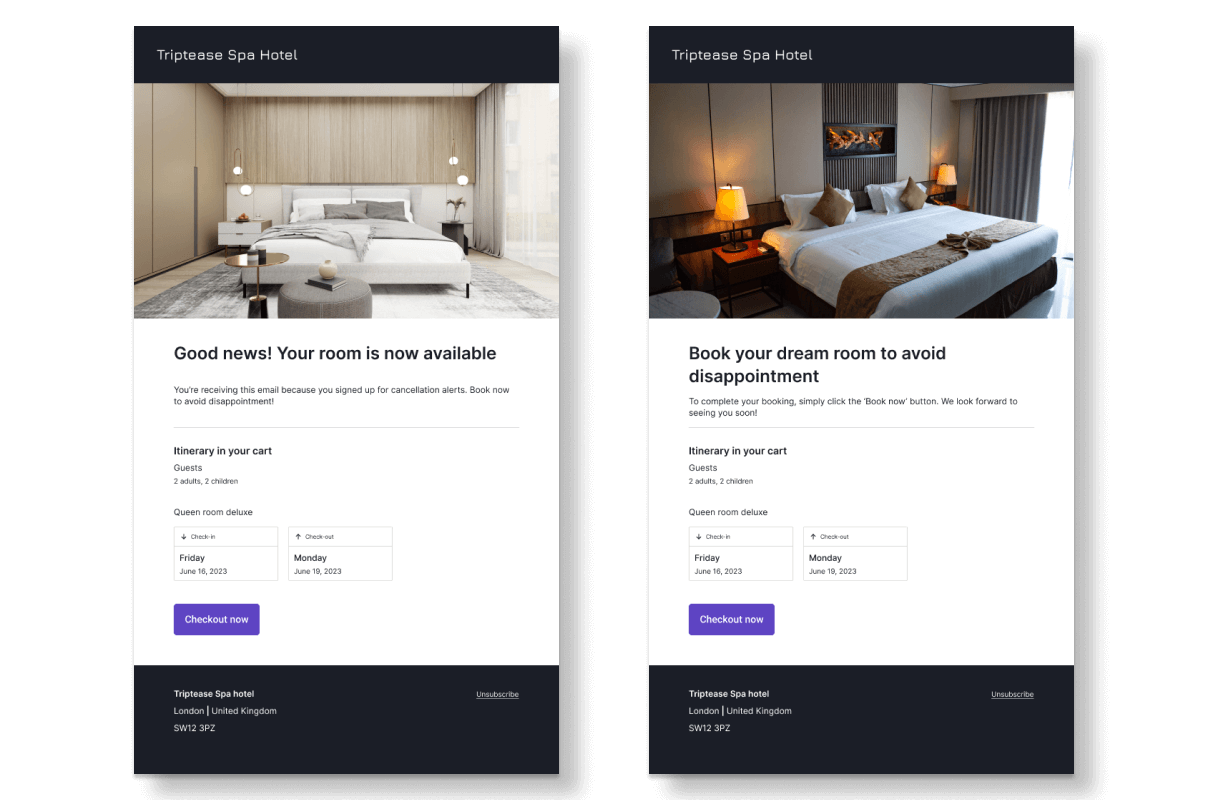 Who is this approach this for?
Short-staffed hoteliers working in small to medium-sized hotels.
Hotels working without a CRM.
Hoteliers who have some experience with email marketing but lack the tools and time.