If you're not already familiar with it, hotel metasearch advertising can be a daunting channel to approach anew. We're here to help translate the jargon, so that you can reap the benefits.
NB: This is an article from 80 Days
This growing channel allows you to drive direct bookings at lower equivalent commissions and compete directly with OTAs (Online Travel Agents). If it isn't already, metasearch should be a key element of your hotel's digital strategy in 2023 to help rescue some of that painfully-paid commission.
Subscribe to our weekly newsletter and stay up to date
What Is Metasearch For Hotels?
Simply put, it's an advertising channel that collects all available online rates for your hotel – including your own – and organises them into a list. This makes it easy for travellers to compare prices for your hotel across all booking channels.
By connecting your hotel's CRS (Central Reservation System) to major and regional metasearch channels, we can help you to show live room rates across Google, TripAdvisor, Trivago and more. As advertisers, we compete for visibility and rankings in the resulting auctions, driving potential guests from metasearch engines directly to your hotel room – ideal!
This form of advertising streamlines the booking journey for potential guests, whilst placing your 'Official Website' brand directly alongside the budget-busting OTAs, who are competing to win your brand clicks.
Where Does Metasearch Show?
On Google, metasearch shows on your Google Business Profile with Google Free Business Listings (organic metasearch) showing below this. Your own rate is marked with 'Official Website' to help differentiate it from OTAs.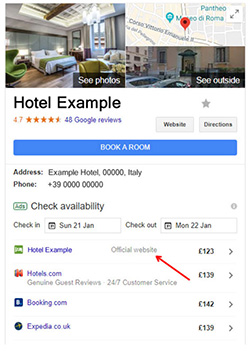 On TripAdvisor, hotel metasearch is shown below the room search of your hotel listing. By clicking 'View all deals' you can see all available metasearch rates.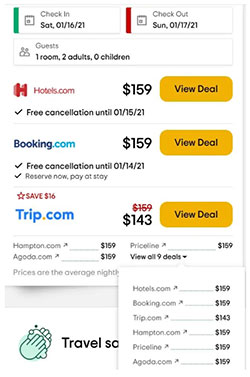 Metasearch rates on Trivago are shown under the 'Deals' section of your hotel's listing. Rates provided directly from your website are marked with a blue tick accompanied by 'Hotel site' to help users distinguish it from OTAs.
What Are The Benefits Of Hotel Metasearch?
Lots and lots of direct bookings. As a bottom-of-the-funnel tool, advertising on metasearch exposes your hotel to traffic who are ready to book and are actively searching for your brand. This ultimately leads to high conversion rates, resulting in 60% of independent hoteliers rating it as the most effective marketing channel.