There used to be a time when 'parity management' mainly meant keeping tabs on Booking.com and Expedia to check they weren't undercutting you.
NB: This is an article from Triptease
You knew that savvy consumers would check their favorite booking sites as well as your direct website, so it was crucial to make sure your direct booking channel was just as attractive – if not more so – than the big brands.
But with the rapid growth of metasearch driven by Google Travel in recent years, the complexity of parity management has risen exponentially. Meta puts price comparison front and center of its offering: there's nowhere for an out-of-parity rate to hide. And the number of players in the game has grown too. Ask a revenue manager what makes them lose sleep at night, and you're likely to hear more than a few mentions of 'random.coms' – uncontracted OTAs and booking sites that pop up in metasearch auctions with steeply discounted rates.
So how much could poor parity be impacting your metasearch performance – and what can you do to fix it? In this article, we've put together a refresher on how to deal with common parity problems alongside advice with how to deal with what could be the next big parity problem on the horizon – TripAdvisor Plus…

Why parity matters on metasearch
It's a truth universally acknowledged that having the best price matters. It increases website conversion rates, it increases consumer trust in your brand, and it reinforces the message that it's best to book direct. But it's worth reiterating just how much it matters on metasearch.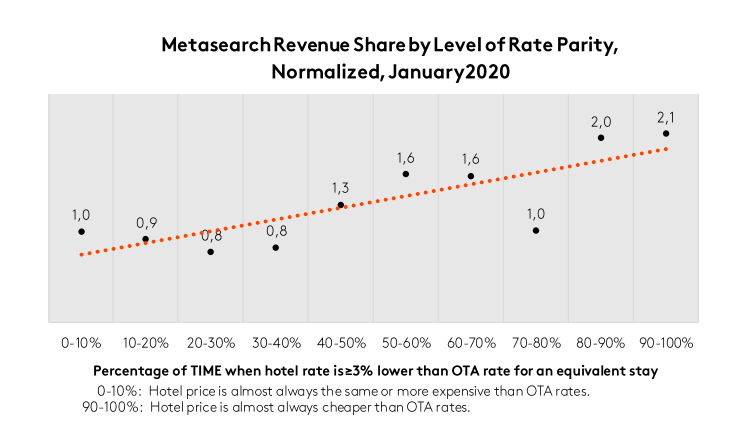 We've found that when hotels have the best rate available on metasearch, they generate double the revenue of hotels with rates that are similar to, or worse than, OTAs. The single most impactful thing you can do to drive more revenue through metasearch is to make sure you have the best rate. And even if your distribution agreements prohibit you from publicly offering a cheaper price than e.g. Booking.com, it's imperative that you still strive for parity. We've previously found that booking engine conversion rates drop by over a third when a hotel is regularly undercut on price.