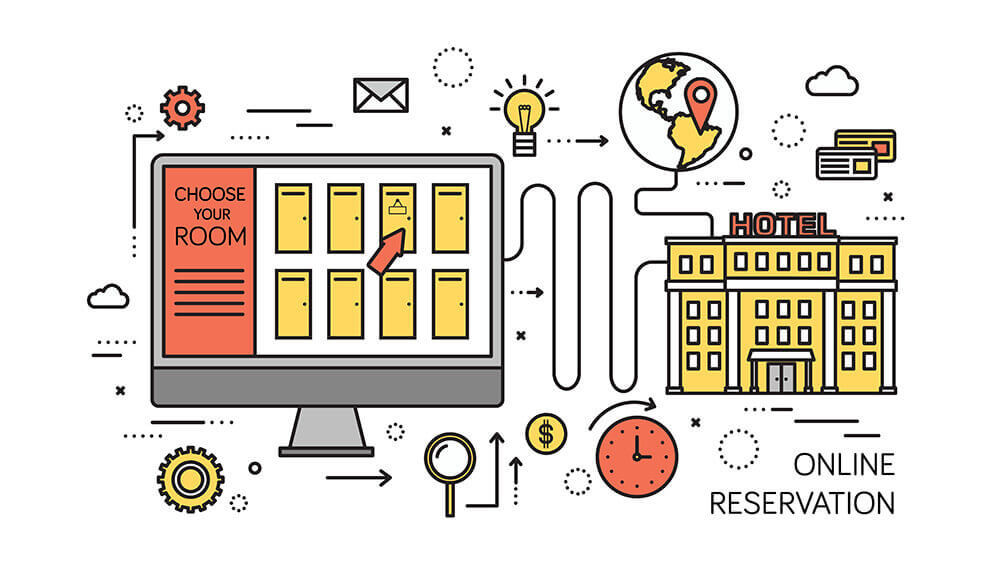 In 2021, the biggest challenge hotels face is successfully recovering from the COVID-19 impact.
NB: This is an article from Altexsoft
The outlook is optimistic. With vaccine distribution and countries opening up for visitors, the occupancy rates are creeping up and it won't be long before operations normalize.
But is normal filled with optimism? Even before the pandemic, when travel was booming, hotels — especially middle and small size — experienced difficulties of another sort. Shaded by online travel agencies, they struggled to get users to shop directly. Lacking technical muscle, hotels must share up to 30 percent of sales with OTAs — a type of partnership that never seemed fair for hoteliers.
Subscribe to our weekly newsletter and stay up to date
To attract that share of direct sales they're losing, hotels need to match the perceived convenience of OTAs. One of the ways to do this is by implementing a booking engine.
What is a hotel booking engine and how does it make you competitive
Unfortunately, bound by rate parity, hotels often can't offer travelers better rates via direct channels. But those direct channels do receive visits. Research shows that travelers visit around 38 sites when planning a trip and they end up visiting OTAs, metasearch sites, and supplier websites to review their options. Some also check a hotel's own website to see if the offer is better there. That means that OTAs are not their first choice, but rather the most convenient one to choose, book, and pay for hotel rooms. Luckily, the same functionality can be achieved anywhere using internet booking engine features.
A booking engine is software that connects customers and travel providers. It's an integral part of hotel management that helps automate routine reservation processes.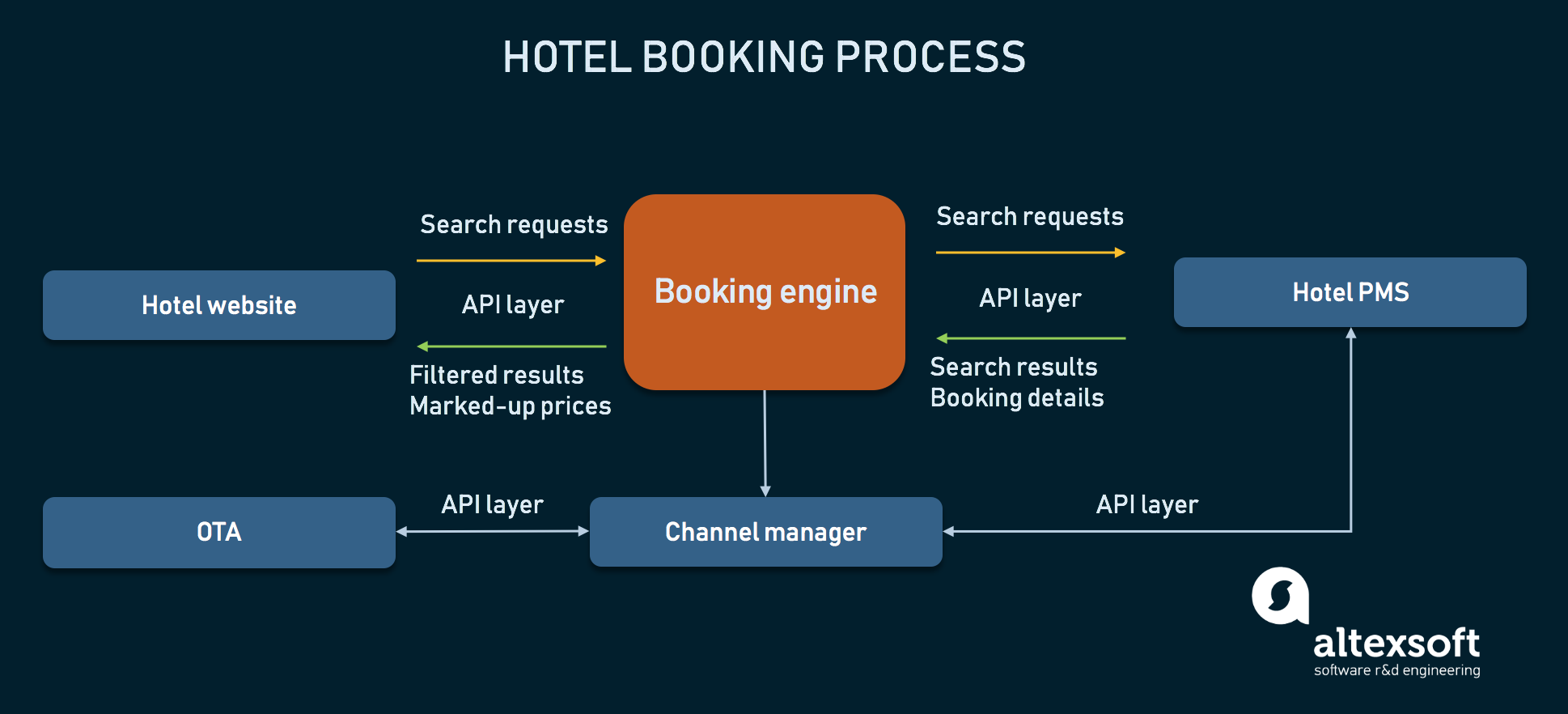 Systems taking part in direct hotel distribution
Here's how it works.
When a traveler uses a hotel's app or website, they're interacting with a booking engine interface to do a search.
A booking engine uses its own predefined logic to pull the requested data from a hotel's property management system (like OPERA PMS) via a connectivity technology called API.
The engine configures this data according to the applied filters, considers pricing rules based on discounts and rates, pulls extra services for cross-selling, and finally returns the information back to the user.
Basically, a booking engine makes it possible to not only access the inventory and perform the search, but also do it smartly, by displaying the information in the manner most beneficial to the hotel. This functionality alone results in many benefits both for travel shoppers and hoteliers.
Great user experience. A booking engine is the ultimate self-service technology for travel. Although some users (like groups or first time travelers) still prefer talking to a person to make reservations, most modern travelers are tech-adept and require little assistance. Moreover, they will seek platforms that give them the independence to do a search and make payment. As long as they have a choice of Expedia over calling a hotel, they won't be making direct purchases. But booking engine can match an OTA experience.
Search results personalization. As we mentioned, a booking engine will display results based on its internal logic. This is mainly done to personalize search results for each guest. By identifying which type of traveler is currently browsing, the system will offer them deals, packages, and rooms they will find most appealing. And subsequently, close a sale.
Convenience to loyalty members. In the video above, we mentioned that one of the strategies for driving direct sales for hotels is running a loyalty program. Unfortunately, if guests need to call the hotel to use points, they won't bring you those sales. A booking engine takes all discounts and loyalty systems into account and automatically recognizes them when compiling an itinerary.
Better business efficiency. When the hotel staff spends less time on the phone or emailing with potential customers, they're occupied with the tasks that they're better at, like attending guests and running the property. Besides, without having to manually log in reservation data, they always have up-to-date information about hotel occupancy.
Valuable hospitality insights. A booking engine is a valuable data source that will contribute information about guests and rates to the hotel's analytics module. Automatically collected and integrated, this data will result in accurate insights on booking patterns that will help you understand your guests and cater to them better. Or, if you get bold enough to apply AI, data can even predict your occupancy rate, for example. You can consult our article on hospitality analytics to learn more.
This is just the tip of the iceberg. A booking engine is a part of a larger mechanism combining at least two other programs — a property management system (PMS) and a channel manager. Acquired separately and then integrated or bought/built as a single solution, these tools cover all areas of efficient hotel distribution and successful direct booking strategy.
Now, let's take a closer look at functions typically supported by booking engines that will help attract users and convert them into guests.