Six months ago, Tripadvisor announced its newest membership program Tripadvisor Plus, a new way to up your travel.
NB: This is an article from mirai, one of our Expert Partners
A quite innovative approach that unleashed lots of different opinions but also concerns from the hotel industry, especially related to price parity issues. Tripadvisor has just announced a significant twist in its original approach (link to new Plus program) moving from a "instant savings" (or "discount" to travelers) model to a "reward" one (to the same travelers but for future bookings and potentially cash out their rewards). According to the company, its plan is to roll out the "reward" model and gradually remove the "instant savings" one from the market based on consumer and hotelier adoption.
Subscribe to our weekly newsletter and stay up to date
The goal with this post is to provide the hotel industry all the answers to the many questions Tripadvisor Plus still raises.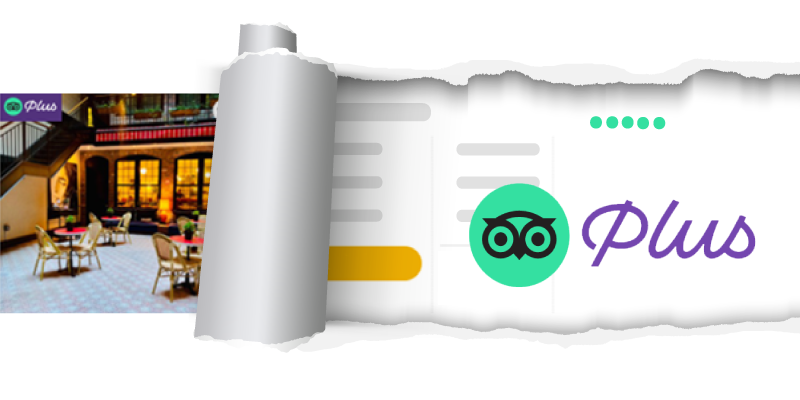 What is Tripadvisor Plus and what does it mean for users?
It is an annual subscription membership for users (travelers) offering rewards and perks from hotels when booking on Tripadvisor Plus platform. Travelers accumulate cash rewards in their wallet that they can redeem in subsequent bookings and, eventually, during their stay at the hotel (restaurant, bar, spa, etc.).
The membership costs $99/year.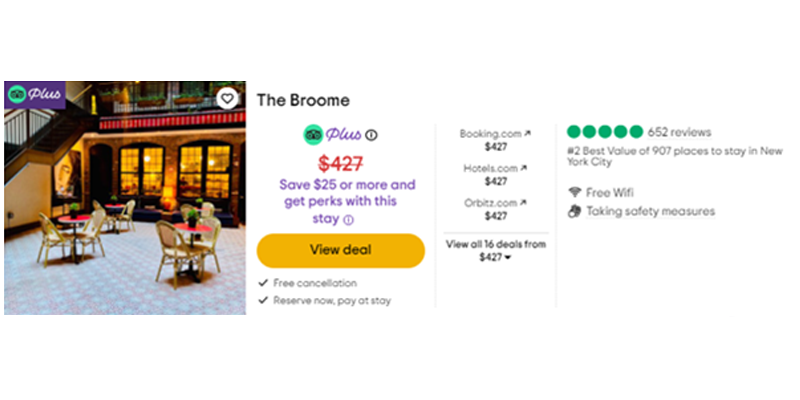 How does Tripadvisor Plus work for hotels?
Plus's first approach was based on "instant savings" for travelers, meaning that hotels had to give away an exclusive net rate that, on average, was 15% off versus public rates, in addition to perks hotels were willing to offer. Hotels did not have to pay any commission on these bookings (some wrongly said they did not have any cost).
The new Plus "reward" model works very differently. There is no need to provide an exclusive discounted rate. Tripadvisor Plus will play with the same rates and rules as the OTAs, addressing the biggest concern hoteliers had about the previous model. In addition, hotels must pay a net commission (cancellations and no-shows are excluded) to Tripadvisor. The minimum commission is 10% (15% recommended to maximise visibility) and it is applied to the amount before taxes (something normal, but we should remember hotels pay commissions on taxes with many OTAs such as Booking.com). According to Tripadvisor, commissions paid by hotels go straight to the travelers in the form of "rewards" to use on future bookings. The higher the value of the commission, the better the reward offered to the traveler. That is important because Tripadvisor's Best Value sort order – which determines where a hotel is displayed in search results – is based on the strength of the offer to travelers. In other words, the better the potential reward for travelers, the higher an offer is likely to be shown in the sort.
In addition to the commission, hotels can also offer perks for those bookings coming through Plus making their hotels more attractive to the program's members.
Can agencies and OTAs participate in Tripadvisor Plus? 
Yes. Any channel that was able to connect its rooms and rates with Instant Booking will be welcome to participate in Plus. Therefore, Plus is not an exclusive placement of the direct channel.
As a consequence, hotels would be competing with OTAs to access the Plus placement. And here is where it gets tricky. Hotels are paying 18%-25% to OTAs … but how much of it are they willing to give away? The answer will determine whether the minimum 10% (recommended 15%) Plus asks for will be enough to compete with OTAs or not. A clear proof that much of the commissions hotels pay to OTAs goes to competing with themselves in online marketing placements. An interesting paradox.
What is Tripadvisor Plus' value proposition for hotels?
In exchange for this exclusivity, hotels would get:
Higher visibility in destination searches, which is the top priority for hotels as these requests traditionally mean "incremental demand" (as opposed to "brand or hotel name search"). Additionally, Tripadvisor has added a "only show Plus hotels" filter reducing the results to just those hotels participating in the program.
A lower-than-market-average commission to Tripadvisor, making these bookings more efficient (less expensive) than OTAs.
Data of travelers booking in Plus (as opposed to a sale through an OTA), allowing hotels to create a relationship with their customers and to better monetize them though upselling or cross selling initiatives.
What are the requirements for hotels to participate in Tripadvisor Plus "Reward" model?
Basically two:
Tripadvisor has leveraged Plus on the previous Instant Booking platform, so to participate in Plus hotels need to find an Instant Booking integration partner (Mirai is one of them. Check the full list here).
Properties must have an average bubble rating score on Tripadvisor of at least 3.5
There are no requirements regarding:
Minimum term of contract. You can cancel your participation anytime.
"Last room available" or LRA.
There is not a maximum number of properties in the program. In other words, all hotels in a given destination could eventually join Plus. This is a big difference between other programs such as the Booking.com Preferred Program, where there is a limited number of properties per destination allowed to join at the same time.
Once hotels sign up in Plus, they have to decide the commission they want to participate in the program with as well as the perks (if any) they are willing to offer for Plus bookings.
What is the participation rate in Plus in major cities around the world?
At the time this post goes to market and based on our own analysis testing, the participation rate (the number of hotels that signed up in Plus, either the original "instant savings" or "discount" model and the new "reward" model) in major cities is the following. Please be aware that this is just a picture of how the program looks today.
Is Tripadvisor Plus such an innovative program?
Membership programs have been around for many years. However, Tripadvisor is the first big, relevant and global player in the online travel industry that dares to charge the user as its main revenue stream. We should point out that commissions paid by hoteliers to Tripadvisor are primarily used to compensate travelers in the form of rewards. This move is brave and innovative, and follows the successful models of companies such as Netflix or Spotify. It's worth pointing out that Leading Hotels of the World recently dropped its loyalty program's fee keeping all benefits.
What is not innovative, though, is the value proposition for hotels of "more visibility in exchange of a commission". This is what OTAs and other gatekeepers have always asked hotels