Over the past decade, nothing has impacted travel buying more so than search and consumer access to mobile devices.  Now more than ever before, the customer buying journey has changed due to increased mobile use, both in travel planning, and while in destination.  As a result, the playing field has been leveled for local operators against the big brands and online travel suppliers, who have dominated search for the past decade.
With today's connected mobile consumer, travel marketers large and small, can impact the mobile and local path to purchase – simply by being there in local search, being accurate, managing reviews, and providing "in the moment" customer service.
What has changed in the customer path to purchase of travel: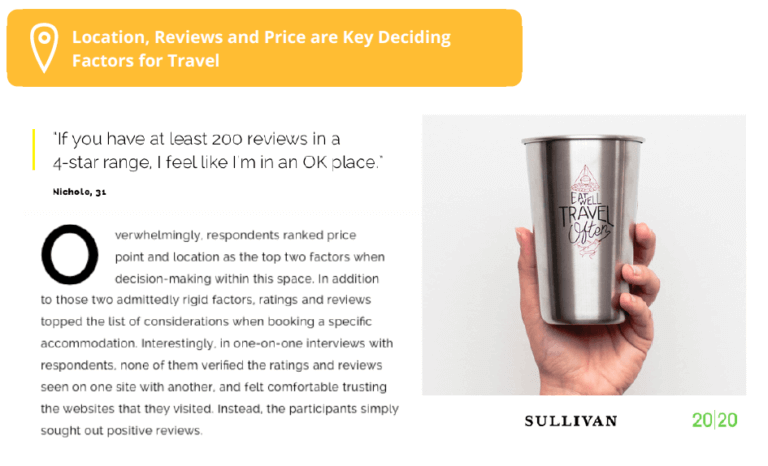 1. Mobile Access has changed consumer buying process, expectations, and even the way they buy travel and travel related services.
2. Local and "near me searches" have changed the travel path to purchase with in-destination or "in the moment" sales increasing year over year.
3. Consumers expect the "mobile first" user experience with easy access to contact information, maps, directions and reviews.  They expect accuracy in listing information, and immediate response from brands in solving problems.
4. Within the online mobile experience, local listings, maps, and review sites are dominating the points along the customer journey, and directly impacting revenue in the travel category, more now than in the past with reviews integrated into the local and mobile search experience.
The impact of reviews on revenue within the travel category is not new.
But with the increased use of smartphones, and visibility of  local search on these devices, travel consumers are now making "in the moment" decisions while in-destination – and even modifying plans around transportation, accommodations, dining, and activities throughout their travel experience.
The Mobile search experience is much different than on desktop:
A search on a smartphone highlights paid search results, then maps, then local listings and reviews take top real-estate in both Google and Bing.