In today's digital age, building a robust database has become more important than ever.
NB: This is an article from The Hotels Network, one of our Expert Partners
Email marketing is one of the most effective marketing weapons in the hotel industry – and for good reason. According to Insider Intelligence and eMarketers, "Email marketing consistently generates the best ROI when compared to social media, influencer marketing, and the like."
Subscribe to our weekly newsletter and stay up to date
With the imminent disappearance of 3rd party cookies, it's vital for hotels to expand their database and establish a direct connection with their potential and existing guests.
One of the reasons email marketing is so effective is that it provides a direct line of communication between the hotel brand and its potential guests. By building an extensive email list and delivering relevant content and exclusive offers to subscribers, hotels can create a personalized connection with their audience and increase the likelihood of bookings and repeat business. Additionally, with the rising prevalence of mobile devices, email marketing has become even more powerful as users can access and engage with emails from anywhere at any time.
One effective way to grow your marketing database is by featuring a compelling hotel newsletter subscription message on your website to capture opt-in contacts and pass these seamlessly to your hotel's CRM system. You can choose from a simple option that only requires the user's email address, or a more comprehensive form with multiple fields that allows you to gather additional information. By using the latter, you can then tailor the emails you send based on their needs or interests to provide a more personalized experience.
Continue reading to discover best practices that you can implement to increase your hotel newsletter signups.
1. Showcase enticing offers and benefits
For starters, you want to put more than just monthly news on the table. One of the best ways to increase newsletter signups is by offering something of value in return. This could be a discount on room rates, a free drink at the hotel bar, or a complimentary breakfast. By providing a tangible benefit, you're giving people a reason to sign up and stay engaged with your brand.
Miss Clara by Nobis opted for an email subscription Layer on their booking engine offering a 15% discount and complimentary breakfast to guests who signed up for their newsletter. The offer was targeted towards low-intent users with only a 0 to 40% likelihood of completing a reservation, aiming to improve conversion and uptake of special offers. The result was an impressive 102% increase in conversion rates within the targeted group within a month, and the acquisition of 144 new email subscribers.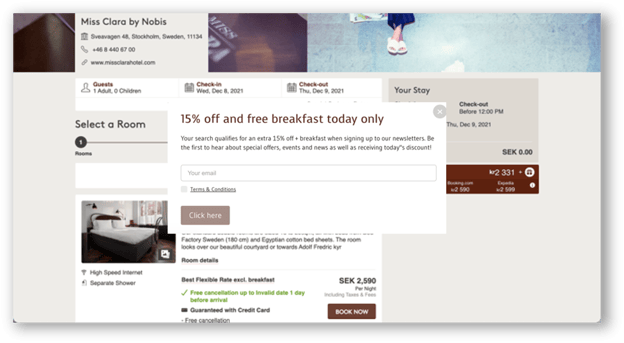 Email subscriber Layer in the Booking Engine
2. Make sure your content is relevant
Convincing people to sign up for your newsletter can be tricky, and so it's important to keep them engaged with relevant content. This means providing updates on upcoming events, highlighting local attractions and activities, and showcasing the amenities and features of your hotel. By providing valuable information that's tailored to your subscribers' interests, you'll increase the likelihood of them staying subscribed and even recommending your hotel to others.