In this post, we collect some of the questions that hoteliers have asked us over the past few weeks and our answers.
NB: This is an article from mirai, one of our Expert Partners
We summarize here some questions about the current context, risks and implications, as well as our recommendations to maintain or increase your share of direct sales.
Subscribe to our weekly newsletter and stay up to date
1. Is the online traveler changing?
In our opinion, the traveler has become more digital, more direct, more able to search and book online. At the same time, they are more demanding in a number of ways, such as searching for the best price.
During the pandemic, we have all experienced limitations or mobility restrictions, which "pushed" many people to buy online for the first time. This is one of the reasons why we already have a 60% share of online sales in the travel sector (flights, hotels, car rental, etc.).
We have also experienced several episodes of mass cancellations, and travelers have realized that it is much more effective to talk directly to the hotel. More than one is still waiting for refunds from one travel agency or another…
2. What are the main technological advances that I should be leveraging in my direct selling?
2022 was a good year in terms of technological innovation, but focusing on the tools and functionalities that allow hotels to compete with online distribution giants, such as Booking or Expedia, these would be the main ones to consider:
Google, with its major boost to Google Hotels (where it has introduced, for example, free booking links or improved models such as commission per stay), new Google Travel features or the improved functionalities for managing, automating and personalizing campaigns in its Ads ecosystem.
Websites and booking engines for hotels are improving every day, with more and more functionalities and better integrated solutions (widgets of all kinds, chatbots, sales accelerators, upselling and cross-selling, digital twins, etc.).
Payment solutions, which increasingly facilitate and secure this delicate step, that is often the Achilles' heel of many hotels. Advances such as digital wallets, Bizum, Cryptos, BNPL, etc.
3. What does direct hotel sales look like after covid?
Tourism has been strongly reactivated, and direct online sales have been greatly strengthened. In their published results for 2022, the main tourism companies show sales levels never reached before. Direct sales are performing very well and are on track to become the main booking channel very soon (Phocuswright says 2025).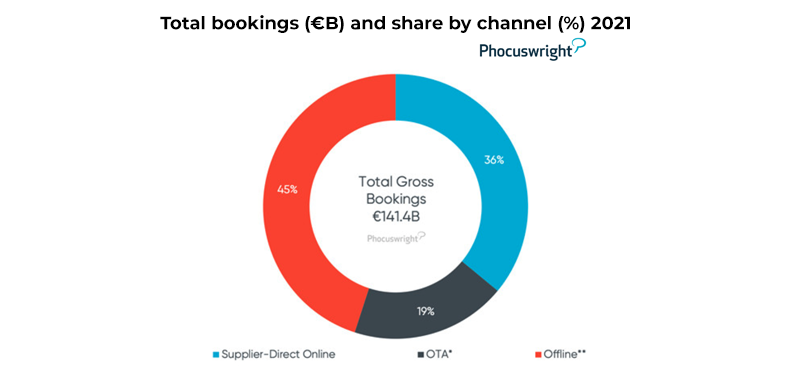 4. Will there be a crisis in 2023?
After this bizarre period, which we have overcome with a lot of effort and some oxygen from governments and central banks, other problems are piling up that cannot be solved easily or quickly. Moreover, we no longer have the lifeline of monetary policy. On the contrary, the money tap is being turned off and interest rates are rising… All this seems to be leading us into a period of economic recession, which tends to affect travel demand. For the moment, however, the booking trend is good, with a healthy pace of new bookings and cancellations at historic lows (at least for direct sales).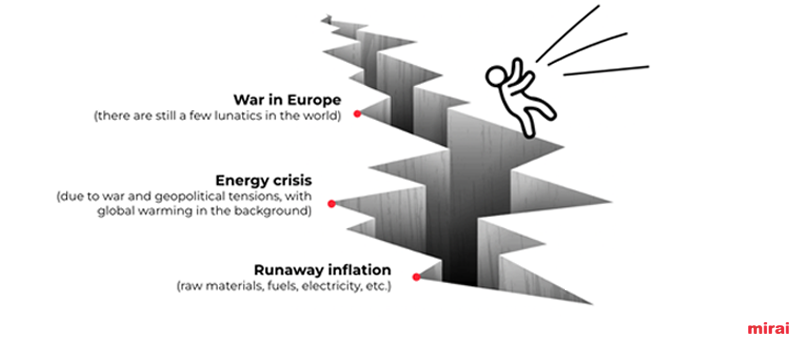 5. What should I do if 2023 goes wrong?
Hopefully it won't happen, but just in case, keep a close eye on demand (both globally, from the data shared by Google, and from your direct sales) and prepare possible actions to stimulate it:
"Pre-cooked" actions and campaigns, ready to launch if you need to (e.g. aggressive early booking offers using semi-flexible NR rates).
Some markets are more sensitive than others: analyze and act on a market-by-market basis (stimulate slow markets and maximize the most active). Here you can also find some ideas.
And if uncertainty returns, remember the winning formula most used during the covid period: focus on agile and dynamic channels such as your website.
You can also get ahead of possible future cancellations by securing business as early as possible: promote prepaid offers, but offer flexibility for changes (key for the traveler to book in advance and prepaid).
In any case, do not stop investing in marketing, but optimize your presence in the main showcases, such as metasearch engines. For example, on Google Hotels, you can quickly adjust your ambition and return. Take advantage of the commission-per-stay model and free booking links!
6. How can I improve my distribution?
Streamline and tidy it up. Less can be more, much more: fewer distributors (especially those that overlap, such as wholesalers) and more aligned with your hotel's objectives. The key here is to find the fewest number of distributors, that adequately complement your direct sales, and reach the territories and customer segments your hotel needs (which requires good analysis beforehand). Distributors who are trustworthy and who will become true partners, not sources of conflict and disagreement.
To understand which channels and markets are relevant and what value they bring, it is enough to analyze monthly data by channel and market for the last season, and calculate their average net price. With this analysis, you will be able to understand which channels/markets complement your direct sales and provide real value.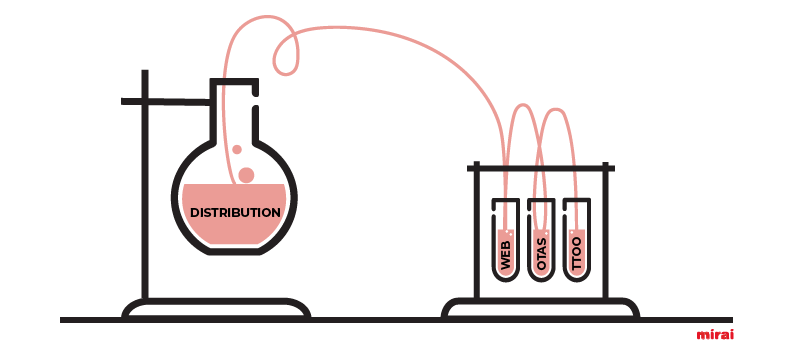 7. What are the best channels to work with in direct sales?
The customer journey is more complex: new channels are emerging where users get inspired, informed, search, compare and book. Finding the right traffic for direct sales can be complicated, but if we focus on the final stage of the funnel (i.e. close to purchase) the issue becomes simpler:
Adapt to the channels where the customer is, not the other way around.
– In the inspiration and search phase: social media, blogs, Google ecosystem, metasearch, etc.
– In the purchase phase: OTAs, your website, contact center, etc.
In direct sales, it is essential to coordinate website and call center. They are two sides of the same direct sales coin. Both teams must have the same commercial strategy and the technology to optimize the customer experience and maximize sales. This pairing can achieve a winning combination in direct sales (1+1=3).
8. Is it necessary to have a better price on my website?
According to a recent research into the profile of today's traveler, 53% admit to spending more time looking for the best price on accommodation than they did two years ago. This gives us an indication of the importance of being price competitive. 
Being competitive on your website, with respect to the distributors that offer your product, seems like a no-brainer, and yet it is still very common for a hotel's website to be more expensive than several of its distributors. This used to happen with some specific and usually secondary distributors, but nowadays it happens even with the most important ones (Booking.com group and Expedia group).
Inventory and rate parity is no longer a valid strategy. It is time to redefine a new relationship with the OTAs that will allow you to grow your direct channel and reduce your independence, while making more money.  It's not easy, but it can be done. You need the right technology, marketing investment, knowledge or good advice and patience.
9. What share of direct bookings coming from metasearch do you think is optimal? What kind of investment are we talking about?
There is no single answer, as it depends a lot on each destination and its markets, but what is certain is that it is becoming more and more relevant in the search and booking process. It also depends on the attribution model we use (contribution can change radically). If we were to estimate an average figure for all hotels, it would be around 20 – 25% share.
A good presence in metasearch engines depends on several factors:
Good engine connectivity.
Good prices and conditions.
Adequate and well-managed investment.
Assuming that the first two factors are right, our experience in managing more than two thousand hotels in metasearch, allows us to achieve a very good performance from this channel, with an average investment of only 7% of the sales achieved. In any case, you can start without risk in several metasearch engines on a per-stay commission model, where you pay only a variable (usually 10%) of the stays you achieve.
10. If there's a crisis in 2023, should marketing investment stop?
Don't stop digital marketing: adapt it and make the most of it. Tourism has proven to be very resilient and, even if economic difficulties continue to progress during 2023, there will always be tourists willing to travel (in some markets and destinations more and in others less), so the following will be key:
1. Have a good presence where users search, compare and book.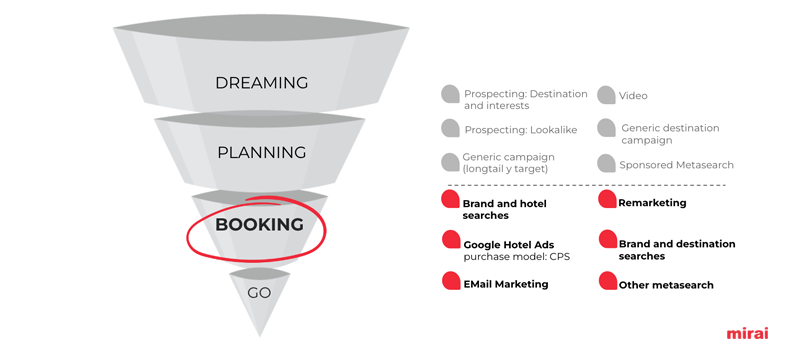 2. Be able to segment using all available data, which requires using the right technology and being active in analysis.
3. Take agile action to adapt to fluctuations in demand.
In summary:
After a few tough years, which taught us that anything is possible, tourism has made a strong comeback, thanks in part to tourists who are adapting and evolving. Tourists who are increasingly digital, omnichannel, demanding and know how to find the best price. In addition, technology is advancing rapidly and democratizing, allowing hotels to compete for the end customer against the 'Goliaths' of online distribution.
However, 2023 is still quite uncertain and you need to be prepared:
Analyze your current distribution and make sure it is efficient and agile. Doing this later, when the problem is already upon us, is much more complicated.
Prepare and enhance your direct channels and take control of your prices. They are yours to decide at all times.
Monitor your bookings figures frequently (with the support of a good BI), so that you can anticipate potential difficulties, react and analyze the results of your actions.