Bleisure, the marriage between business travel and leisure travel, has become a buzzword in the hospitality industry in the past decade. Many hoteliers may be asking the same question: "Is bleisure still a thing? If so, how should I react to this phenomenon?".
NB: This is an article from The Hotels Network
Defined as the extension of business trips to include time for leisure activities, bleisure is becoming more and more common for young business traveler around the world. Considering the increasing popularity of this twist on business trips, it might just be about time to think about appealing to this market segment.
*Spoiler alert: It definitely still is a thing*
Bleisure travelers: The golden opportunity
According to World HotelsTM 67% of business travelers feel it is important to extend a trip to include leisure while a study by Expedia found that over half of work travel tends to be extended for leisure purposes. A white paper by CWT Solutions group concluded that female business travelers, young business travelers under 25, and those who do not frequently fly may be the profiles to target regarding bleisure travelers.
Furthermore, bleisure travelers tend to be greater spenders during their "micro-vacations", with their company sponsoring the bill, they can spend much more on in-hotel expenses than the typical guest might spend.
Corporations may be starting to embrace this trend for their employees, as the percentage of corporate executives that add leisure to their business trips reach a whopping 80%! It seems that there is no stopping the rising popularity of bleisure travel. Hotels everywhere are taking full advantage of the bleisure concept by adding a sparkle of leisure to their guests' work trips.
How are hotels embracing this phenomenon?
Here are a few hotels around the globe who are changing the scene by welcoming bleisure travel with open arms:
ZOKU Amsterdam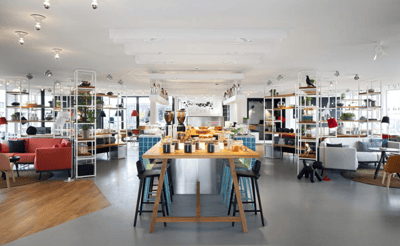 ZOKU Amsterdam is revolutionizing the industry by carving a new model into the traditional hotel scene. Understanding that work travel can be at times rather tiring and uninspiring, ZOKU introduced the original concept of a home-office hybrid, their way of helping businesspeople work, socialize, have fun and connect to the city. Created for travelling professionals, ZOKU's social spaces, communal kitchen and reinvention of hotel rooms, is the quintessence of blending business and leisure right into the hotel's vision and mission. On top of that, their initiative WORKZOKU offers memberships for individuals who wish to become part of a growing collective of professionals who take advantage of ZOKU's coworking spaces; also one of the industry's booming trends, to connect, work and have fun.
Fairlane Hotel Nashville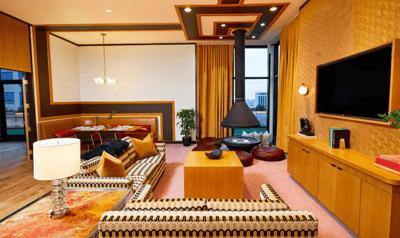 Highlighting the cross between business and pleasure, Fairlane Hotel Nashville shows guests that they have what it takes to create the perfect balance for business travelers. Taking advantage of their strategic location near Nashville's downtown government buildings as well as the Broadway music scene, Fairlane Hotel stresses that they have all the services and facilities for anything on their guest's agenda; be it a business meeting, happy hours get-togethers or a birthday party. Within their offers, they also give guests dinner credit with a 2+ night stay, creating extra incentive to extend that business trip. Crafting inventive packages directed at bleisure seekers could be another effective method to lure in travelers planning their business trips.
Hobo Hotel Stockholm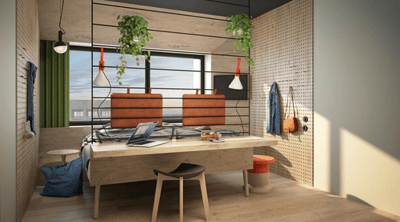 Another hotel disrupting traditional hotel design is Hobo Hotel Stockholm, an establishment creatively burring the lines between work and play. A boutique property designed with people and community in mind, the Hobo Hotel targets young travelers, who can "use Hobo as a meeting point, a workplace, an office or just a nice place to visit and hang out". With bringing back the chic and bougie in the area of Brunkebergstorg, Hobo Hotel invites guests to explore as a local, and to join their vibrant community through various creative offers. Flawlessly entering the realm of innovative independent hotels, Hobo Hotels continues to draw in the hearts of countless traveling professionals. Now think about how you could take advantage of your hotel's location and the events happening around town to further market your hotel to potential guests!
Even though the concept of bleisure has existed for a decade, yes, it is still is a thing. This relatively new breed of travelers coming from the long-established segment of business travelers could present a valuable opportunity for hotels. Why not build a marketing plan to appeal to this specific customer group? Through understanding this audience, and being able to target the right people, hoteliers can then tap into this valuable market of bleisure travelers.