The purchase path of travelers is anything but linear. The way people find inspiration to travel, research, and book trips continues to change, as well as what influences traveler behavior and decisions. These complexities make it challenging for travel brands and advertisers to understand where and how to show up throughout the path to purchase to reach travelers effectively.
NB: This is an article from Expedia
Subscribe to our weekly newsletter and stay up to date
During the research phase, travelers actively look at various options, gather information, and narrow their choices. Looking at the top resources for travel research, among those travelers using the resource, nearly three-fourths used search engines, meta travel websites, and social media followed by destination websites and OTAs.
The digital data also revealed that most travelers use OTAs for research, regardless of where they book. For travelers who booked on a hotel website or app, nearly two-thirds (61%) visited an OTA during their journey. Similarly, more than half (52%) of customers who booked on an airline website and 58% who booked on a car rental website visited an OTA.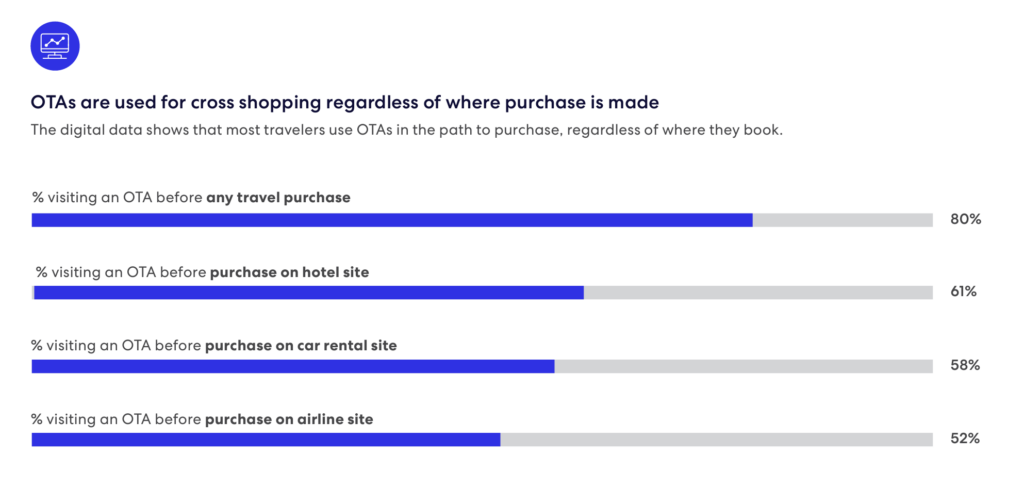 OTAs are also an important resource for travelers in the planning phase prior to booking. Among travelers using the various resources, OTAs are the top online resource for travel planning, and meta travel websites follow close behind.
Travelers using OTAs for research and planning highlights the importance of having a brand presence beyond your owned websites and incorporating other platforms, such as OTAs, into your strategy to stay top of mind.
Our Travel Spotlights offer a creative advertising solution for marketers looking to inspire, influence, and engage travel shoppers in a visually impactful way. With a customized landing page experience, travel brands can incorporate beautiful images, promotions and deals, and other inspirational content to drive consideration among travelers. Leveraging display and native advertising solutions can also help boost visibility and ensure your brand is reaching travelers during the research and planning phase, and beyond.
What travelers look for when choosing where to plan and book
The booking phase marks the final step in the travel consumer journey. Before choosing where to plan and book their trip, travelers consider an array of factors. Nearly half (49%) of travelers said getting the best price is an important factor when deciding where to shop and book their trip. Roughly one-third (31%) consider their positive previous experience with a travel brand, and 28% look for travel brands that offer flexible cancellation policies or refundable rates.

Travelers also prioritize different factors depending on the type of purchase they're making. Hotel guests look for an easy-to-use website and consider their positive previous experience, while flight shoppers are more concerned with finding competitive prices.
For hotels, custom advertising solutions like TravelAds Sponsored Listings are a cost-effective way to maximize your property's visibility with travelers. Hotel marketers can customize ad copy and highlight features such as low prices, flexibility, and customer reviews in their messaging to capture shoppers' attention throughout the traveler journey and drive bookings. Accelerator is another budget-friendly option that helps you increase your hotel's visibility and reach more travelers as they're searching for where to stay. And air providers can leverage Flight Sponsored Listings to promote their competitive prices to highly qualified flight shoppers to capture demand and maximize bookings.