'Times they are a changin', but one thing remains the same: 'you've got to spend money to make money'. The entire hospitality industry has faced so many unique challenges over the last couple of months since COVID-19 started to spread worldwide.
NB: This is an article from ARO Digital
Any robust COVID-19 hotel recovery strategy should be adapted and adjusted and include online advertising. The good news is that there are new trends and opportunities emerging that can be used by your hotel to close the gap in 2020.
Cover the basics
Hotel marketing for COVID-19 should firstly protect hotels' brand names. It's tempting not to spend on pay-per-click advertising to keep overheads low but neglecting your book direct strategy could have detrimental effects long term. If OTAs are bidding on your hotel's brand name, you should be in that space too to capture and retain as many direct bookers as possible. Now is not the time to let Booking.com expand their customer base. Customer loyalty begins by capturing that first booking direct on your hotel's website.
Do not panic if searches for your brand have decreased; this is to be expected at this time. There are less people searching or people in your international markets are no longer eligible to fly. There are still opportunities locally.
Comparing July & August 2020 to the same period in 2019 for Irish brand PPC clients, we saw an average 35% decrease in cost (usually due to less demand & less budget allocated) and a 10% increase in bookings. The higher number of reservations is partially due to more availability; browsers are seeing their desired dates are available and are booking. The average Cost Per Click (CPC) was 60% less on average, which is in part due to less competition in that space. A lower spend but higher number of bookings, means that you can enjoy a higher Return On Ad Spend (ROAS) than before. On average, the return in these months was threefold the return in the same period in 2019. We have delivered phenomenal ROAS of over 100:1 for many Irish clients over the last three months. Brand PPC is a 'no brainer' right now.
If you don't have a Google Hotel Ads campaign set up, now is the time to consider starting one. 65% of hotel bookings from metasearch come through Google Hotel Ads (Hotel Speak). The major advantage of Hotel Ads is the commission model they offer, whereby you only pay for bookings that are made. You will never pay for a click that doesn't convert. The average ROAS we delivered to clients on this channel was 22:1 in August. Budget will never be 'wasted' on a Google Hotel Ads campaign and the cost of acquiring the booking is lower than through an OTA. A high proportion of these bookings would not come through the hotel's own website otherwise.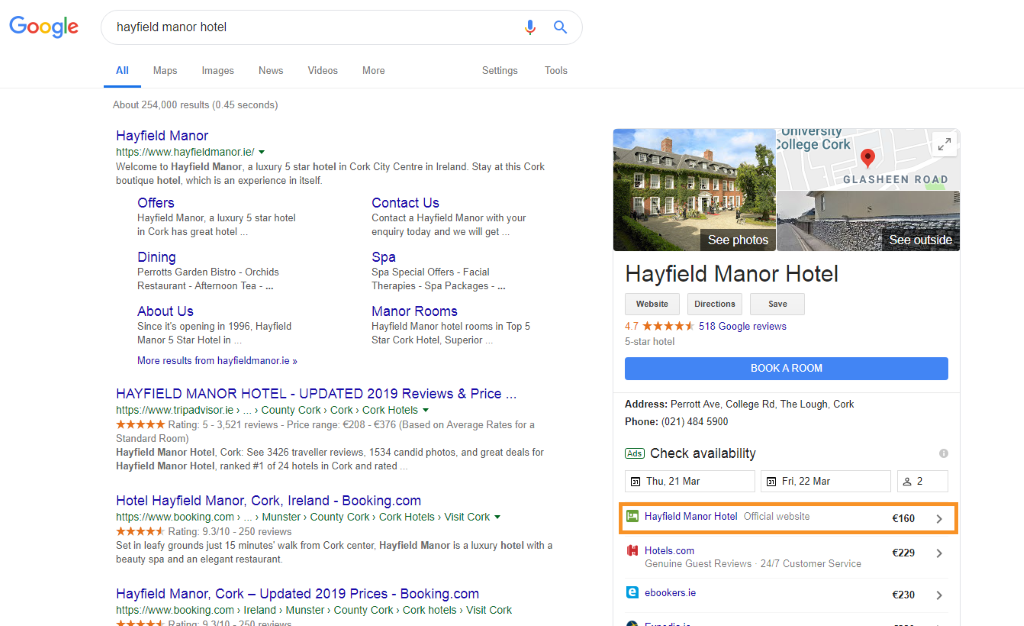 While the high return trend may not continue at the same pace as children go back to school, other types of guests such as the retired market, may be searching to stay in September & October. There is still the Halloween mid term break to come. In addition, we are seeing some searches for Christmas. Given people may not have had a break abroad, they may be looking for a festive stay as a treat this year. Making sure you are visible in paid ads (both Google Search and Google Hotel Ads) is essential to capturing these people looking for your hotel specifically.
What can your hotel offer your domestic market?
Your competitors are going after similar domestic markets, but a lot can be done with a little creativity. This is where messaging really shines.
Capture people's imagination; staycations don't need to be boring! There's lots to explore in our home country. Here are some ideas for staycation offers:
Offer packed lunches, picnics or takeaway breakfasts to encourage people to leave the hotel and go explore.
Consider including complimentary tickets to local attractions. This will highlight some of the local things to do.
Highlight the 20% tax back incentive they can avail of if they stay at your hotel.
Do you have private grounds or open spaces to explore nearby? Make sure your potential guests know about it.
Can you offer complimentary bike use or an attraction map/guide?
It can be stressful to organise local restaurant bookings at peak times. Offer dinner with your stay.
Appeal to visitors who may just want a cosy night in by offering movies and treats in their room. 'Staying in is the new going out!'
Hotel marketing for COVID-19 will benefit by showing clear safety guidelines are in place to website visitors. Reassure potential guests that it is safe to stay at your hotel by prominently displaying on the website if you have the 'Covid-19 Safety Charter' from Fáilte Ireland or meet the 'We're Good Go' standard in the UK. Not all hotels will have these in place and as people become aware of these standards, they will actively search for hotels that have them.
It may be a while away but consider if you will do anything for Black Friday 2020. Countdown timer ads are a way to promote short term offers whereby as the end date gets closer the ad itself will display how long is left to avail of the promotion. Limited time offers have always been effective in encouraging that final click on 'Book Now'.
These are all excellent incentives that can be highlighted in your ads to really make you stand out from the competition.
Boost your brand awareness
One effective way of increasing the demand for your brand (i.e. increasing the number of searches for your hotel's name) is to invest in brand awareness campaigns. The goal of such campaigns is to generate interest in your hotel with people who were not aware of your brand before. If there is budget available, your COVID-19 hotel recovery strategy should include building brand awareness both in advertising and organic strategies.
While ROAS is not the goal of the campaign, it will benefit more return-driven campaigns down the line such as brand ppc, Facebook retargeting or display remarketing campaigns. The campaign will drive new visitors to the website and these new visitors will be captured in campaigns that target people who have previously visited your website.
Additionally, we can monitor whether these people later return to the website from another channel, which indicates a high degree of interest in the hotel. They may search for your brand name and at that point, they click on the brand ppc campaign and then book. While the bookings are not attributed directly to the earlier brand awareness campaign, this scenario shows that it will influence the booking decision later in the customer's journey and help improve the brand ppc campaign's number of conversions.
What brand awareness campaigns are effective for hotels?
Display prospecting campaigns will get good reach for your hotel with responsive display ads. These are ads that will show in different sizes and formats to fit the space available across websites and apps. The advantage of display prospecting campaigns is that you can target people who are actively searching for hotel stays or whose behaviours Google has identified as indicating an interest in hotel accommodation (or other interests we select relevant to your hotel's offering). Gmail campaigns can also be effective by targeting people with interests closely related to your hotel and shown directly in their gmail inbox.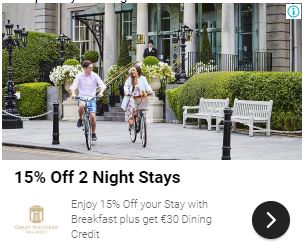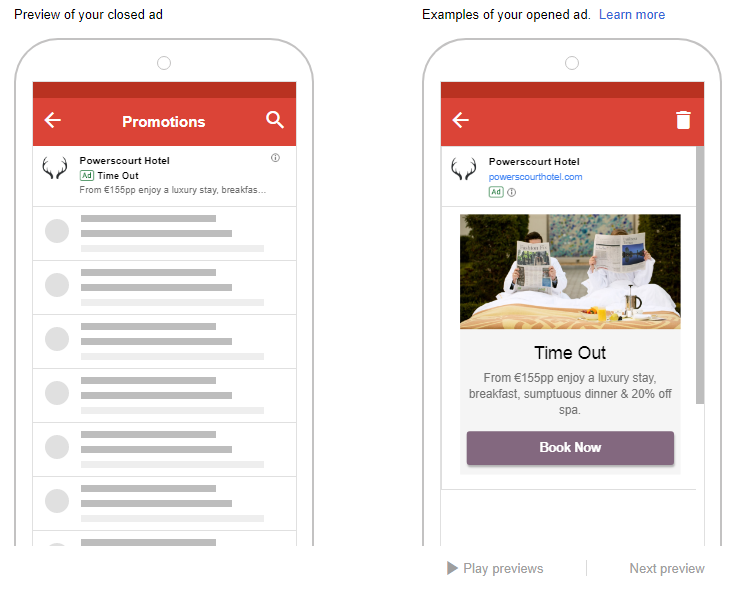 As people are spending more time at home, they turn more and more to social media channels. Facebook's daily active users was up 12% in the second quarter of 2020 compared to the second quarter of 2019. That is 2.7 billion active users (econsultancy).
Facebook & Instagram are ideal visual platforms for showing off your hotel to new audiences. We have seen many a direct bookings generated on Facebook & Instagram brand awareness campaigns with excellent return from as little as €10 per day. The reach may be lower than a display campaign, but it has a good balance of finding new people for your audience and generating direct ROAS.
Explore new opportunities in non brand search campaigns
Yes, average search volumes are dropping for certain keyphrases, but they are also increasing for different searches. Recently, we identified a large increase in searches for the term 'staycation' in Ireland and the UK. This is a major opportunity both for SEO and PPC. Using this phrase across social posts, offers on your website, email campaigns, and indeed in PPC campaigns, can capture the attention of browsers who are hearing and seeing this term more and more.
| Month | Search Vol IE | Difference (MOM) | Search Vol UK | Difference (MOM) |
| --- | --- | --- | --- | --- |
| April | 590 | | 8100 | |
| May | 880 | 49% | 12100 | 49% |
| June | 290 | 230% | 22200 | 83% |
| July | 12100 | 317% | 49500 | 123% |
| | | 1275% | | 309% |
As times are uncertain, many bookers are looking for last minute deals. Consider creating a specific offer or landing page to promote ads for last minute bookings. Flexible cancellation may also convince people who are uncertain or wary due to the current spike in COVID-19 cases. Following up with information about the safety regulations in place at your hotel will put these uncertain potential guests at ease.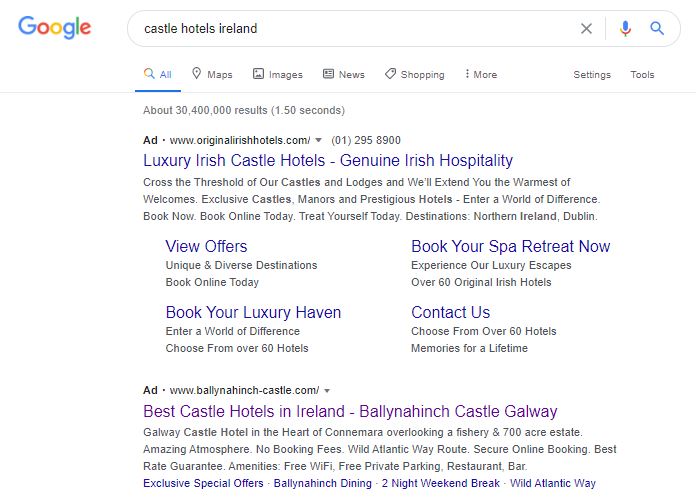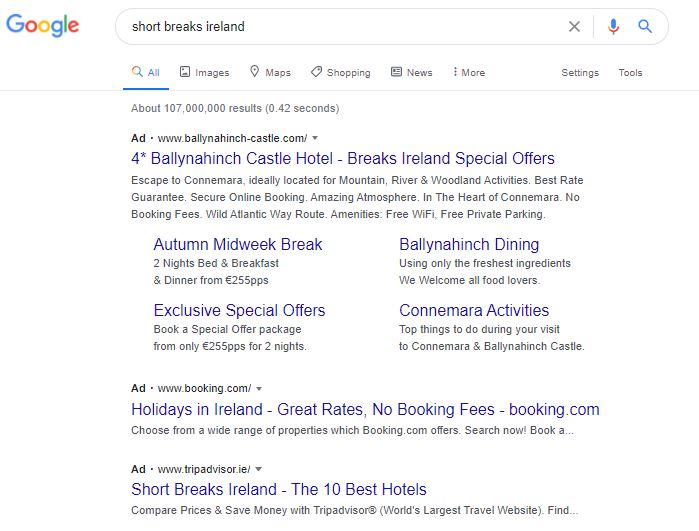 How should hotels allocate advertising budget during the COVID-19 pandemic?
Although markets and trends will continue to change, there are a couple of essentials to keep in mind:
If OTAs are bidding on your brand on Google Search or Google Hotel Ads, you need to be in that space also. This should be the hotel's number one priority.
If demand for the hotel brand name has dropped, it's time to invest in at least one form of brand awareness campaign.
Focus on the attainable markets; the guests that can easily visit your hotel. In most cases, this will be the domestic market.
Be flexible. Budgets may be strict, but they can be moved to areas where we see the best results.
A further item to take note of is that Google announced this month that it will be applying a 2% additional fee to the invoices for campaigns targeting the UK and 5% for Turkey or Austria from November. This will not appear in the ad cost reports, only on your Google invoices. It's poor timing, but something for accounts & marketing teams to consider when planning advertising in these markets.