In today's online booking landscape, hotels need to do everything they can to stand out.
NB: This is an article from Leonardo
A competitive hotel website establishes a strong online presence that is not only optimized to stand out in search results (better known as SEO) but also optimized for the user experience.
Subscribe to our weekly newsletter and stay up to date
Google evaluates websites based on Experience, Expertise, Authoritativeness, and Trustworthiness (EEAT) as a metric of their quality. Their algorithm assesses websites based on these principles. Based on that assessment they rank webpages higher or lower in search results. At the centre of this assessment is trust. Overall, Google is trying to ensure that they are sending users to trusted websites that are relevant to their inquiries.
Any hotel looking to stand out from the competition must use these guidelines throughout their site. There are two factors at play specifically for hotels.
One is that using these principles demonstrates that this website is the legitimate, trustworthy landing page for this hotel. Some shady actors set up pages that purport to be the hotel in question, but are shell pages created to divert money to an intermediary, rather than the hotel itself. If you've ever googled your hotel name only to land on a page you don't recognize, this might be the case for you. Your hotel website must demonstrate its reliability to outrank these sites.
It may seem straightforward that you're creating a website for your business, but using these principles also tells Google that this is the trusted website of that business set by the property in question.
The second is that these are simply good goals to use when creating hotel website content that ranks well, drives traffic to your website, and convinces visitors to convert to confirmed guests.
In this article, we're breaking down exactly what this acronym means, and how you can apply EEAT to your hotel website.
Experience: Real word expertise
For many years, the acronym in question was just EAT. At the end of 2022, Google updated these long-standing guidelines to include experience as a key principle of their search algorithms.
The general idea behind prioritizing "experience" is the understanding most people are looking for content delivered by someone with real first-hand knowledge of the question. For example, people searching for travel information want intel from someone with direct experience with the area.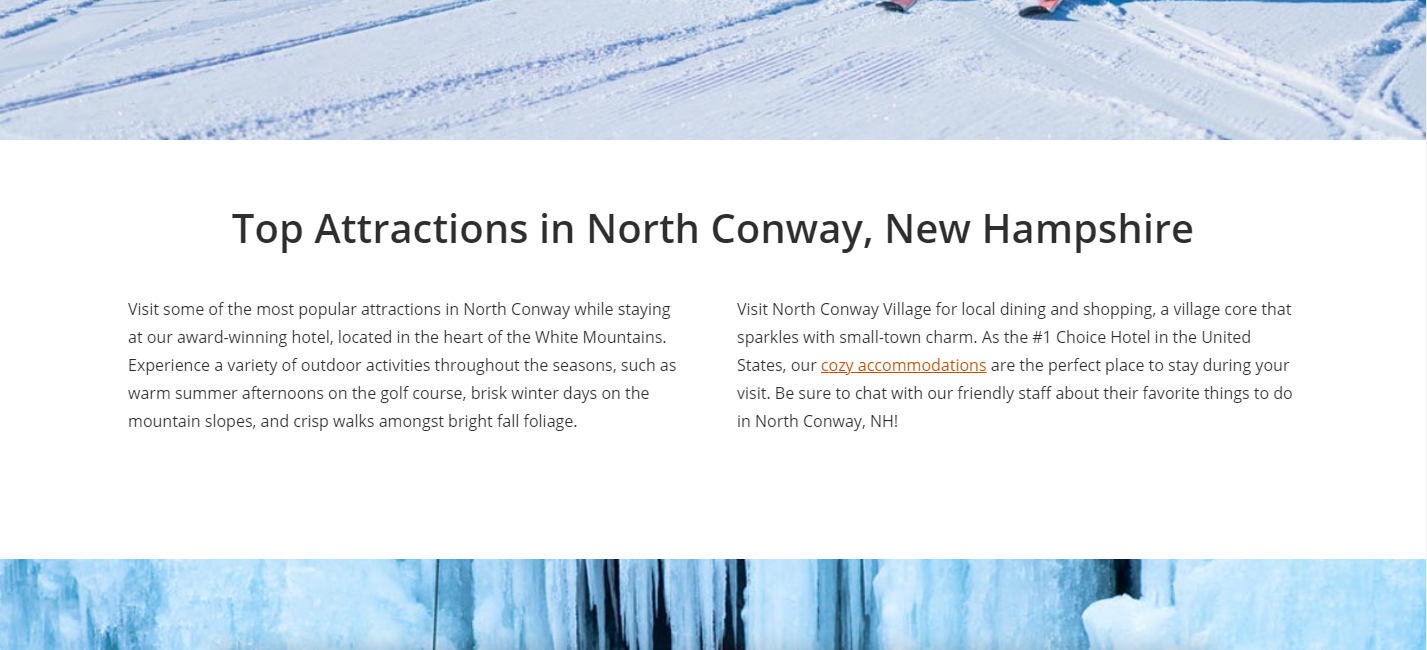 When building hotel websites, we showcase local travel information provided by our client's knowledge of the area from their real-world experience. For example, our client North Conway Comfort Inn share some of the top attractions in the area on a dedicated "things to do" page on their website.
Expertise: Showcase Your Hotel's Unique Offerings 
To establish expertise, hotel websites should highlight the unique offerings and services that a user can't find anywhere else on the web. Showcase your expertise on your own hotel! Include high-quality content like detailed descriptions of rooms, amenities, and local attractions, to establish your expertise on the subject of your hotel.