Our annual benchmark report recently went live. And this year, it's packaged in an entirely new format that includes an analysis of more than 655 million emails and more than 30 million guest reviews from 2022.
NB: This is an article from Revinate
Now that we've reviewed the data, we're ready to bring you actionable insights to boost your direct revenue and provide excellent guest experiences.
Subscribe to our weekly newsletter and stay up to date
Our 2023 benchmark report will help you evaluate your hotel marketing and reputation management performance and compare yourself with your peers. Here's an inside look at 5 key takeaways to improve your hotel marketing and guest feedback game.
1. Making significant changes can impact your hotel rating
Average hotel ratings in EMEA were somewhat lower than for the rest of the world. But the highest average rating was led by ME/Africa at 4.26.
Why the lower ratings? Since 2021, gas and energy prices have skyrocketed. Those increases, coupled with a few other factors, are also affecting household expenses. In fact, the EMEA region's economy is expected to stall in 2023.
Some of these challenges are likely affecting average hotel ratings. The UK is one of the countries seeing this the most, as the rising energy costs were particularly notable there in 2022 — their average hotel rating of 3.98 reflected this. It's clear that this challenge has had an impact on hotel operations and guests' purchasing decisions.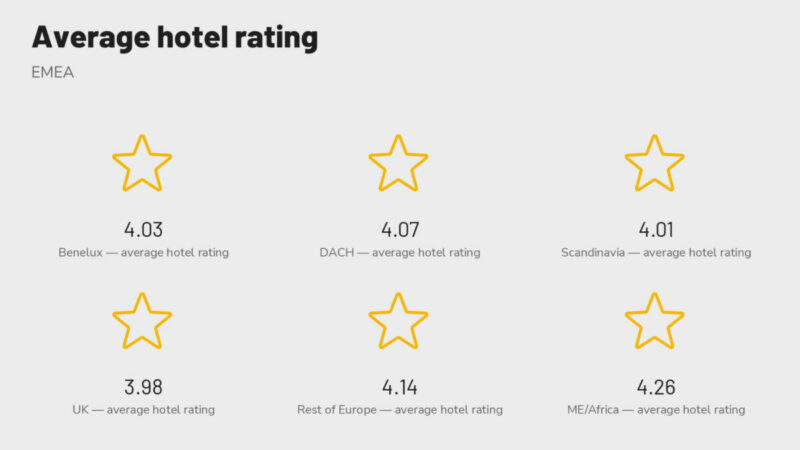 Many hotels will need to review their cost-saving strategies, but remember to be mindful of your guests' expectations and experiences. If there's anything we can learn from the pandemic, it's that being transparent with your guests and staff can take you a long way. Sending pre-arrival emails with a short and sweet message to your guests reminding them to turn off the lights and dial down the heat when they're not in use can help you cut costs without diminishing the guest experience.
2. Responding to reviews is just as important as receiving them
Even with the challenges of inflation and energy costs, Europe is expected to have the fastest recovery within the industry. This area saw more than 477 million international arrivals in January-September 2022, which was a remarkable 68% of total global arrivals. The Middle East is also expecting to return to pre-pandemic levels in the near future.
Even though EMEA is culturally diverse and consists of many micro-regions, it had a high average number of reviews in 2022. The micro-region that stood out was BENELUX, with an average of 101 reviews per month.