The online booking business is only as good as its inventory, so finding the best rooms for the best price is job number one. One of the ways to get a diverse inventory portfolio is to partner with a bed bank.
NB: This is an article from altexsoft
What is a bed bank?
A bed bank (also called a wholesaler) is a B2B company that purchases rooms from accommodation providers in bulk at a discounted, static price for specific dates, and sells them to OTAs, travel agents, destination management companies, airlines, or tour operators.
Subscribe to our weekly newsletter and stay up to date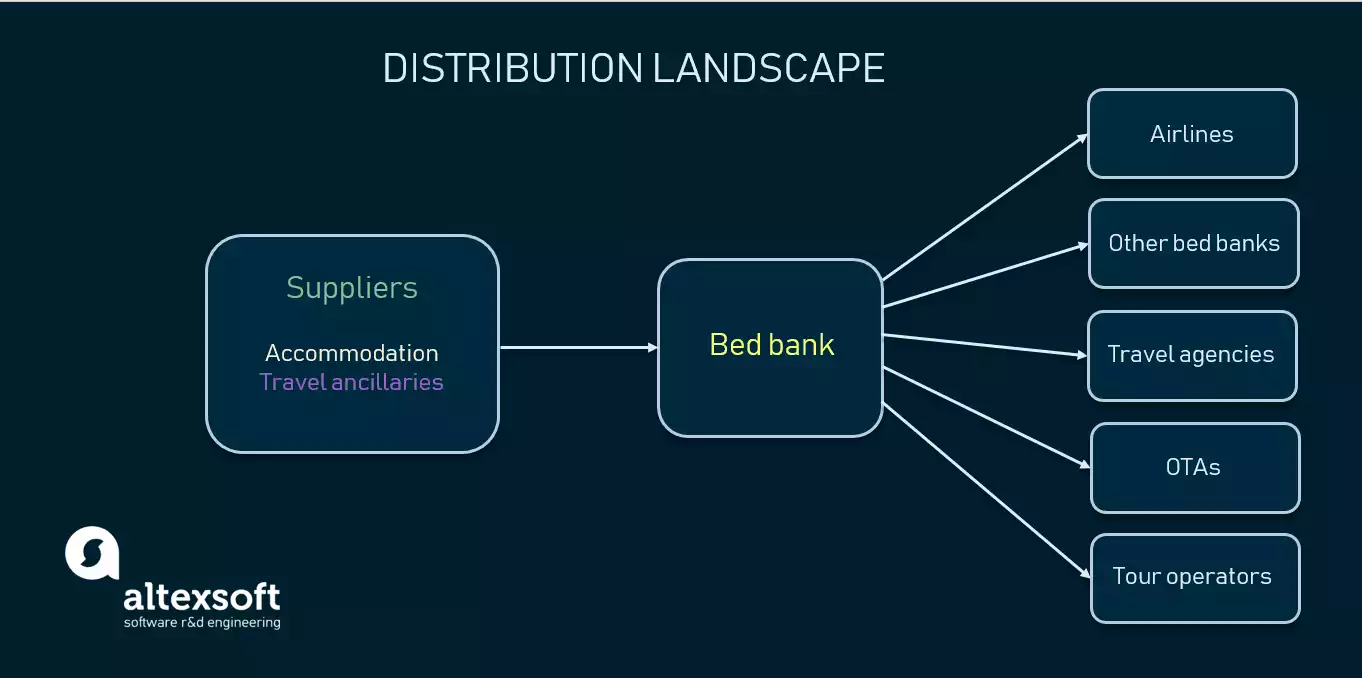 Bed banks aggregate inventory from suppliers and resell it to other businesses
Wholesalers can partner with accommodation providers directly or access their inventory via suppliers or connectivity solutions. Some companies use both approaches. Wholesalers connect with suppliers' Property Management Systems to send updates on who will occupy these rooms and when (e.g., guest John Smith will occupy X room from date A till date B).
Many bed banks go beyond selling lodging and offer other types of travel inventory such as activities, tickets, transfers, or car rentals.
So, bed banks are middlemen between hoteliers that aim to have decent occupancy rates and travel providers looking for inventory for their end customers that will get them a commission.
Which bed banks should you consider to enhance your position in chosen markets? We will explore several major accommodation wholesalers to help you choose a business partner.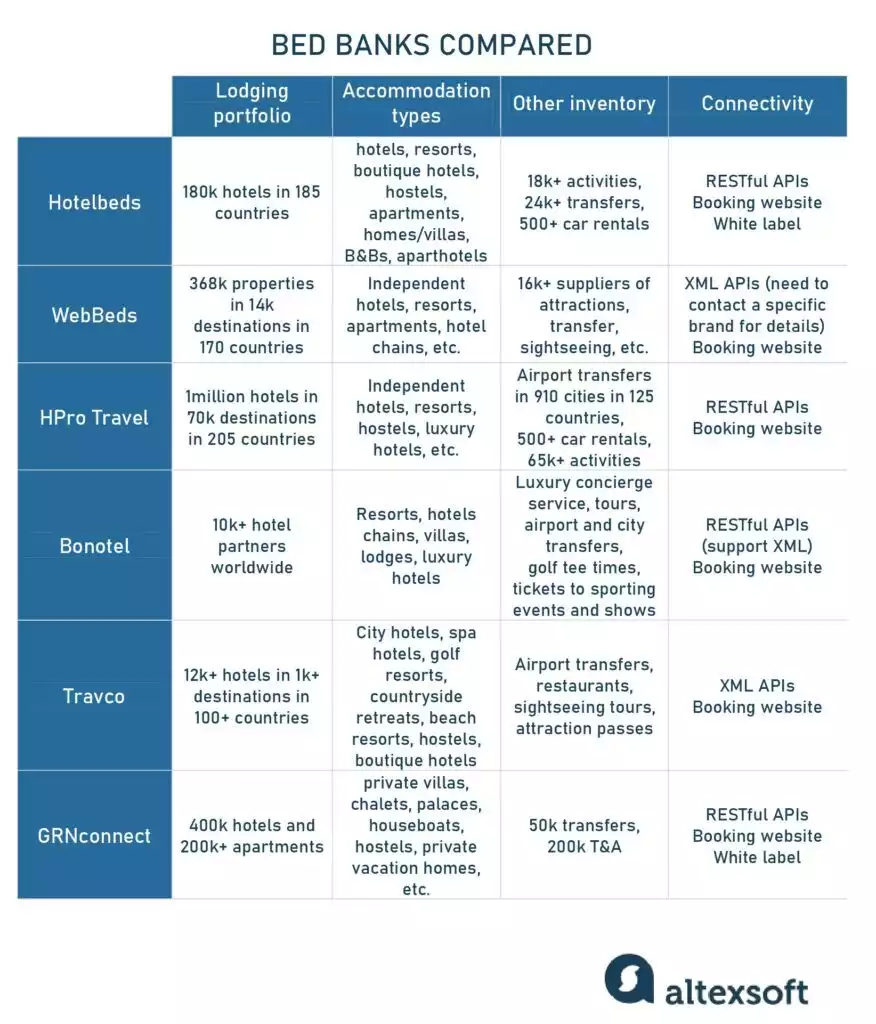 Comparison of wholesalers by accommodation, other inventory types, and connectivity
Hotelbeds: an industry leader with various accommodation types worldwide
Hotelbeds provides an extensive listing of accommodations across the globe as well as other travel products. After acquiring of Tourico Holidays and GTA wholesalers, its portfolio includes over 180,000 hotels in 185 destination countries. The average number of properties across the Americas is 85,000, nearly 143,500 properties are located in Europe and the Middle East, and around 71,500 accommodations are in Asia Pacific countries.
To hoteliers, Hotelbeds offers access to a network of over 60,000 travel buyers in more than 140 source markets worldwide.
Accommodation
The properties cover both traditional and alternative accommodation types, so Hotelbeds partners can deliver to various market segments:
hotels,
resorts,
boutique hotels,
hostels,
apartments,
homes/villas,
B&Bs, and
aparthotels.
Hotel profiles are marked with tags, such as best for beach, luxury, nightlife, business, families, value, and solo travelers, to help users select the options.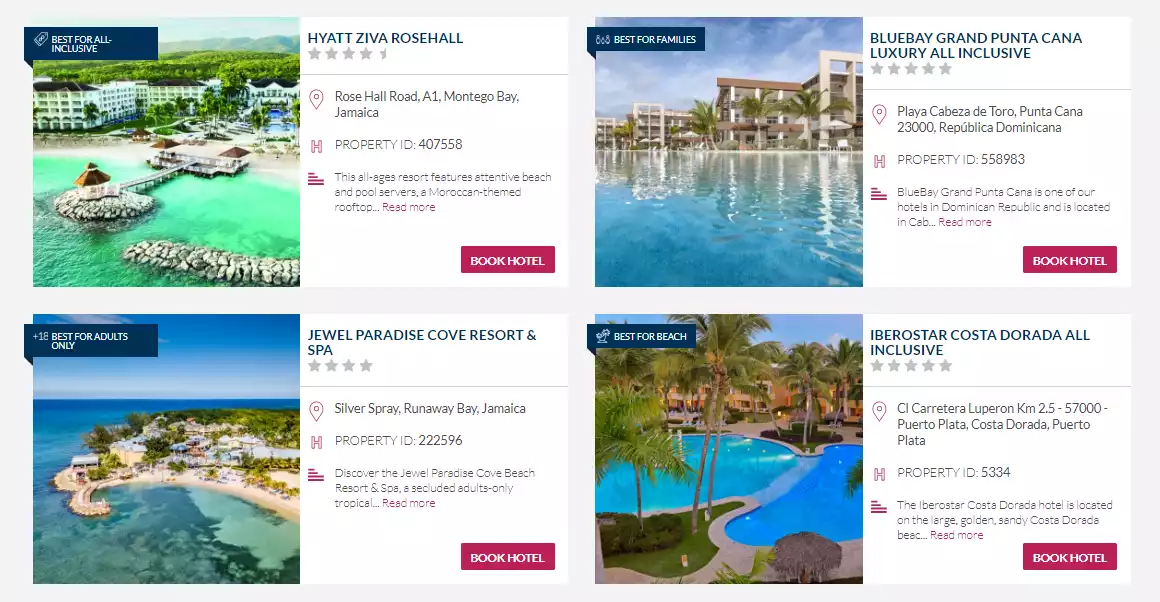 Hotel descriptions with tags to help agents with the choice. Source: Hotelbeds 
The company partners with big hotel brands like IHG, Hilton, Sheraton, Hyatt, NH Hotel Group, Iberostar, Melia, Accor, and Barcelo.
Other travel inventory
Lodging is just one of the travel package components end customers may be interested in, so tours and attractions are here to let them immerse in local culture and learn about the destination. Hotelbeds Beyond the bed portfolio includes18,000+ activities and tickets in more than 680 destinations in 200 countries (i.e., Legoland Windsor Resort, Port Aventura, Big Bus Tours, Gray Line Tours, City Sightseeing hop-on-hop-off bus tours);
24,000+ transfers (private and shared); and
500+ car rental suppliers in over 170 countries (i.e., Goldcar, Hertz, Enterprise, Alamo, Sixt).