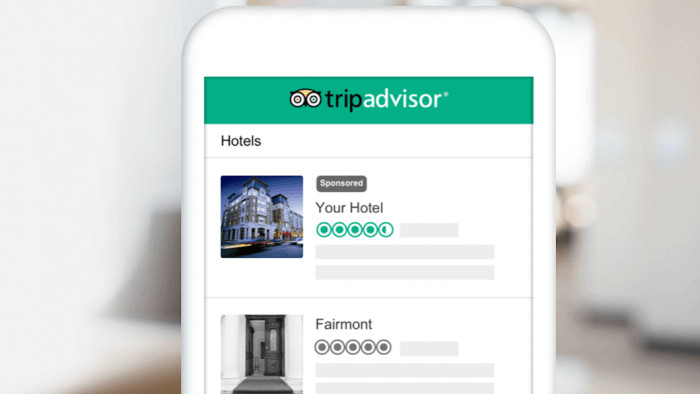 Thanks to Tripadvisor Sponsored Placements, hotels can bid to the top of the Tripadvisor search results for any given destination.
NB: This is an article from Travelboom
But what may sound like an advantageous opportunity may not be so advantageous if you're not keeping a close eye on the many other aspects of Tripadvisor's search and ad ecosystem.
Subscribe to our weekly newsletter and stay up to date
Before you make a decision about using Tripadvisor Sponsored Placements, let's first dive into what Sponsored Placements is and how you can choose to participate.
What are Tripadvisor Sponsored Placements?
Sponsored Placements is a campaign type that gives hotels the opportunity to bid on the position of their hotel on the Tripadvisor destination results page.
While users can view the results by ranking, best value, price, or distance, hotels that don't rank well for any of those criteria can boost their visibility with Sponsored Placements.
Similar to a search engine hotel PPC campaign, hotels can bid to the top of the Tripadvisor search results. The actual click cost depends on the number of active advertisers in your region, exchange rates, and available click inventory.
Unlike a traditional search engine PPC campaign, hotels are also not able to set bids. Rather, they are only able to choose between three pre-determined daily budget levels or a customized daily budget.
Let's explore an example.
If you are the #35 ranked hotel in Miami Beach, there are 34 other hotels above you with more visibility.
However, in the example here, if you are SLS South Beach, you can pay to be shown at the very top of the results. Good for SLS South Beach, they're getting plenty of visibility now! Specifically, we see three key items:
They're at the top of the search results for Miami Beach hotels and places to stay.
They have a "sponsored" badge.
Their destination ranking is not shown for the search criteria.
That's right, the top sponsored position doesn't show "#35 of 233 hotels in Miami Beach". This makes sense if you are the hotel and Tripadvisor. The last thing you are going to want to show if you are paying for the top position is that you are not really the top hotel.
Now SLS South Beach, a hotel that may have been relatively unknown to casual shoppers looking for a Miami Beach hotel, is now the top choice. Unfortunately for SLS South Beach, once a visitor decides to click, things start to take a dark turn.
In this example, the customer has a few click choices. They can either click the property name and go to the SLS South Beach Tripadvisor profile page or they can click the giant "View deal" button. There's also a much smaller "Visit hotel website" callout.
The two former options raise some red flags that call into question how effective Sponsored Placements can be for this hotel.