According to Tripadvisor, a mind-boggling 96% of travelers read reviews when researching a hotel.
NB: This is an article from The Hotels Network, one of our Expert Partners
With the vast majority of travelers looking for reassurance about the experiences of previous guests before deciding to book a property, there is a significant risk that they leave your hotel website (without booking) to check reviews on OTAs or other sites. 
It's therefore crucial to promote guest reviews on your branded website that highlight your USPs (unique selling points) and help convince users that your hotel is the right fit for their stay. What's more, if you want to keep users engaged and have a real impact on conversion rates, you need to show reviews that resonate with your potential guests.
Here, you will discover 5 proven techniques to make the most out of your hotel's guest reviews to encourage more visitors to book directly with you.
5 proven techniques to use guest reviews to boost direct bookings
1. Showcase your guest reviews at key stages of the booking funnel  

As a hotel marketer, reducing the bounce rate of your hotel website is likely to be one of your primary concerns. Highlighting positive guest feedback on your homepage can clearly have a strong impact on your numbers, but by limiting the focus to the homepage, you could be missing a trick.
With multiple touchpoints throughout the online booking journey, there is an opportunity to impact user behavior at each key stage. Draw attention to what makes your hotel special at relevant steps of the reservation process, with a special focus on those pages that are important to your brand. If you have a high volume of visitors coming to the gallery page, why not showcase your guest reviews there?
2. Ensure the guest feedback is relevant for visitors

Categorize your guest reviews by travel intent and tailor your reviews by type of user to encourage sales from specific targets. Select interesting reviews that explain your hotel's USPs in your guests' own words and provide website visitors with useful information during their hotel search.
With today's technology, it's possible to use segmentation rules to personalize the website user experience by showing a Smart Note in the relevant language that highlights the most relevant review for each user. A great way to do this is to customize the message based on the visitor's search or browsing patterns. For example, if the user is searching for a room for 2 adults + 2 children, show a review that highlights that your hotel is ideal for families.
3. Select the most relevant review sites and OTAs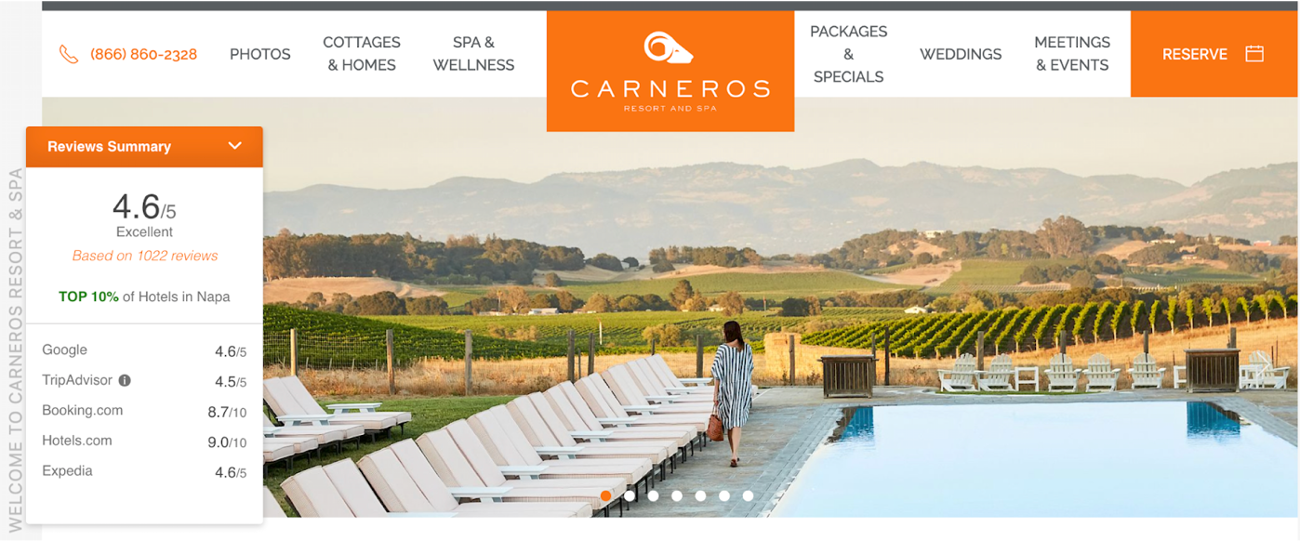 It's important to show the right sources for your visitors. Aggregating scores and displaying reviews from multiple OTAs and sites will help convince users that your hotel is the right for them. Don't limit yourself by only showing those sites where you have the highest review scores. Offer a more personalized website experience by including those sites which are the most popular with your target audience. The content is more likely to resonate with your visitors and inspire trust!
4. Update guest reviews regularly on your website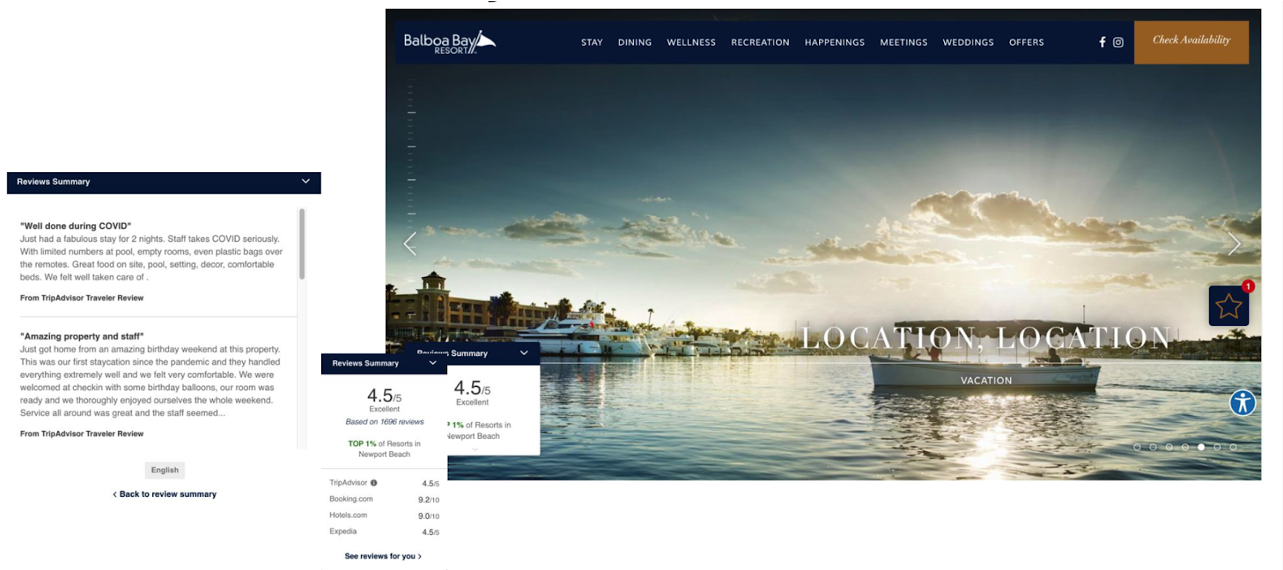 It doesn't make sense to keep the same old reviews. Even if these are very good, we know that visitors planning a stay want to read about recent guest experiences so should update your guest comment regularly. A quick and effective win is adapting your reviews based on seasonality. For example, if the holiday season is right around the corner, share comments from your guests talking about their incredible holiday experience at your hotel. By highlighting reviews in a timely manner, you will be able to engage with online visitors and reassure them that your hotel is the right fit for their stay.
5. Take into account the search device

Mobile bookings have been clearly gaining a larger share of total direct bookings over the past years so now the question is – are you optimizing the display of guest reviews on your hotel's website for mobile users?
With The Hotels Network's Review Summary, you can activate the mobile option to ensure that visitors navigating on mobile devices have access to your reviews too. Understanding that mobile bookers can easily jump from one hotel website to another, it's even more important to retain them by letting them know what makes your hotel special. This simple but powerful website feature will definitely have a great impact on your mobile conversions.
In conclusion, you're more likely to keep visitors on your website if you provide them with all the information they need to make an informed decision, and guest reviews are a key part of this. As a result, to drive more direct bookings to your property, it's critical to show relevant guest feedback on your website, highlight your accomplishments and persuade users that your hotel is the best option for their stay.
If you are interested in discovering more proven strategies from hotel brands leveraging guest reviews to boost their direct reservations, we recommend reading our guide, "Leveraging guest reviews to inspire trust".