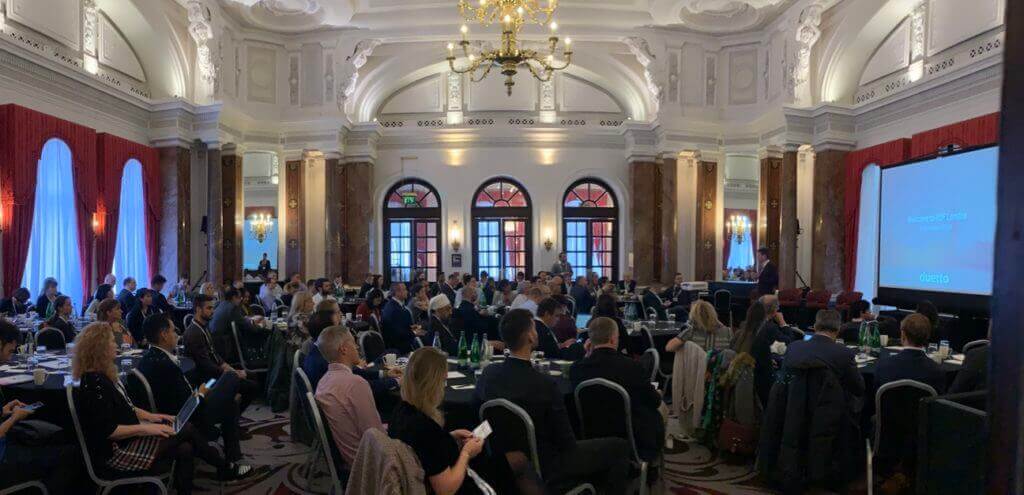 Technology and personalisation were two hot topics up for discussion at this year's Revenue Strategy Forum, which took place on 5 November 2018 in central London, as panellists and speakers discussed the merits of bringing both together to improve the guest experience and, ultimately, boost hotel revenues.
In a Spotlight Session on 'Boosting direct bookings through personalisation' three experienced hoteliers came together to discuss how a seamless user experience, tailored message and personalised offers can drive more customers to book direct.
Moderated by Sam Weston, marketing manager of Eighty Days, the panel covered the importance of bringing the personal touch and technology together.
"You have to empower your teams to make a difference to people because, ultimately, creating a memorable experience is when people decide to choose you over someone else," said Kelly Cronin, director of revenue management, Interstate Hotels & Resorts.
"Adam Rowledge, general manager of Georgian House Hotel agreed. "If you have a team on board with what you are trying to do, and they have the knowledge and resources, they will do that for you. A small but unexpected use of data is more powerful," he said.
David Taylor, chief commercial officer of glh Hotels, said that integrated technology that is customer centric and joined up is significantly more powerful. "There are ways and means for our teams within the hotels to add data on guests into some sort of profile where we have consent to use it," he said.
"We are predominately London based, so we promote the experience of London. We try and make sure the messaging we've got is not just about saying 'there's x% off'. We need to give the consumer the right reason to visit. We go out and find the local, the really interesting things that there's a real story behind and that will create a great experience for the guest. The world exists beyond the walls of the hotel. It's our aim to introduce guests to London as an experience."
Bringing Personalisation And Data Together
Delivering a personalised, tailored experience that boosts conversion has certainly become the remit of Amazon in recent years.
Julien Simon, Principal Evangelist AI/ML EMEA, Amazon Web Services, rounded out RSF London with a Technology Focus session on 'How A.I. and Machine Learning can transform your business.'
"Early on, we found that the online experience had to be personalised," Julien Simon told the audience. "Today, recommendations and personalisation are now everywhere on Amazon. You log in and you'll see a message: 'You bought this, we think you might like this as well'. That level of sophistication is pretty high."
Artificial Intelligence (A.I.) and Machine Learning is now found in every strata of the Amazon business, from the 50,000 autonomous robots using machine learning to avoid collision in the Amazon warehouses to drone delivery, flying autonomously to the destination and delivering within 20 minutes of order. "Drone delivery is still being tested, but it is real and coming to a garden near you!" Simon said.
Amazon's dominance of the e-commerce sphere is undeniable. But how does this translate to hospitality? According to Simon, the tech giant has several solutions that hotels and the wider travel industry can and are using, including:
Image processing
Video processing
Chatbots
Translation
Transcription
Its image processing solutions offer object and scene detection. "It can count the number of people queuing at check-in and you can automate that so that once it has reached five persons someone from back office steps out to help out on reception," Simon explained.
Face analysis is another tool, built with emotional detection it can give an immediate pulse on how happy your guests are. Celebrity recognition will tell you if George Clooney is checking in, while text in image will highlight images where your brand or signage appears. In today's age of social sharing, image moderation can help hotels identify images that may be more inappropriate in certain markets and locations.
Text to Polly can provide communication in 54 voices and 27 languages, helping hotels overcome language barriers. Lex, Amazon's chatbot service, helps continue the conversation.
With GDPR regulations now in force, personalisation and its automation look set to remain firmly at the front of the agenda with hotel management for some time to come.
The Revenue Strategy Forum London was held at the Amba Charing Cross Hotel on 5 November 2018 and was organised by Duetto, the hospitality industry's only Revenue Strategy platform