Within today's challenging context, hotel brands and properties need to look for even more innovative approaches to win back their fair shares of direct bookings.
NB: This is an article from The Hotels Network
Now is a good time to start developing creative and personalized marketing techniques to give that motivational boost to your potential guests, and to let them know that they can trust you in providing a smooth, safe, and refined experience.
4 tactics to support end-of-year recovery
With our experience in working with thousands of hotel clients around the globe, we've assembled a brand new guide with practical tips and examples to help you improve the online user experience and ultimately, increase revenue. Here we've selected four tactics from their guide that have proven to be highly effective for their clients, spanning from budget to luxury brands and independents to large chains. Whichever segment your hotel belongs in, these tactics can be adapted in suiting the positioning of your brand. Let's have a look and get you thinking about new approaches that you can consider testing soon.
 1. Draw attention to your à la carte breakfast service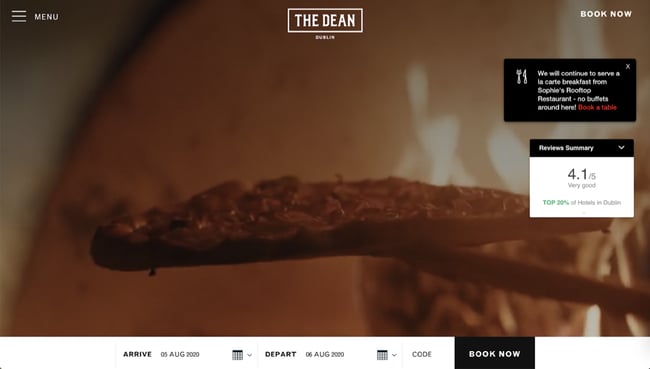 Smart Note highlighting breakfast service
Today, visitors and potential guests may still be wary of whether or not hotels are taking the right steps in keeping guests safe. In the example above, the hotel understands that wary guests may be dubious of tucking into a buffet in today's time. Using a Smart Note to communicate that they no longer offer breakfast buffets, the property reassures guests and lets them know their safety is the hotel's priority. Now, future guests can enjoy an exclusive à la carte breakfast service from their restaurant – this could be the little nudge visitors need in convincing them to confirm their booking!
2. Reassure guests about safety measures at your hotel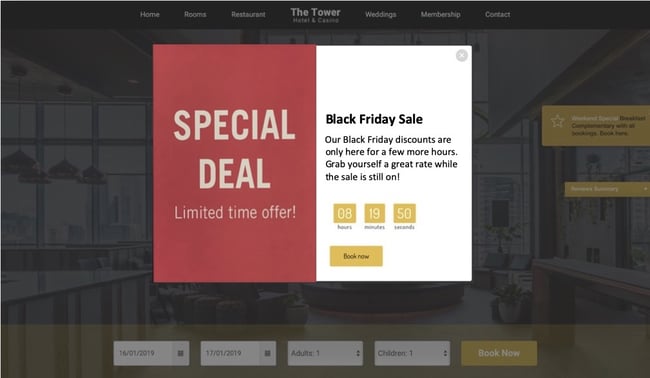 Black Friday Welcome Layer with Countdown Clock
Don't underestimate the prowess of flash sales! With Black Friday just around the corner, visitors will be expecting to see exclusive discounts. If you decide to launch strategic Black Friday offers, make sure the right people know about them; when creating your deals, be sure to showcase them on a Welcome Layer. Include a Countdown clock to create a sense of urgency among your website visitors, as this helps prompt users to edge towards booking quickly if they don't want to miss out on your incredible discounts. 
From a study we did last year based on results from more than 100 of our client hotels, booking engine traffic of hotels who created promotional campaigns around Black Friday was significantly higher compared to their previous 4-day weekend booking engine traffic; booking conversion rates of chain hotels increased by 47%, and independent hotels by an impressive 76%. So, be sure to not miss out on the revenue opportunity created from Black Friday!
3. Advocate the concept of Staycations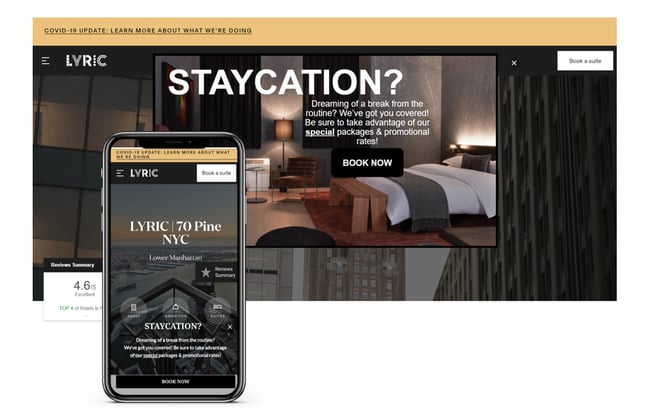 Layer showing a staycation offer on mobile & desktop
In today's setting of unpredictable border restrictions, it's important to advocate the concept of Staycations, or vacations spent in a respective home country or local area. With our targeting options, you can utilize geo-targeting rules to ensure you only show these offers to local website visitors.
And don't forget about mobile users! With many people still working from and spending time at home, smartphones are now a prime tool for website browsers to spend time and communicate. Be sure to optimize your messages and offers towards mobile visitors, and even consider creating exclusive offers, just for them, to help secure direct bookings from this audience.
4. Generate immediate revenue with Vouchers or Gift Cards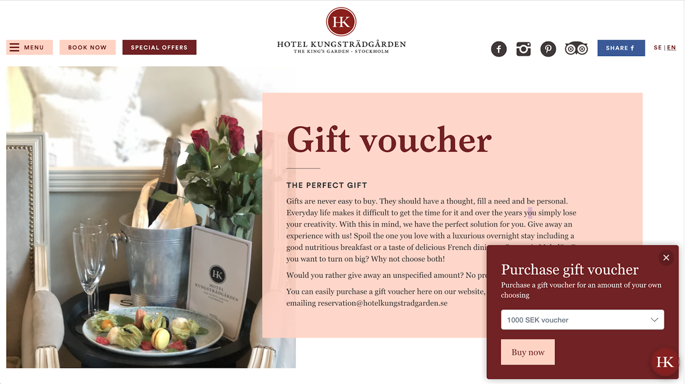 Layer promoting a gift voucher offer
In today's unsure market, it's even more important to provide an incentive for skeptical trippers. Create something special and showcase attractive Hotel Voucher offers to boost the confidence of indecisive travelers. Hotel Voucher offers could be exceptional options to encourage impulse purchases, and remove any hesitation potential guests may have due to uncertainty around booking dates. 
What's more, with the festive season right at our doorstep, promoting Gift Cards over this period for a nice hotel stay or exclusive experience in your property's spa or restaurant is the perfect stimulus for your website users. Most people probably don't even know that your hotel offers Gift Cards, so get creative and make some noise on social media and other channels to drive traffic to your website. By using website personalization techniques, you can show these visitors highly targeted promotional messages around Gift Card offers, convincing them that they've found the ideal gift to buy for family or friends.
Get our complete direct booking guide
Hospitality's fluctuating nature is what makes hoteliers such versatile and innovative thinkers. In today's context, giving guests, potential guests, and website visitors the innovative incentives they need to encourage them to make a direct booking is imperative to support the recovery of hotels.
As the situation today is evolving differently in every market and segment, we strongly believe that exchanging ideas and learning from the experiences of others is a great way to find opportunities for your hotel business. Here, we've shared with you just a few tips and examples of what our hotel clients are doing to engage and convert more website users. In our complete guide, we've amassed a large collection of ideas inspired from hotel brands all over the globe that could give you the inspiration you need to win back those direct bookings you deserve. Download our guide Ready for Recovery? Your Direct Booking Action Plan to discover more.