Today's constantly fluctuating situation is creating uncertainty for hoteliers when it comes to travel behavior, demand patterns and booking trends.
NB: This is an article from The Hotels Network
With the evolution of conditions in each market impacting the hospitality scene on a day-by-day basis, it's difficult to rely on historical data as a reference for forecasting. Does this mean that analyzing hotel data is pointless? No, far from it. Right now, one of a hotelier's most powerful weapons is being equipped with up-to-date and actionable data.
Analytics have always been an integral part of our direct channel growth platform for hotels because we know how valuable the insights can be to help hoteliers make the best decisions for their properties. In today's context, our Demand Analytics tool is more relevant than ever. Showcasing real-time demand and website visitor behavior data, it provides hoteliers with a clear picture of what their demand looks like and what they can expect for the coming months. By having access to an organized Dashboard with detailed demand data, hoteliers can make better-informed decisions when it comes to launching online offers, setting pricing strategies and developing a holistic marketing strategy.
What data you can see
Let's start with the basics. Our Demand Analytics tool has two functions to help you better digest and form mindful decisions from all the data provided: Accumulated Demand and Search Window.
Accumulated Demand will be where you can access a clear mapping of your demand up until now. From the total number of searches and average number of nights searched for, to average best rate and number of "no availability" search results, you'll be able to better understand your direct channel visitors. Looking at past data in this way will help you to predict future booking intent, demand & sold out dates, which is particularly useful for yield management and gauging when to increase or decrease rates.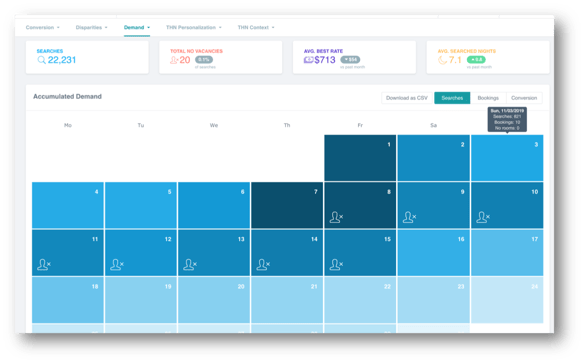 The Search Window function lets you visually map out search, booking and conversion patterns in the future. Displayed as a calendar with a heat map design, you will easily see which dates people are searching and booking during any past period. Updated constantly in real-time, leverage these valuable insights when checking pickups and adjusting pricing strategies. The behavior patterns also provide indicators about where to focus your sales and marketing efforts.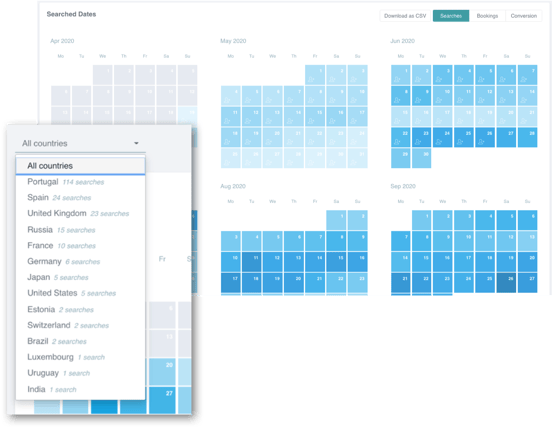 Demand Analytics in action today
For those who might get a little dizzy when faced with multiple data sets, we've made it simple for you. Aware that it could be difficult to find a starting point when given such a breadth of information, we want to show you a couple actionable ways you can put our Demand Analytics tool to use at your hotel:
1. Mapping out user demand and online behavior
Having access to real-time browsing and booking information from your hotel website can be extremely helpful when building the blueprint of your next actions. As we are experiencing an ever-changing situation, setting last week as the reference point gives you a clearer understanding of what to expect in the near future so you can strategize accordingly. By comparing search and booking dates, you can discover which dates are gaining popularity, how your visitors are converting from search to reservation and even their decision lead time for a conversion.
Question: I'm still unsure about applying data to my decisions. How exactly can I leverage these metrics to set strategic offers?

Answer: For example, if you start to see that there are many last-minute booking searches but few actual bookings, consider launching exclusive last-minute offers to nudge those users to convert and book. As always, apply targeting rules to only display the offer to users searching for the applicable dates.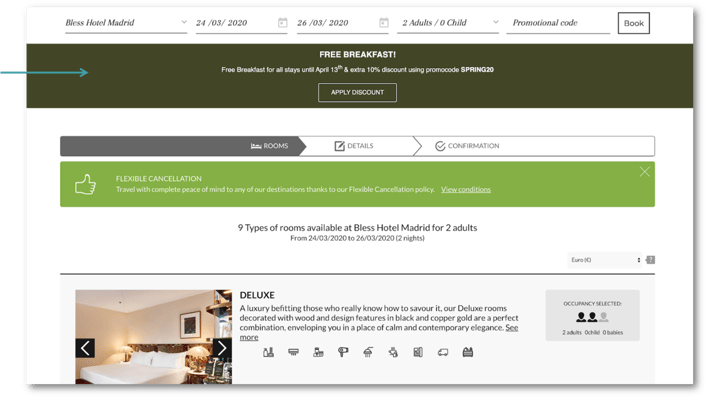 Inliner showcasing a last-minute offer
2. Comparing and contrasting performance by country of origin
People who might be interested in your hotel may come from any country in the world. As each market naturally behaves differently, it's important to know what the differences are, especially in today's climate. Filter data in a single click by visitor country of origin to view the situation in your different markets or to find out how your domestic market is recovering compared to your other markets. With this information, you can easily identify patterns and adapt your plan of action.
Question: Is there an actionable example of how I could use market filtering to my advantage?

Answer: Of course! For example, if you see your traffic is currently mostly domestic, why not showcase a welcome Layer communicating an exclusive package specifically for locals? By launching targeted messages and campaigns, you're more likely to grab their attention and increase engagement.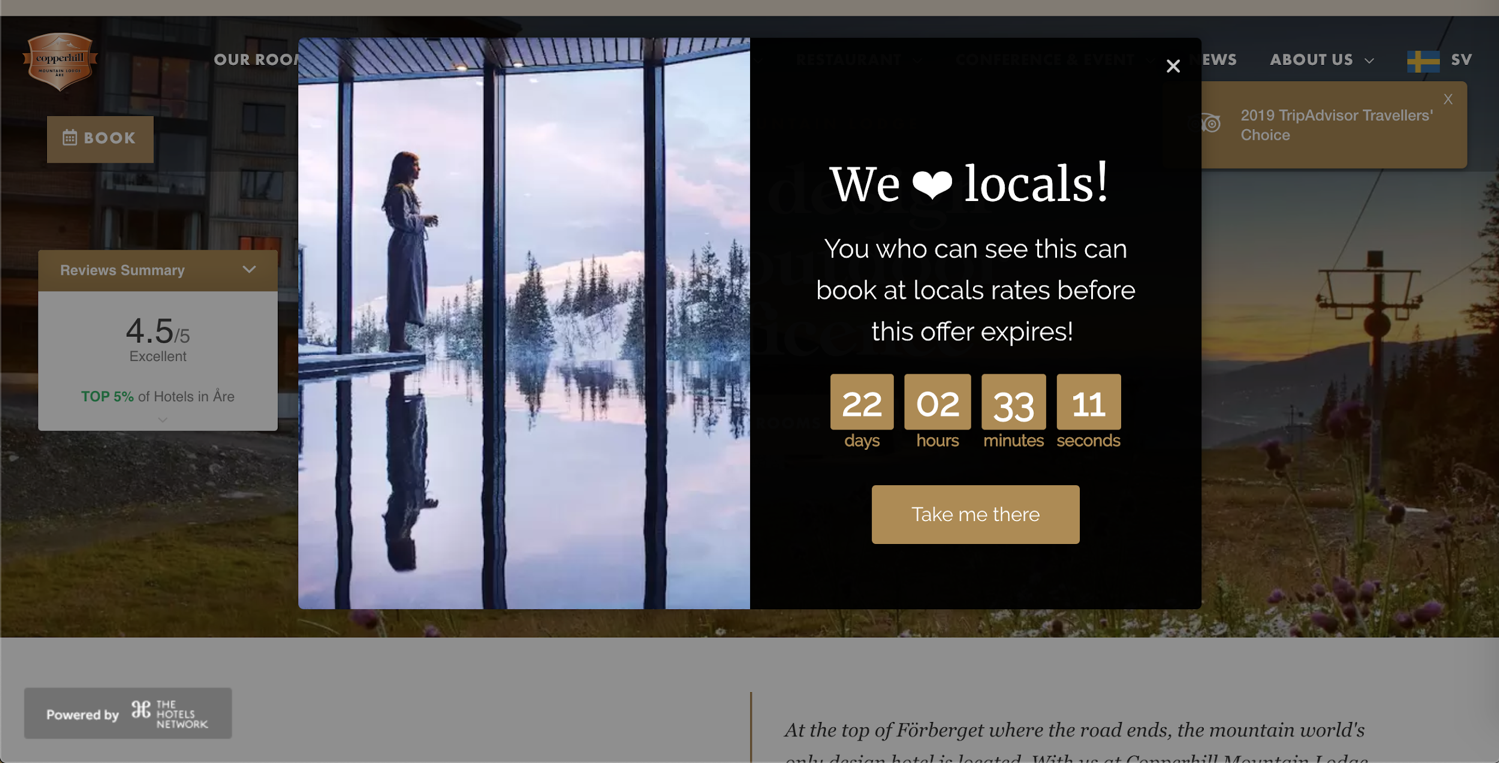 Welcome layer showcasing an exclusive offer for locals
3. Benchmarking through cross-referencing data
Have a guess at what could be more powerful than the search and booking data our Demand Analytics tool can give you? More data!
The sky's the limit when it comes to analyzing data that is relevant for your hotel. Given the complexity of the COVID-19 pandemic, it's important to monitor the situation in different markets worldwide to get a grasp on how travelers are behaving. There are many dedicated resources online for the hospitality industry, including our own page where we update direct booking trends daily. Cross reference overall market trends with the demand analytics for your own properties to see how your performance compares so you can identify opportunities to grow bookings across your brand.
4. Making better marketing and pricing decisions
Being able to have an accurate representation of demand at your properties allows you to adjust rates accordingly and optimize rate parity. For example, by checking a property's data regularly, you can ensure that high demand dates are available on the booking engine and in parity so that users always know that the hotel website has the best price. Having in-depth knowledge on search popularity and booking behavior also gives hotel marketers the ability to identify which types of offers and promotions should be launched and at which touch points of the direct booking journey.
In such a volatile environment, hoteliers should try to take advantage of any available analytics that add value to their business. Equipped with pertinent data to back up the choices you make, you'll feel more secure knowing that each step you're taking is grounded and supported.