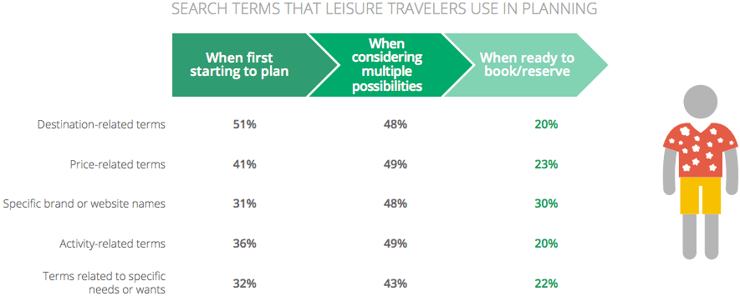 As we begin the new year, hoteliers will probably be thinking of new ways to get eyes on their hotel websites and more potential guests interested in their hotel. However, as Google showed last year with their analysis of "moments that matter", the best way to go about this might not be to get people interested, but meet them online as they plan their travels when they are already interested, and searching for information.
Travel professionals should not only provide prospective guests with information about their own establishments, but rather be a helpful source of the information that travellers need throughout their decision making and travel process. In doing so, they nurture a sense of trust and loyalty before a guest has ever visited them, and are more likely to be first choice when the guest does come to deciding upon where to stay.
To make an impression, your brand needs to be with travellers through the dreaming, planning, booking, experiencing, and sharing phases of their travel journeys, from the time when a potential guest is dreamily scrolling through photos of beaches on her smartphone while she waits for the train to the point where she shares sunny beach selfies with all 500 of her Facebook friends.
If you can find out where people are, what information they are looking for and how to reach out to them in a meaningful way along each stage of the digital travel journey, you will be able to nurture a virtuous circle wherein satisfied internet browsers become happy guests who share positive sentiments about your establishment, encouraging more guests to stay with you, have good experiences and spread a positive image of your establishment.
The Dreaming Phase
Where travellers are
During the dreaming phase, your prospective guest could be anywhere. These days, your prospective guests are not tethered to their desktop PCs while browsing the web, and 69% of smartphone travel inspiration takes place in spare moments, like while watching TV, social networking and before looking for more specific ideas on desktop.
Read rest of the article at GuestRevu