In today's digital age, businesses inside and outside the hospitality industry are generating more data than ever before.
NB: This is an article from Cogwheel Marketing, one of our Expert Partners
This data is a valuable asset, and should be used to gain insights into customer behaviour and make better decisions about marketing campaigns and the customer journey. Owners regularly receive digital marketing performance reports or reports from their marketing agency and the next question is: "Is this good or bad?"
Subscribe to our weekly newsletter and stay up to date
Many management companies and ownership groups spend far too much time aggregating data and not enough time creating action plans from the analysis of that data.
If you are lucky enough to have access to large amounts of data, big data can also be overwhelming you don't know where to start. There is so much data available that it can be difficult to know where to start.
What Can You Do with Big Data for Digital Marketing?
There are a number of ways that big data analytics can be used to improve digital marketing performance and total online presence. Big data analytics can be used to see what is working and what is not, and make adjustments as needed.
By using the right data, the data can guide you toward strategic shifts or facilitate a better understanding of the gaps.
Reallocate marketing budgets more effectively and reach the right personas with their messages.
Track campaign performance on various platforms and channels.
Perform a website conversion analysis.
Create a better balance between organic and paid efforts.
Ensure fair share to your website or that you are not overly reliant on 3rd party channels.
The Incorrect Assumption in Comparing Your Hotel's Website Performance to Itself
Traditionally, hoteliers have primarily focused on a hotel's website performance against itself year over year to determine positive or negative trends.
But, having your hotel be consistently available across locations online means bringing in more data points to make sense of what is good and what is bad.
For example, your website year-to-date has made $400K+ and that is 10% higher than the same time last year. While the percentage increase is positive, was the baseline good?
Ideally, you would look at your website's (or brand.com's) contribution against similar hotels to know if your website is getting its fair share.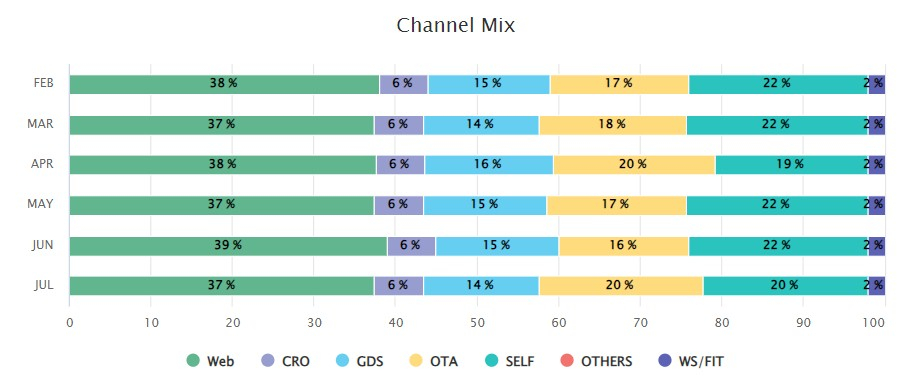 Where Guests Can Find Your Hotel Online
It is imperative to understand the buyer's journey is complex and potential guests are doing massive amounts of research before selecting not only a hotel, but also the channel or site with which to make that transaction.
We have to look at how your hotel sits on the shelf within these arenas as well:
Google
OTAs like Expedia and Booking.com
Social Media
Reviews
Then, we have to understand they are all interconnected and cannot be assessed in a silo. For example, if you have poor reviews, throwing money into Google Ads will likely yield less than the desired results.