Have you realized that most countries in Europe rarely have many stores open on Sundays?
NB: This is an article from The Hotels Network, one of our Expert Partners
What stemmed from religious beliefs has become the norm and so many people spend the day at home, mostly preparing for the new week ahead. For hotels, a typical Sunday night can look very empty. The majority of departing weekend guests check out on Sunday morning to return home, and most newly arriving guests don't check in until Monday afternoon or evening.
Subscribe to our weekly newsletter and stay up to date
Today, we wanted to give you 5 inspiring ideas to market your hotel's Sunday night stays and boost direct reservations while helping guests deal with the Sunday scaries.
1. Craft exclusive packages that include Sunday activities
Consider offering weekend packages that include a full-on activity on Saturday. By doing so, you will encourage guests to spend the entire Sunday at your hotel, finding it difficult not to extend their stay one extra night. What's even better, by including the extra night within the package, you will be able to extend their ABV (Average Booking Value) without them even noticing.
It's a matter of getting creative while understanding your hotel offerings and which customers your property targets. Perhaps your hotel has a fabulous restaurant, which is most likely empty during Sunday dinners so why not leverage the opportunity? Offer your guests lessons to cook meals in your kitchen on Sunday afternoons, with a Sunday movie night included. Tempting, huh? These attractive activities and initiatives can really grab the attention of potential guests and boost your occupancy levels on days when demand tends to be low.
2. Offer Sunday dinner specials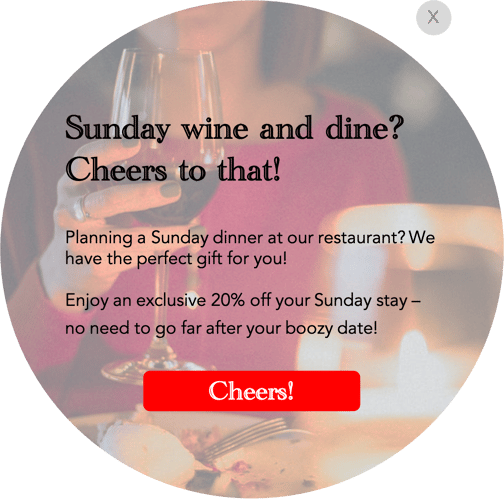 THN layer promoting culinary package
After a delicious meal and good wine, the next place you want to go is a nice comfy bed. So why not offer this to your diners? Create unique Sunday dining experiences that include a stay at a discounted rate. And remember: small twists will help create memorable stays and will resonate among guests.
Searching for ideas? Consider bringing a theme to your menu that matches a specific season, or any upcoming holidays relevant to your audience. What's more, ensure you are communicating this initiative across your hotel website with clear and visually appealing messages. Make sure that the visuals are in tune with the theme so that visitors can start to sense what a stay would feel like. I bet you no one will be able to resist your tempting offers!
3. Build promotions around weekend events happening in your destination
Imagine Adele or Ed Sheeran coming to perform in your city. What does this mean? Crazy fan hysteria, and a lot of potential guests looking for a place to stay.
Important events or concerts usually take place during the weekends, and are planned far in advance so you can build a full-on strategy around them to boost your direct reservations (and of course, Sunday night stays!).
A tactic that works particularly well is to partner with local attractions to offer a package that includes tickets to the event and a weekend stay, at a discounted rate. Purchasing tickets can already be quite challenging for fans which means that by providing not only a ticket to their favorite act but accommodation to go with it, you will be presenting the perfect package. So what are you waiting for, open your calendar and start taking notes on all the events happening on Sundays!
4. Target all the remote workers out there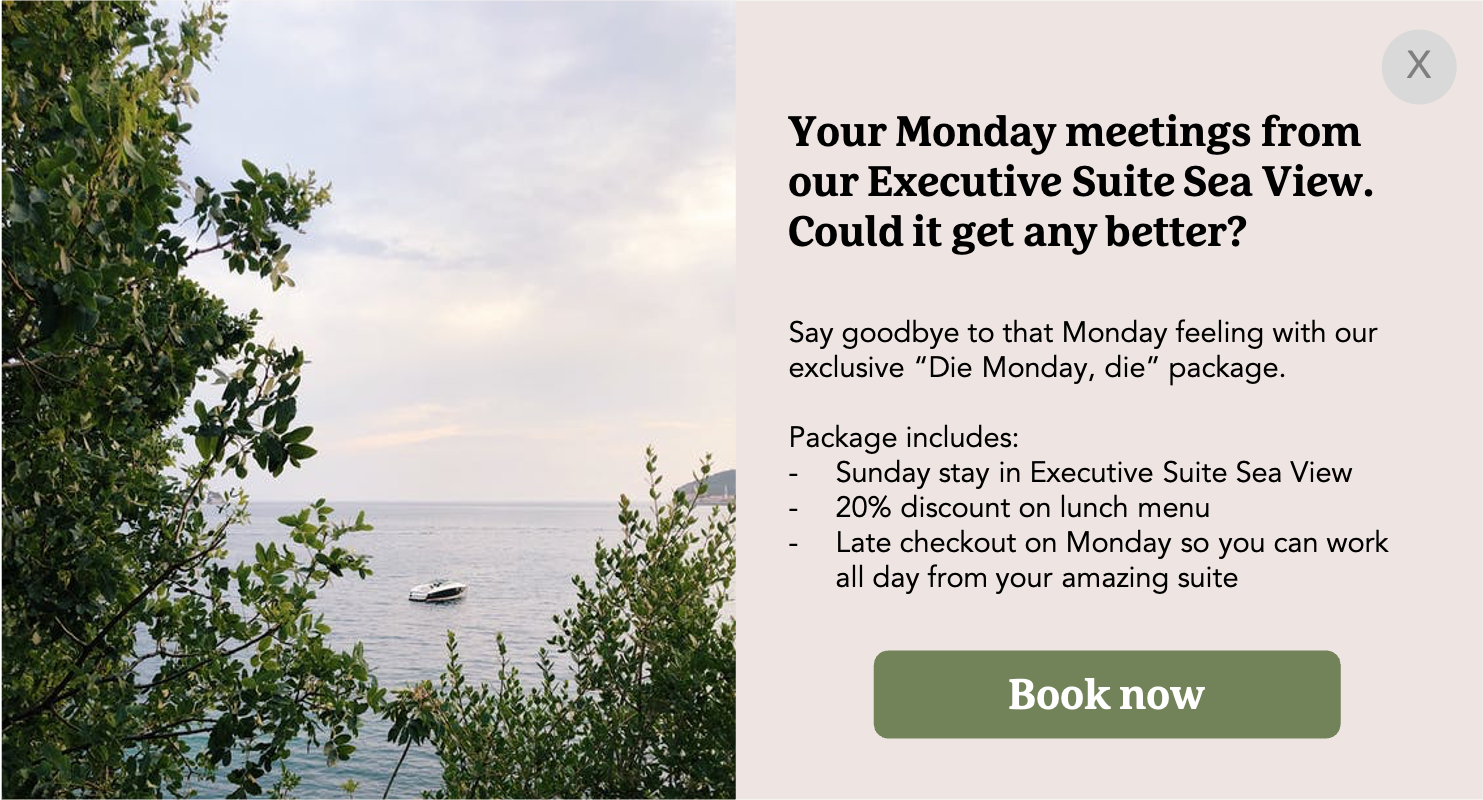 THN layer promoting Monday package
If you think about it, most guests who check out on a Sunday probably do so because they have to head home and start work the next day. However, with remote working becoming widely accepted, this generates a new market opportunity that is not yet fully capitalized on.
Imagine starting the week working from inside a comfy hotel room, with your Monday meetings from a beach view terrace, now that's a life changer – what a dream! My dream, your dream, and everyone's dream. Create a package to target digital nomads that includes a Sunday night stay with free late check-out and full access to your common areas for those guests who can stay a little longer and work remotely.
5. Did someone say Sunday stay contest?
Giveaways are always a great way to show appreciation and engage with potential guests.
Think about creating a giveaway contest that involves participants completing challenges on your Instagram, Twitter and Facebook within a given time frame. Not only will this enhance your social media presence but will give your hotel more brand awareness.
And what's the prize? A Sunday night stay! It's a win-win situation. They get a free stay at your lovely hotel, and you welcome more guests on Sunday nights.
We hope you found these examples inspiring and that you can already imagine how you could start putting them into practice at your hotel. Keep in mind that these are just the tip of the iceberg, there are infinite options out there for effective Sunday campaigns. The important aspect here is to be aware of the type of guest you are targeting, and craft your hotel's offerings exclusively towards them.