As a hotelier in the modern age, it's important to stay on top of the latest trends in social media.
NB: This is an article from The Hotels Network, one of our Expert Partners
One platform has taken the world by storm in recent years: TikTok. According to a recent Social Media Industry Benchmark Report by Rival IQ, TikTok is outperforming its competitors with a higher per-post engagement rate of 5.69%. This rate is higher than those of Meta: Twitter, Facebook, and Instagram.
Subscribe to our weekly newsletter and stay up to date
With over one billion active users worldwide, TikTok has quickly become a powerful tool for hotels looking to advertise and enhance their brand image, as well as convert their direct channel traffic.
Read on to discover the added value that TikTok could bring to your hotel brand and take some inspiration from four hotel brands who are doing a fantastic job of surfing the wave, launching creative campaigns that grab everyone's attention.
1. Ritz-Carlton and their #rcmemories
TikTok is particularly popular with users between the ages of 18 and 35, making it the perfect platform for hotels looking to target millennials and Gen Z. By creating engaging content that resonates with this demographic, hotels can build brand awareness and increase their online visibility.
One hotel that has successfully leveraged TikTok is the Ritz-Carlton. In 2020, the luxury hotel chain launched their #rcmemories campaign on TikTok, encouraging users to share their favorite memories from their Ritz-Carlton stays. The campaign was a huge success, with users sharing thousands of videos and helping to boost the Ritz-Carlton's profile on the platform with organic, user-generated content.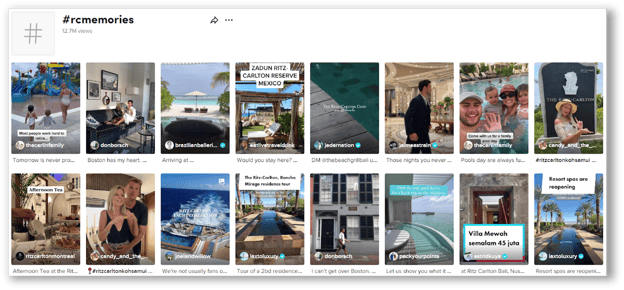 TikTok using #rcmemories
2. Hilton Hotels 10 minutes long TikTok
Hilton Hotels recently went viral on TikTok for producing a 10-minute video accumulating more than 35 million views that was not only an ad, but also a challenge for viewers to watch until the end and get the opportunity to win Hilton Honors Points. The video featured famous creators and influencers, such as Paris Hilton, Chris Olsen, GirlBossTown, and KelzWright. Despite some criticisms on the length of the video and its content, it was the unique creative mash-up approach of the video that made it stand out.