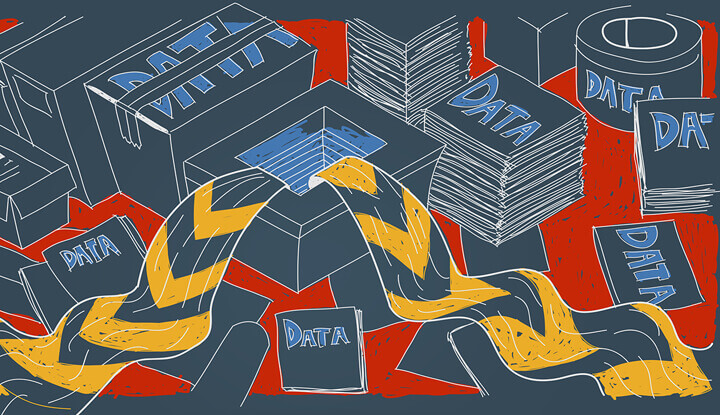 There's arguably no other four-lettered word that has made quicker-and more impactful-moves in the hospitality industry than "data" has. With the ascension of the Internet igniting a brisk evolution of big data, the hospitality industry now orbits within an increasingly interconnected and technologically-savvy world. Keeping ahead of the curve in the midst of the Internet of Things (IoT) means hotels are not only evolving in how they meaningfully connect with their guests, but they also have to develop short- and long-term revenue strategies to capitalize on the new industry data and insights available to them.
NB: This is an article from Paul van Meerendonk, Director of Advisory Services for IDeaS
Growing tremendously over the past few decades, today's hotel booking dynamics rely heavily on the Internet, social media and a burgeoning collection of smartphone apps to strengthen their digital guest relationships. With a reported 76% of Internet users across 40 countries using social sites such as Facebook and Twitter in 2015 alone, hotel brands have felt pressure to expand their social marketing presence. They have also had to look for opportunities to employ newer types of industry data-such as online reviews and travel intent data-to help them make more meaningful sales, marketing and revenue decisions (Pew Research Center, 2015).
According to a Pew Research Center survey, roughly 77% of Americans own a smartphone, and ownership rates in emerging and developing nations are rising at extraordinary rates – up from a median of 21% in 2013 to 37% in 2015. Almost every nation surveyed also revealed that overwhelming majorities of individuals own some form of mobile device, even if it wasn't technically considered a smartphone. This rise in mobility and a resulting expectation for quick, on-the-go availability of goods and services drastically changes how today's hotels market to, and connect with, their guests.
All of these changes in technology mean that today's hotel booking process is starkly different to what it was just ten years ago. With the Internet came a meteoric rise of online travel agencies (OTAs), and the increased popularity and consolidation of industry channels-such as Expedia, C-Trip and Booking.com-has forced many hotels to reevaluate how to find a profitable online footing against their frequently-described "Goliath" in the distribution space.
The spectacular growth of both online and mobile industry dynamics, and the market intelligence data being driven by these sources, leads many hotels left wondering what details in the distribution space they should be evaluating, planning for and capitalizing on. One answer is the industry technology and unfolding data sources that give hotels fresh perspectives for profitable distribution opportunities within the revenue management and strategic marketing arenas of a hotel organization.
Futurecasting for Long-Term Distribution Strategy
As hotels adapt to the highly visible demands of a digital realm, data derived from online ratings and reviews, social media engagements and increased mobility are unlocking new opportunities to strengthen distribution, channel performance, revenue management and ideal pricing strategies. For effective long-term planning that implements and executes new data and distribution strategies, hotels are turning to the practice of strategic 'futurecasting.'
Futurecasting is a practice used in many industries to help organizations plan strategically for their future. It evaluates underlying industry dynamics, predictive analysis and a variety of business strategies to help organizations develop an insightful vision of the future. In today's innovative field of hotel revenue management, it has become recognized as the future of strategic forecasting – and a successful method for capitalizing on new industry data for profitable results.
Traditionally, hotel forecasting practices have generally focused on data such as historical results and economic factors to anticipate market demand. Hoteliers rely heavily on these types of traditional data sources to influence, shape and evaluate what embodies a profitable business strategy. However, the steady emergence of forward-looking demand intelligence data provides hotels with an even greater opportunity to extract and analyze behavior-based statistics of industry data for a comprehensive 360-degree view.
The practice of strategic futurecasting encourages hotels to analyze how and why a particular outcome occurred. It amalgamates revenue management data with demand intelligence to help hotels understand what drives potential guests to book, as well as the ideal price in every channel that will bring in the highest profits. This gives hoteliers an informed view of the future that can be used to plan intelligently and make profitable decisions for their organization.
Looking specifically within the distribution space, futurecasting through available industry data helps hoteliers better identify their short- and long-term distribution strategies and evaluate which channel partners are the right fit for the overall strategic direction of their brand. With better insights into what is driving their best guests and target markets to book, hotels can identify and properly balance their different distribution partners to better position themselves within their most profitable channels – and to their most profitable guests.
Where Effective Revenue Management Steps in
The role of distribution within revenue management has evolved significantly with an influx of new data sources, technology and channels over the past few years. For some hotel organizations, the function of distribution has been considered on a scale large enough to be on its own. The snowballing complexity of prices, restrictions, add-ons, channel usage, technology and distribution costs has caused some hotel organizations to increase job positions that focus on developing and executing the organization's distribution strategy.
This growing strategic function-with all of its revenue details and complexities-makes it extremely important for hotels to understand, evaluate and consider their real distribution costs, which include the basics of percentages, tracking direct costs and monitoring revenue results. These distribution details have a heavy impact on overall revenue management strategies, and accounting for acquisition costs is extremely critical for hotels to fully realize the expected windfall of all of their offers. These are costs that directly impact the net revenue results from new and existing distribution channels.
All of these elements augment the critical discussion on just how well hotel technology can optimize channel costs. For accurate cost tracking, hotels need to structure effective best practices and standards around proper use of business coding and data collection. This safeguards available data and ensures its accuracy and acceptance for evaluating and developing new channel performance and distribution opportunities. Source and channel fields within property management systems help hotels understand where their business is coming from so they can track the costs of each reservation. Ensuring these field types are well-defined and reliably assigned to reservations allows hotel organizations to successfully monitor and evaluate their channel metrics when monitoring the effectiveness and results of their distribution strategies.
Intelligent and insightful distribution decisions should always be driven by truthful data. Identifying the true cost of each reservation is another revenue management opportunity for evaluating and implementing effective distribution and channel performance strategies. While some OTA reservations may include fairly straightforward fixed charges, reservation-related charges often branch out in various degrees of intricacy. Hotel organizations have to consider all of the multi-faceted costs associated with a reservation, which could include details like variable commissions, labor costs, sales spend and loyalty program charges. Understanding, organizing and accurately tracking these types of details help hotels make strategic and profitable revenue management decisions in the distribution space. The first step in a distribution strategy focused on profitability is monitoring and accurately reporting on costs, which leads to the ability to price and optimize channels based on their associated costs.
The Common Thread is Data
The common thread weaving together the divisions of distribution, revenue management and hotel marketing into a comprehensive and profitable business strategy is data. With emerging demand intelligence addressing areas of previous market arcana, hotels now have tremendous opportunity to explore and capitalize on the many different strategic facets of industry data. However, access to new types of relevant industry data explores how hotels are looking at, and using, all pertinent data to make better business decisions for their properties.
Integrated technology, and its capabilities to organize, decipher and present disparate types of data, plays a critical part in efficiently commingling these divisional sectors. Surges in data have also supported and encouraged advances in innovative industry technology. Where hotels once needed access to a variety of property systems to deploy revenue management, distribution and marketing strategies, they now have options for incorporating all of their functions within one technology for shared data sets, industry insights and an efficient execution of interdepartmental strategies.
Taking all this into account, it is essential for hotels and hotel groups to consider their strategic planning for effectively handling distribution data and its attributes to maximize profitability in the long term. This strategic plan should encompass and align the people, processes and technology towards a common goal of data-driven decision-making in the distribution channel and guest acquisition space. The convergence of revenue management, marketing, sales and distribution is a growing trend in this area, and consideration should be made as to how a centralized data-analysis team can help support this effort. This data management team can be supported by data scientists or analysts who use the latest technology available to deep-dive into the data and provide answers to questions across all branches of the commercial departments.
Ultimately, for this to be successful, it all starts with ensuring your data collection process is effective and meeting its objectives – that old saying certainly holds true: "garbage in, garbage out." When it comes to getting the most out your data in the long-term to set your distribution strategy, the devil is most certainly in the details.