"Travelers today are looking for a personalized guest experience". Every hotelier must have heard this (one too many times) by now. But how many fully understand the essence of guest journey personalization?
NB: This is an article from The Hotels Network
One key aspect, too often overlooked, is that the journey begins long before a guest enters the foyer of your hotel. The interaction with your brand commences as soon as a potential customer arrives on your hotel website.
The window from the first click into a hotel website until the finalizing of a direct booking (or not…) presents a significant opportunity for hotels across the board. Online shoppers are becoming ever more demanding towards their online experience. Fact. By showing them the attention and tailored experience they crave, perhaps even beyond their expectations, the results can be remarkable.
Building a truly bespoke online booking experience inevitably calls for technology-driven solutions. No longer just talk, top hotels around the globe are equipping themselves with the latest tools to raise their personalization game. At The Hotels Network, we are extremely honored to be working closely with a number of the best hotels in the world, featuring in the The Gold List 2020 published by Condé Nast Traveller. Let's take a look at how four of the quintessential properties from this elite club have evolved their direct booking strategy and website with a personalization twist.
4 Gold List hotels who get it
One&Only Le Saint Géran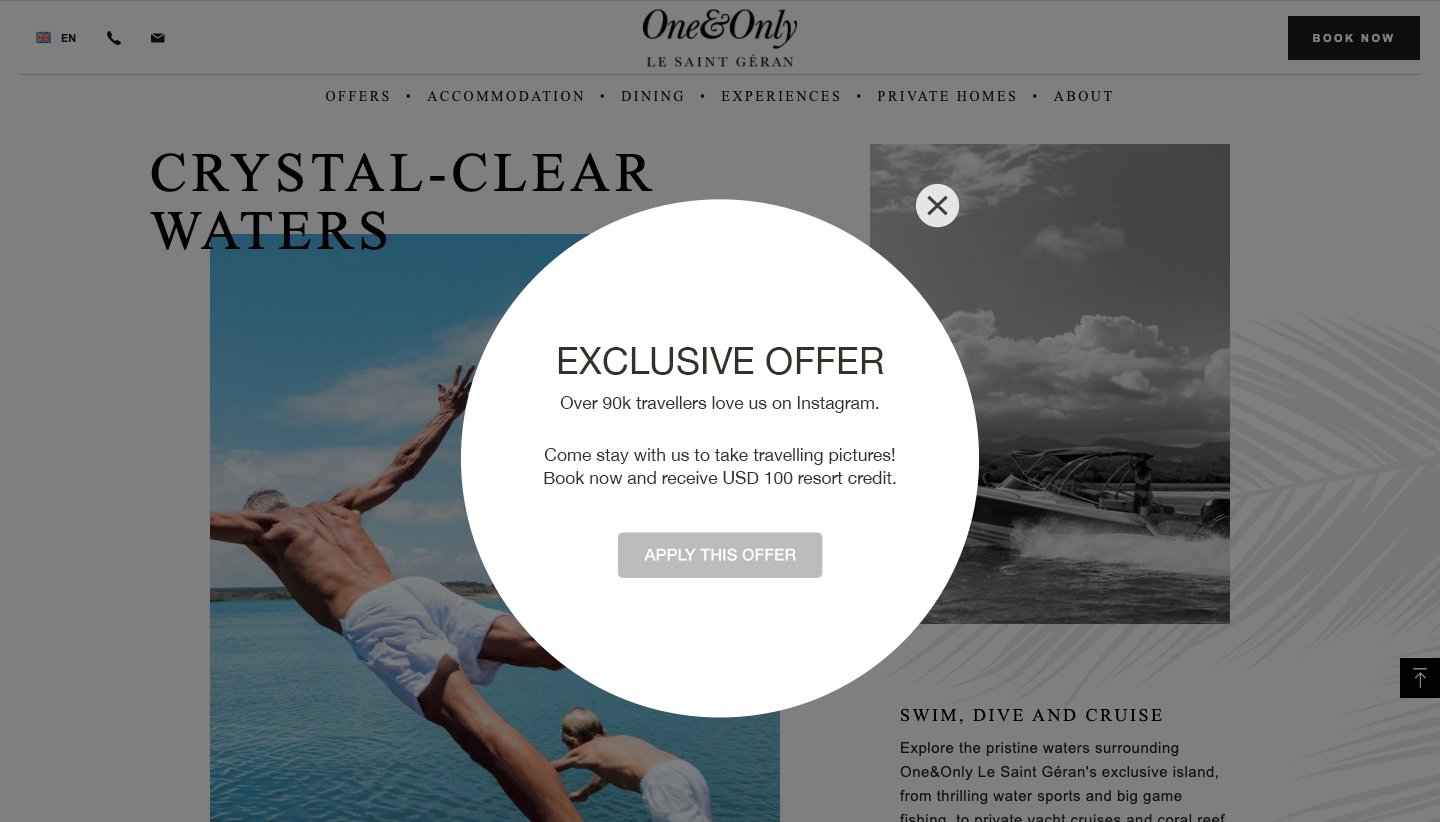 Layer showcasing an exclusive offer targeting traffic from Instagram
An icon in the tropical Indian Ocean island nation Mauritius, One&Only Le Saint Géran is a haven, home to endless summer days and timeless island escapades most can only dream of. With a more-than-instagrammable location, it's no surprise that a portion of their website traffic comes from inspiring adventures of guests or One&Only's own collection of content published on Instagram. With social media success making up an integral part of a hotel brand's marketing efforts, it is important to welcome website users coming from a particular platform with a personalized message or a relevant offer. One&Only Le Saint Géran does just that. In the above example, you can see a Layer that is only triggered for traffic coming from Instagram, showcasing an exclusive offer of a $100 resort credit for Instagrammers who make a direct booking.
Anantara Al Jabal Al Akhdar Resort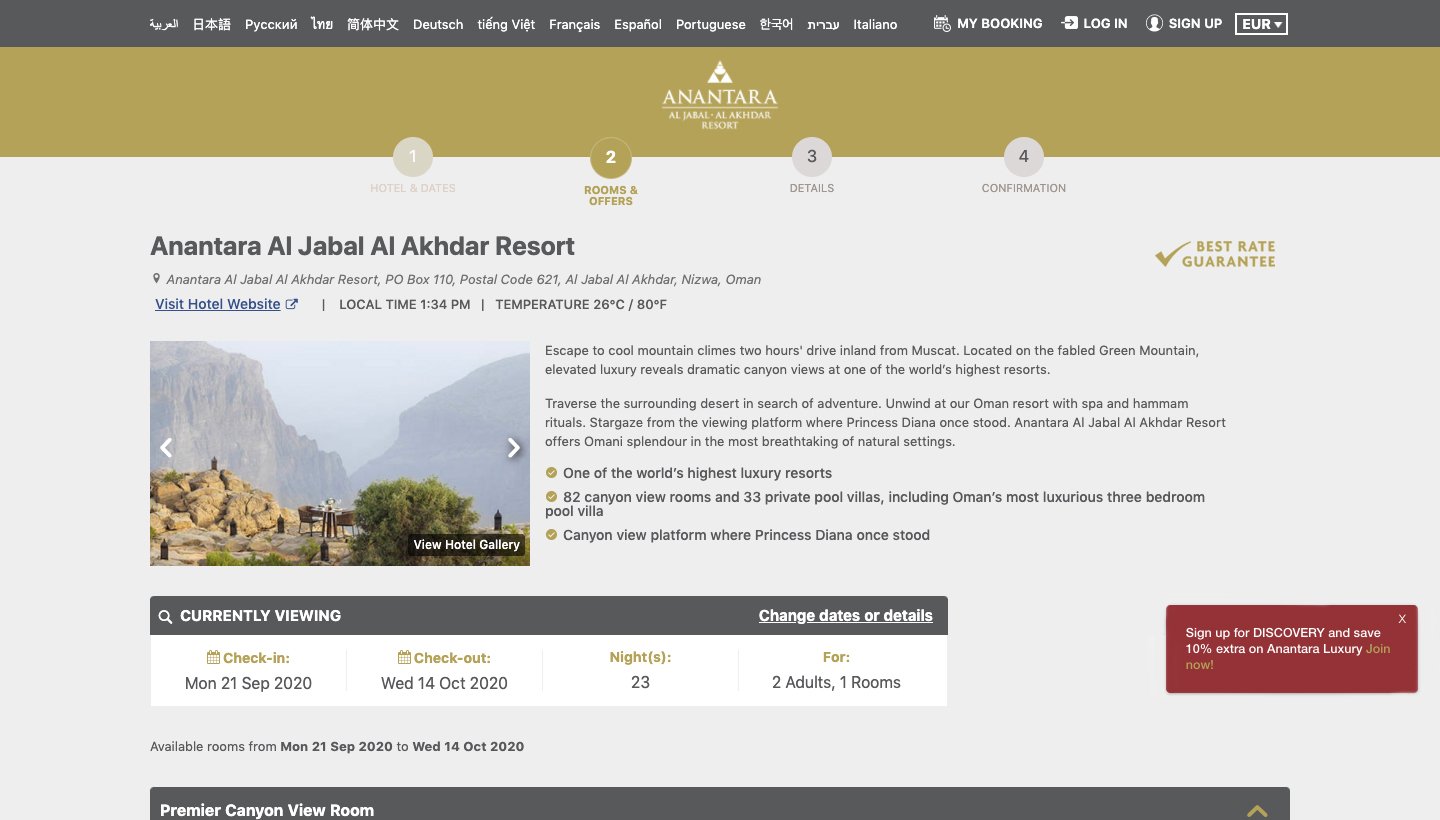 Smart Note highlighting Anantara's loyalty program
The perfect realization of escapism, the Anantara Al Jabal Al Akhdar Resort, located in the sanctuary of the Al-Hajar mountains is dedicated to creating journeys and memorable moments for guests. A passageway to discover the treasures and stories of Oman, guests are invited to soak up the stunning natural beauty of the canyons, stargaze from the viewing platform where Princess Diana once stood, and indulge in their Omani Hammam ritual. Cherishing their unique bond with guests, Anantara launched their loyalty program, Anantara DISCOVERY, to build even more extraordinary moments with their guests. By using segmentation rules to specifically target non-members, Anantara displays a Smart Note on their homepage inviting new guests to join their club and unlock an array of secret adventures and exclusive services at their properties.
The Oberoi, New Delhi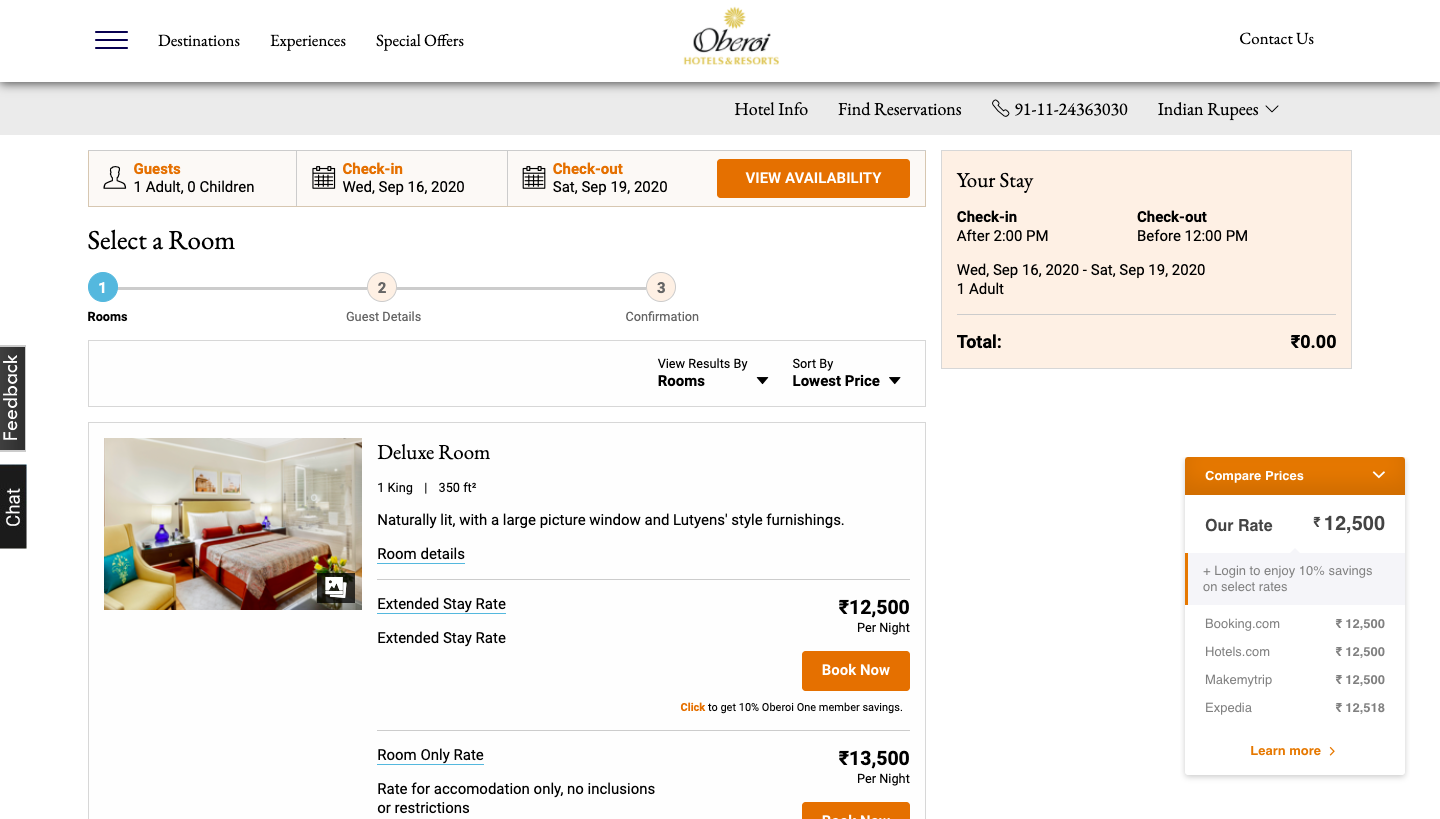 Integrated price comparison widget to erase the need to jump to other sites
The capital of India, home to countless wonders of the world, and hub of connections is also where The Oberoi, New Delhi stands. A pioneer of luxury hospitality in India, The Oberoi strives to appeal to the impulses driving each traveler. Whether it be a soul-searching retreat, an exotic adventure, or a business trip, The Oberoi New Delhi has what it takes to impress any guest, regardless of what they are looking for. Passing on that vision to their online booking experience, they display an extremely clear Price Comparison widget within the booking engine. Its strength is in the way it uses personalization, showing only the most relevant OTAs for the visitor, with an adaptable currency display, languages and taxes accounted for. Enabling users to compare rates without leaving the booking funnel or checking on other third-party sites, The Oberoi provides guests with yet another reason to book directly with them.
One&Only Palmilla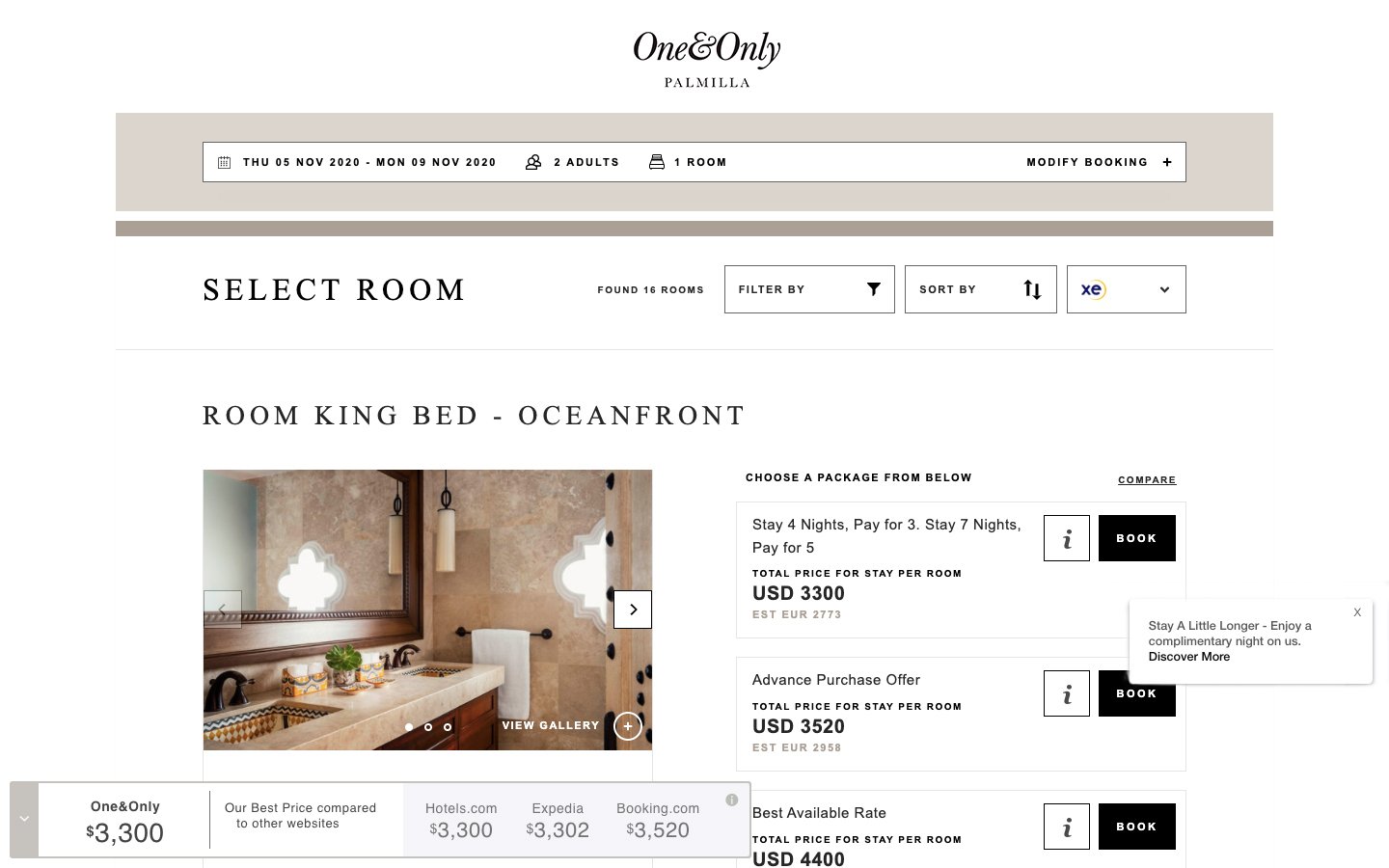 Smart Notes launched on the booking engine to encourage longer stays
Another stunning property by One&Only Resorts on The Gold List 2020, One&Only Palmilla's secluded Los Cabos retreat never fails to seduce new visitors and returning guests alike. Its distinct Mexican charm and genuine services are only a small part of the inviting experiences the property has to offer. To secure more high-value direct bookings, the property launched a campaign on their website targeting visitors looking to stay for 4-8 nights. The Smart Note displayed on their booking engine drew attention to an irresistible offer of a complimentary night for bookings of 4 nights or more, inciting guests to confirm their booking immediately and stay with them longer, creating more unforgettable memories.
Your hotel doesn't need to be in The Gold List to be able to wow visitors who arrive on your website. In a world where travelers are increasingly searching online, don't miss the opportunity to win back your fair share of direct bookings by offering a seamless online booking experience. The concept of personalization is not one to underestimate. Now more than ever is the moment to understand that made-to-measure experiences should extend beyond the guest's stay itself and be applied to all touchpoints, not just offline, but online as well.