In this article, we analyze the rise of mobile bookings over the past two years, how it is expected to continue growing in 2022, and how Hoteliers should adapt their online sales and marketing strategies to meet this rapidly-growing demand.
NB: This is an article from GuestCentric
2020 is a year that most hotels don't want to remember, with many closing their doors in both the first and second waves of the pandemic. From a different viewpoint, consumer behavior changed dramatically and hotels had to adapt. As more consumers turned mobile to make hotel bookings, Hotels needed to adapt their mobile technologies to meet this demand.
Subscribe to our weekly newsletter and stay up to date
Two of the dominant drivers behind this development in consumer behaviour, was the drastic shortening of booking pace and the rise of millennial travelers during the first year of the pandemic. Below, we dive deeper into these drivers:
Booking Pace
Although overall booking pace remained in line with 2019 at 57 days, for confirmed reservations the booking pace declined to a mere 8 days in 2020. This was likely due to changing travel restrictions which forced most guests to cancel longer-term bookings and confirm their stays last-minute.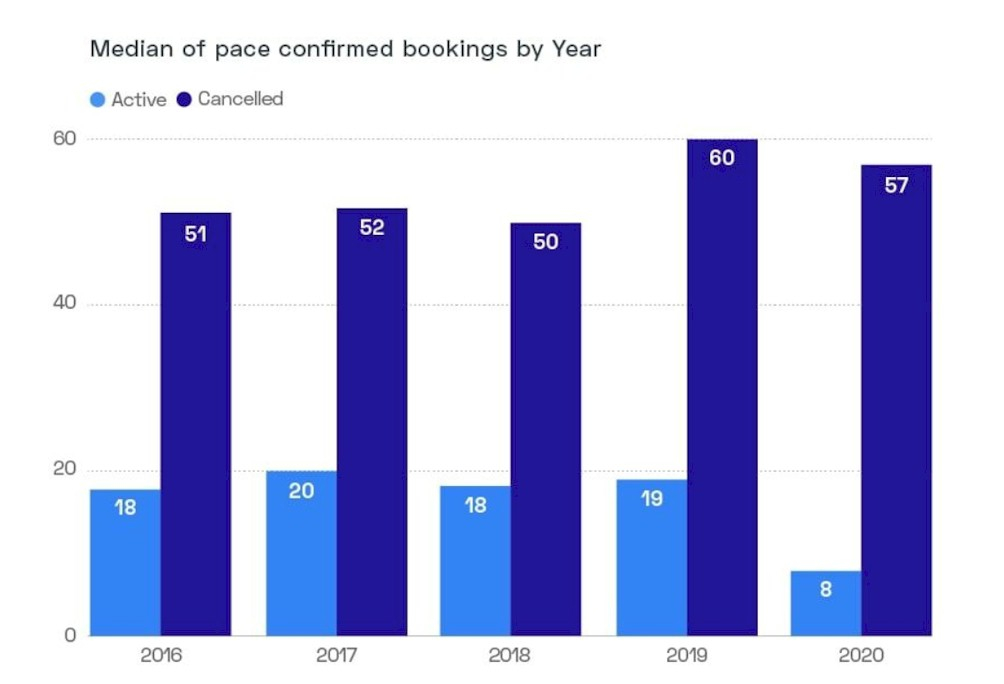 Booking Pace By Year from 2016 to 2020
Hotels tried to stimulate bookings with flexible cancellation policies, but the uncertain environment forced consumers to book last-minute. We observed this trend across all markets that represent Guestcentric's portfolio of hotels. Even guests that traditionally plan their stays further in advance (Danish, Germans, British) saw booking pace decline from 26 days to a mere 12 days or less.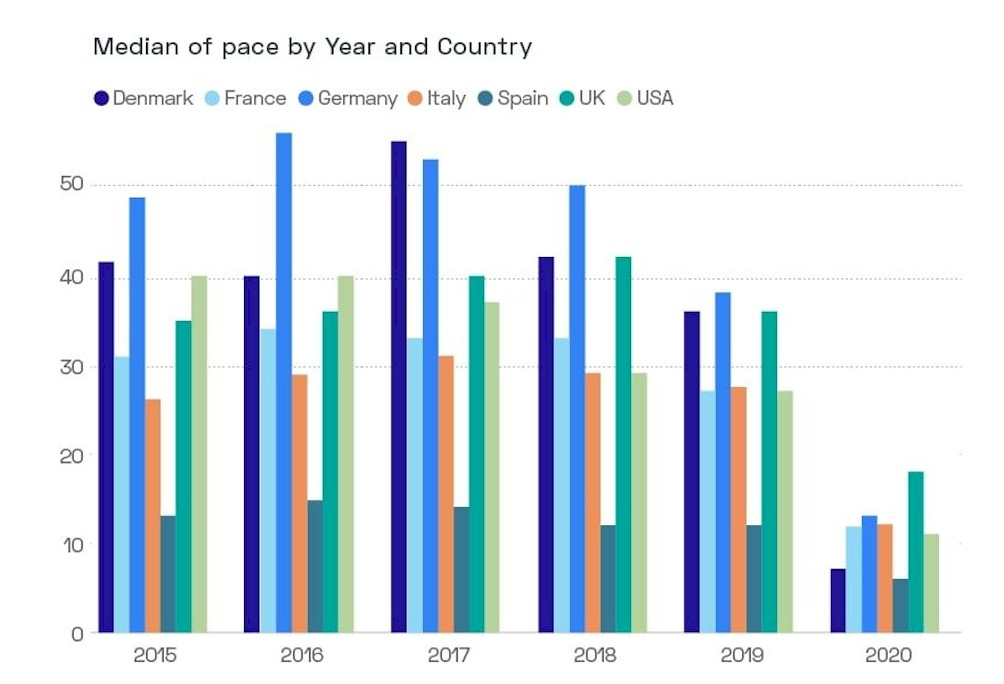 Booking Pace By Country, from 2015 to 2020
The preferred channel for these last-minute bookings was mobile. By the summer of 2020, according to the data processed by over 1,500 hotels within our portfolio, mobile bookings increased to over 24%, almost one-quarter of all hotel bookings.
Although booking pace steadily increased in 2021 vs 2020, this rise in mobile hotel bookings shows no sign of slowing down. In 2020, on average, mobile bookings represented over 27% of total bookings for hotels studied, and now sits at over 40% in 2021.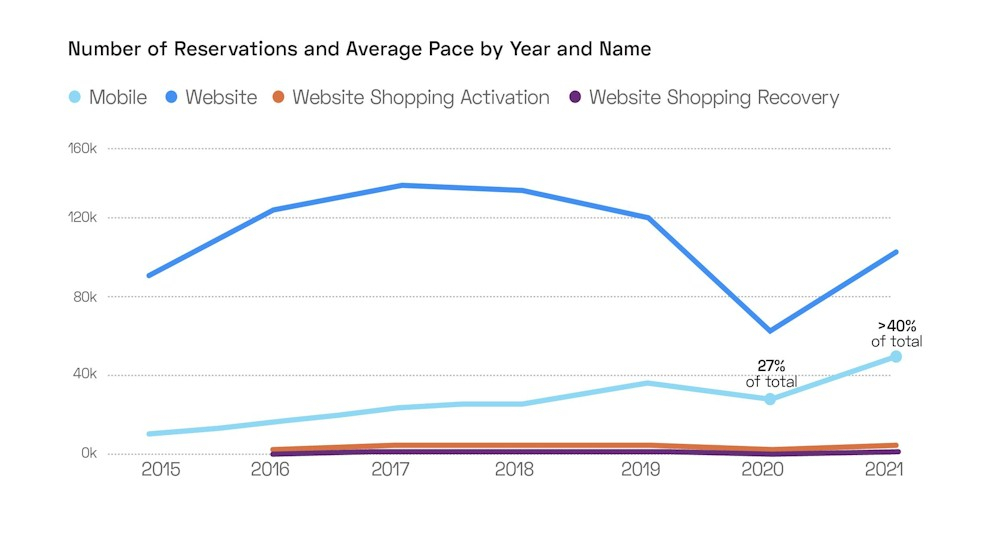 Average percentage of mobile bookings per year in 2020 and 2021
In effect, this means that mobile bookings doubled in just two short years. We expect this trend to continue in 2022 and beyond.
Millennials
Millennials (born between 1981 and 1996) are officially entering middle-age and represent nearly 32% of the global population, according to recent global travel statistics published by Condor Ferries UK.
Contrary to popular misconception, millennials are not teenagers anymore. Yet unlike their predecessors, this generation is characterized by an insatiable thirst for enriching experiences and living for the moment, which manifests through extensive travel. This makes their $200 billion buying power, as shown in the recent data above, impossible for the industry to ignore.
In addition, a report by Expedia shows millennials are largely contributing to the rise in mobile bookings globally. Approximately 66% of millennials book their trips using a smartphone, while 74% use it to research.
How Are Mobile Bookings Expected to Grow in 2022?
According to forecasts by KPMG and Facebook, the growth in mobile bookings shows no signs of slowing down, indicating that 9 in 10 bookings will be mobile by 2022. In December 2021, year to date, our research shows that mobile represented nearly 30% of total bookings.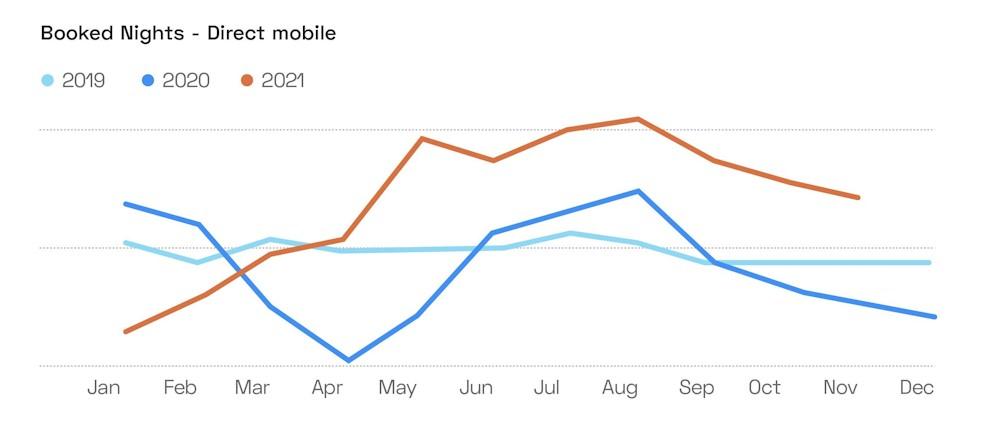 Evolution of Mobile Hotel Bookings from 2019 to 2021
Overall, mobile booking behavior changed in 2020, rose significantly in 2021, and will continue to grow in 2022 and beyond. It is critical that hotels continue to review and adapt their tech solutions to this demand.
5 Ways Hotels can Increase their Mobile Direct Bookings
So how can hotels improve their mobile offerings to meet guest demands and drive more direct sales? Below are some of our top tips to get you started.
1. Keep Mobile Content Simple and Straightforward – Less is More
When prospective guests visit your hotel website via their mobile devices, it's because they want to see your hotel, availability, and prices quickly and easily. Although some content may need to be sacrificed in a mobile-first page or website, hotels must recognize that the customer who's searching and booking through their phone may not be after an entire gallery of high-resolution photographs and long, detailed descriptions of their rooms. They would go to a desktop for that. They're on their phone because they want to see your hotel, availability and prices quickly and easily.
2. Push Mobile Only Offers
According to a study by Adobe, which analyzed over 15 billion visits to US travel, airline, and hotel websites, over 52% of travellers used a mobile device to find information. However, just 21% of those visits converted into bookings. So how can you capture this mobile traffic and convert it into more direct business for your hotel? You need to give guests the urgency to book on the spot.
When competing with other hotels and OTAs for more mobile direct bookings, you can give your hotel website an edge by showcasing mobile-only offers for your guests. This will ensure that your guests book at the moment in the fear of losing out on a good deal, rather than planning to book later via desktop, where it's possible they may change their minds.
Offering a deal that is only accessible when browsing on a mobile device will lead a customer to believe they're getting ahead of other shoppers, which they will be, and they don't want to miss out if they don't take advantage of it immediately. This is similar to but more specific than other practices such as online-only discounts.
3. Prominently Display Your Hotel's Address and Directions, With a Link to Google Maps
According to a recent study conducted by Guestcentric's website design team, which analyzed visitor behaviour across 30 hotel websites (desktop and mobile), looking for the property's address and directions was shown to be among the top tasks online visitors perform when visiting a website via mobile.
The research found that on average, 3% of online visitors actually check out the hotel's location and directions page. This means that if a hotel's mobile website generates an average of 10,000 visits per month, 300 of those visitors will visit the directions and locations page.
When you take into consideration that mobile users tend to book quicker, and on shorter notice, it's important that hotels increase the chance of conversion by highlighting the address of the property in every page, with an easy click through to Google maps.
4. Have a Click-To-Call Button
According to the same study, the contact page is also among the most visited via a mobile website, accounting for 2% of total page views (200 out of 10,000). This indicates that one of the most important tasks online visitors want to complete when accessing the hotel website from their mobile phone is to call the hotel.
Therefore, to increase the chance of conversion, your hotel mobile website should display the phone number prominently and enable direct click-to-call. Note that it is critical to display phone numbers in the international format with "+" and the country code so that international users can call your hotel.
5. Make it Easy for Guests to Book on Mobile
Hotels need to make it easy for guests to book through mobile, giving online visitors as little to do as possible and thus increase conversions. Hoteliers can streamline the process by eliminating unnecessary steps.
A good example of this would be to ensure your booking engine is able to automatically search the guest's address as they start typing it, and subsequently pre-populate the city, state, ZIP code, and country, which ultimately saves valuable seconds and increases conversions. Remembering guest information is also important, so that when guests return to your booking engine, it will auto-fill their information, giving them as little to do as possible.
As is the case with a desktop website, hotels should also ensure their booking engines nudge the guests toward a conversion through shopping activation and shopping recovery messages. Hotels can tap into the power of social proof by saying how many people have booked a specific property within the past 24 hours.
They can also use urgency and fear of missing out by showing that there are only a limited number of rooms left. These are great tactics that can be used on visitors who are likely using their mobile devices to get information and make a booking, fast.
What Else Should Hotels Be Doing to Drive More Mobile Direct Bookings?
Because there is not as much time to get someone to book via mobile compared to other devices, hotels need to efficiently eliminate doubt for guests booking via a mobile device. It's important to analyze mobile user behaviour so that you can better anticipate any questions, concerns, and considerations, in order to make sure that they are addressed on the mobile website.
It can be as simple as making sure that the cancellation policy is clearly visible or it can be the use of icons to portray valuable information such as the bed configuration within the room. The key is to analyze the customer's behaviour on mobile and make sure you're addressing their needs.
Traffic on mobile has never been better, but consumers are moving fast on these devices. Thus, it is imperative that hotels understand what guests are looking for, and deliver the right information to the guest so that they are less likely to leave the website and book elsewhere.