"Greece has managed the coronavirus pandemic much better than many other European countries, with responsibility, professionalism, with new digital tools, and this has helped us to change the overall image of the country, so that today Greece can be a privileged destination for visitors from all over the world."
NB: This is an article from Lybra, one of our Expert Partners
Greek Prime Minister Kyriakos Mitsotakis has no doubts about the resumption of Greek tourism: in addition to having been able to manage at best the pandemic, the Greek authorities have high hopes for the 2022 results and are continuing to promote the country even in the middle of summer. But is this really the case or do data suggest otherwise?
Subscribe to our weekly newsletter and stay up to date
POSITIVE OUTLOOK FOR GREEK TOURISM
The graph above shows data of passengers who took a plane to Greece from 2019 to 2021 (in green) and data of flight searches made in 2022, always for Greece (in grey). On the one hand, we have a consolidated demand; on the other, we have travel intentions. For their format and meaning, these data sets could not be directly compared, nor could they be read alternatively. They are very useful, however, to get an overview of what has been and will be the demand for travel to Greece.
Many, in fact, predict that the flows of 2022 will be even higher than those of 2019, which has been a record year for the country. The arduous sentence the posterity: in the meantime, we can say that Greece is undoubtedly in full recovery phase: although 2020 caused a 68% reduction in passengers, in 2021 at least 26% was recovered. The final balance compared to pre-Covid, therefore, is still negative (42%); at least with regard to the official Eurostat data for 2021.
The data on travel intentions, for now, seem to confirm the forecasts for the overtaking of 2022. It is evident, at least, the change in attitude on the demand side: compared to 2021, flight searches have almost doubled (+43%), with a clear acceleration in spring months with a peak in the month of May. However, there was a demand slowdown in June.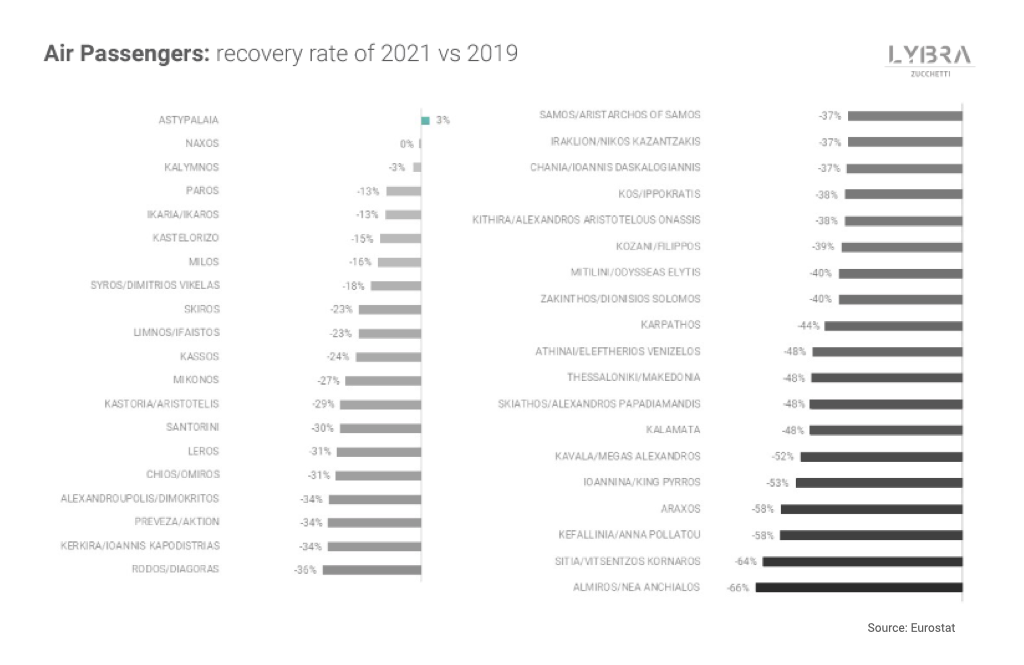 GREEK AIRPORTS DEMAND DATA
Compared to last year, Athens airport always remains at the top of rankings: according to flight searches data of the last thirty days (21 May – 20 June) demand for Athens weighs 24% on the total. In fact, demand for flights to Greece is quite concentrated: the top ten airports in the ranking represent more than 88% of the national total. These include Thira (10%), Kerkyra (9%), Mykonos (9%), Irakleion (9%), Thessaloniki (8%), Rhodes (6%), Zakynthos Island (5%), Chania (4%) and Kos (2%).
However, attention is also focused on all those destinations that have suffered a bad blow due to Covid. For some tourist destinations, 2021 vs 2019 recovery rate is still heavily negative. Kefalonia airport, for example, is still negative by -58% compared to 2019, as are Araxos airport (-58%), Ioannina airport (-53%) and Nestos airport (-52%).