As the summer season gets started, all the signs are pointing to one common trend: travel is fully back.
NB: This is an article from The Hotels Network, one of our Expert Partners
With pent up demand at an all-time high, holiday-makers are excitedly planning and booking that special trip away. And as a hotelier, this presents a golden opportunity. It might have been a while since your hotel website has been generating this level of activity so it's key that you are taking all of the right steps to capitalize on this resurgence.
Subscribe to our weekly newsletter and stay up to date
In our latest guide, we'll share examples of some of the most exciting summer campaigns from our hotel clients to inspire how you can effectively communicate for the season across your hotel website to drive engagement and more direct reservations. 
Short on time? Today we bring you some quick win tactics that will help you step up your direct channel performance so you can enjoy welcoming more summer travelers to your property.
First things first, make visitors feel welcome! 
Offering a personal welcome is a great way to get started. With endless accommodation options out there for guests to choose from, ensuring your hotel stands out from the crowd is key. Making a difference can be as easy as providing a warm and personal welcome on your hotel website. Combined with clear communication around your summer specials, you can be sure website visitors will know that your property is the right fit for their summer trip.
By displaying the message as a Layer and including tempting summery images, you will be able to transport guests to their dream vacation and inspire them to complete their reservation.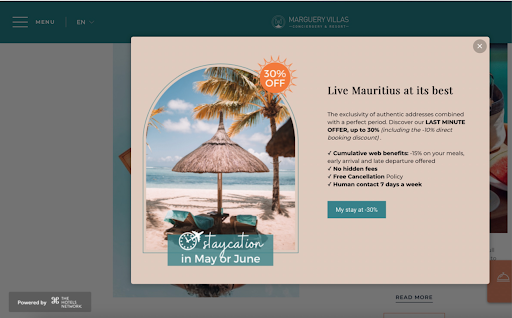 Welcome layer communicating a tempting summer offer
Leverage key summer calendar dates
Each market has their own local festivities and holidays, and such key dates represent a golden opportunity to boost your direct reservations.
Having a clear understanding of where your visitors are browsing from and the upcoming holidays, and carefully curating special offers around these is a powerful strategy to encourage more summer reservations. For example, if you get a high volume of US visitors you can create an offer around 4th of July.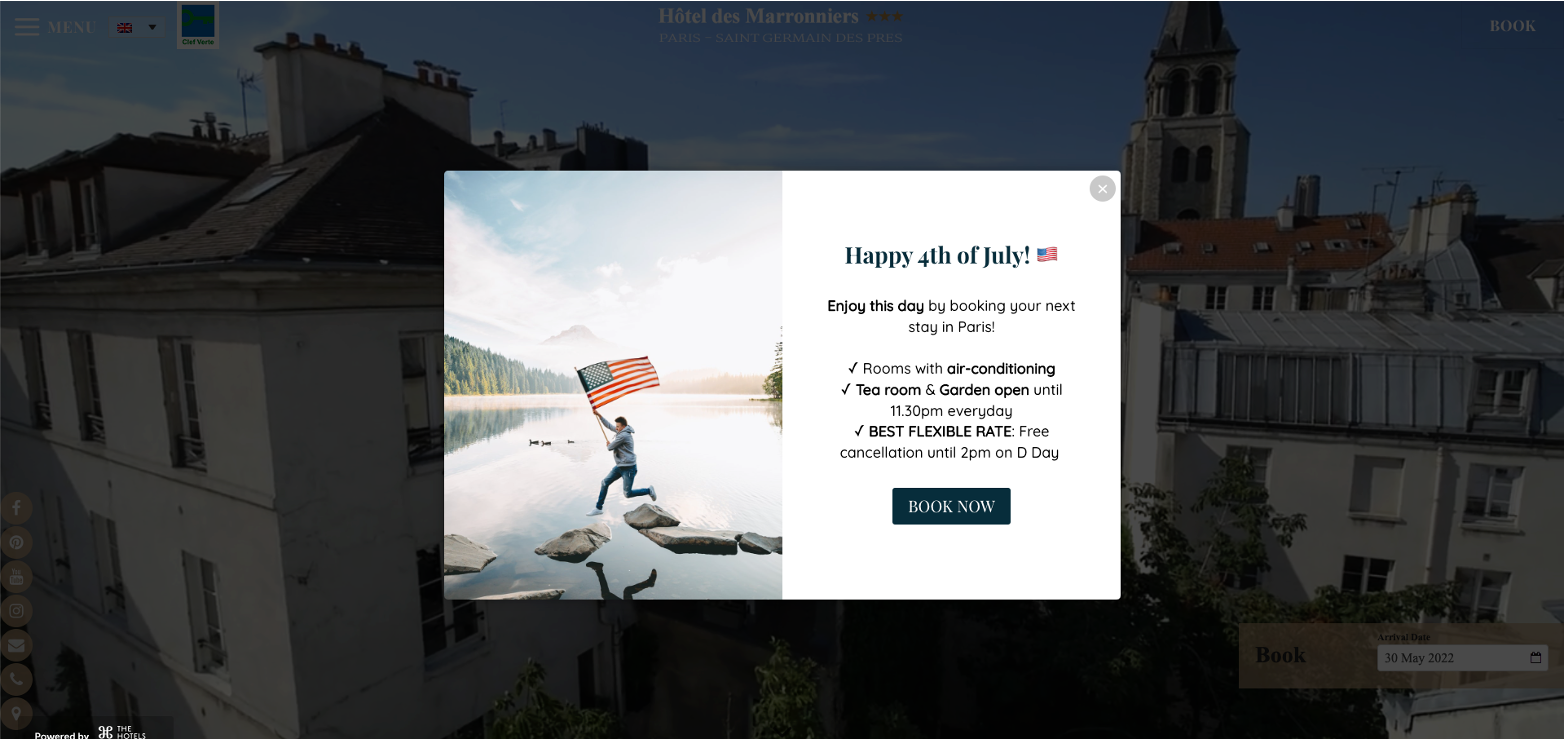 4th of July offer for US visitors
Ensure visitors know you're offering the best available rate
Website visitors will often leave your website to compare prices on OTAs and other sites as everybody wants to find the best summer deal and understandably so. With Price Comparison, you can reassure visitors that you are offering the best available rate. What's more, communicating your direct booking benefits within the tool provides extra proof of why booking direct is always the best option at your property.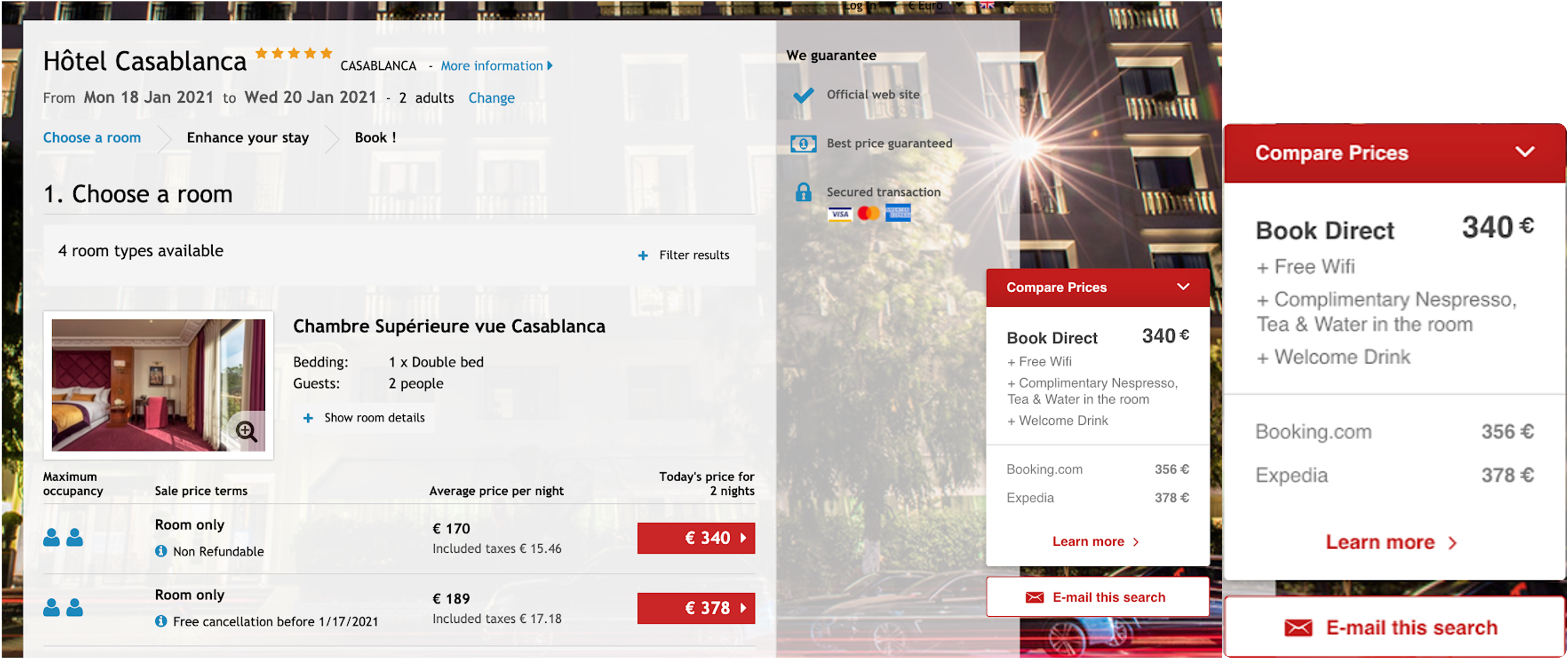 THN's Price Comparison tool in action 
Highlight your unique experiences 
Leveraging your hotel's unique features and incorporating them into your offerings is a great way to drive direct bookings.
Warmer days and rooftop bars – what more could you want this summer? A classic pastime of summer, the rooftop experience almost sells itself so, if you are one of the lucky hoteliers with a 360° view terrace, be sure to communicate it to all your website visitors. The captivating message below is the perfect example of how you can leverage your unique hotel amenities during the summer period.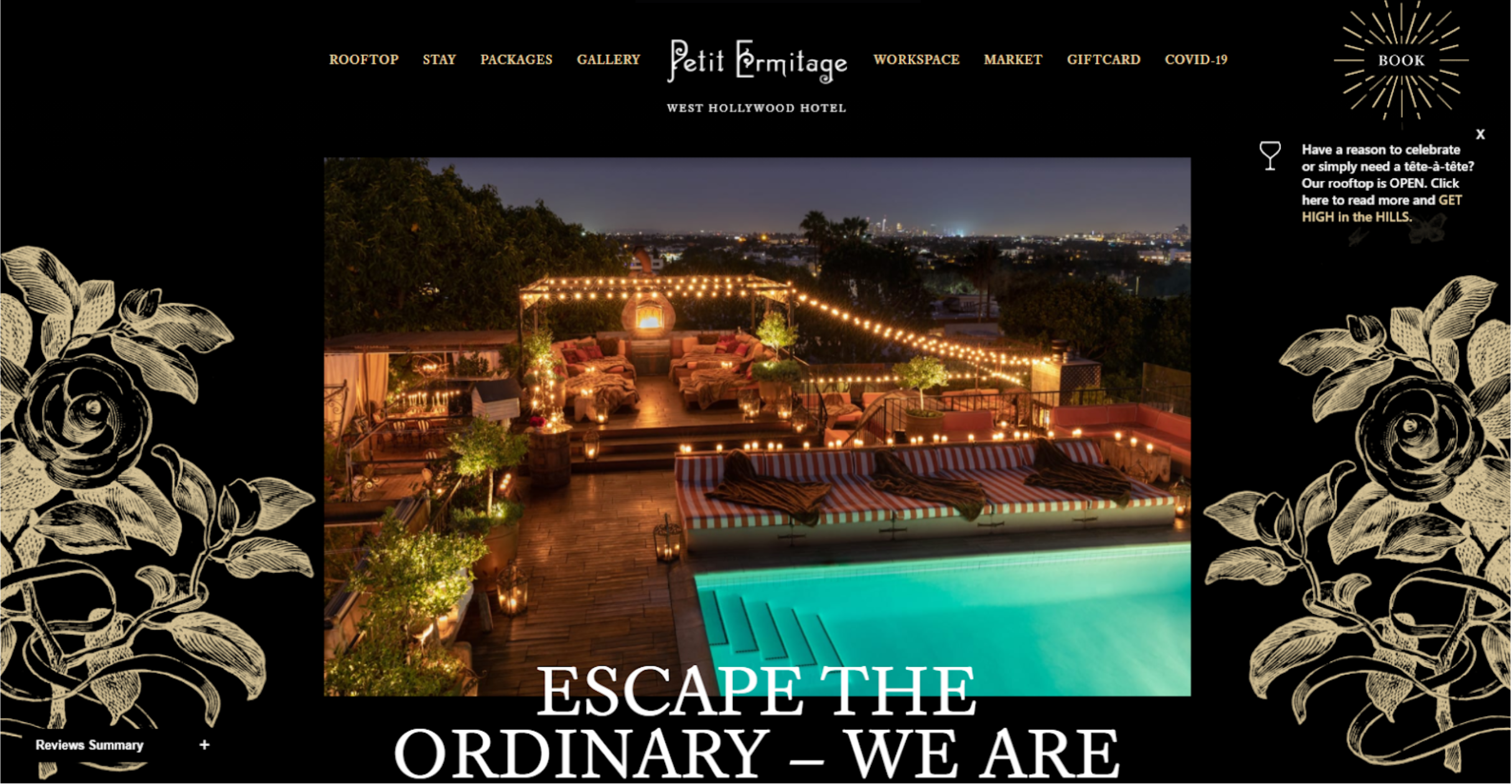 Leverage your hotels best qualities
Encourage upselling to boost expenditure
Promoting higher room categories is a simple yet effective way to boost revenue this summer. Be sure to leverage this technique to up your game and generate more revenue from each guest. By using clever messaging, you can draw attention to your best rooms during the booking process. What's more, to ensure you only show your upselling campaigns to relevant guests, target the message exclusively to visitors who are looking for specific dates or for a specific stay duration. Remember that personalized messages that resonate with guests are much more effective at nudging them towards a direct reservation!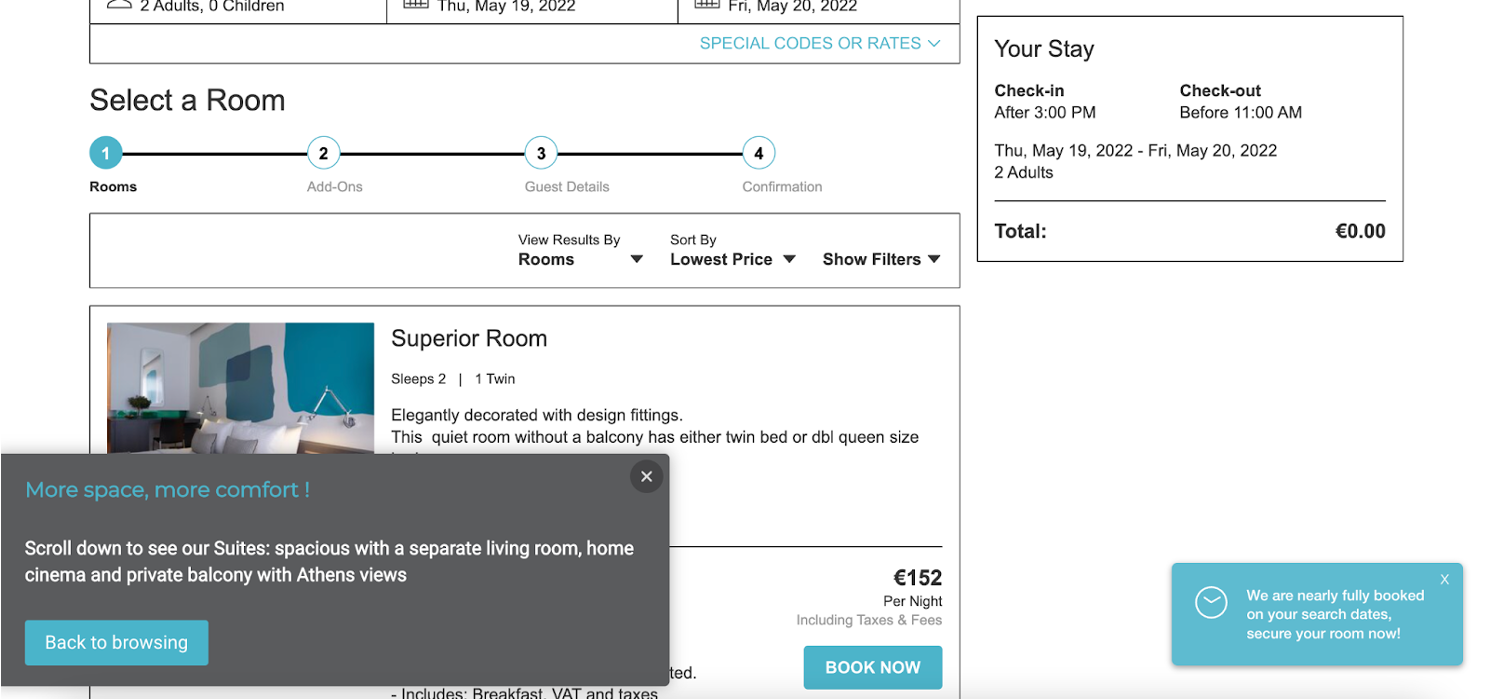 Upselling message targeted to visitors looking for a one night stay
Don't forget about mobile!
More and more visitors will be searching for a hotel this summer on their mobile device, making it essential for hoteliers to provide a smooth mobile experience and offers specifically targeted toward that audience. Data shows that you only have seven seconds to capture the attention of your mobile users, so remember to keep messages short and sweet. Adapt the design so everything fits easily on a mobile screen, there's no need to overload on choice.
There you go! These are just some of the great examples you can find in our guide that will help you make the most of the soon to be busiest season ever. And remember, small changes in your direct channel strategy can make a huge impact on your performance, so be sure to start tackling them today to see a boost in your 2022 summer reservations.
Click here to download our summer guide.