After air travel was significantly reduced in 2020 and 2021, demand for air travel roared in 2022 as borders opened and travelers gained confidence.
NB: This is an article from Expedia Group
However, this demand outweighed supply as airlines struggled to secure enough staffing and planes to keep up. While demand for air travel is expected to continue rising in 2023 as Asia Pacific opens, it will be essential to ensure airlines are paying attention to travelers' needs and expectations to develop their airline marketing strategy.
Subscribe to our weekly newsletter and stay up to date
To better understand what travelers are looking for in 2023, Expedia Group conducted custom research from 11,000 consumers and 1,100 travel professionals to put together the 2023 Traveler Value Index. In this post, we dive into what travelers care about when booking air travel and how that aligns (or doesn't align) with the airline industry's perceptions to give airlines the best insights for 2023.
Air travel is back
Over half (51%) of consumers are planning on air travel in the next 12 months, making flights the most popular mode of travel transportation behind car. Younger generations are even more likely to fly, with almost 60% of Gen Z and millennials planning to travel by air in 2023.
The return of international and business travel is also likely to have a positive impact on air travel. With half of consumers indicating they are planning on international travel in 2023, long-haul flights could see strong growth this year. And, with a third of travelers planning on a business trip, mid-week flights may see a bump as well.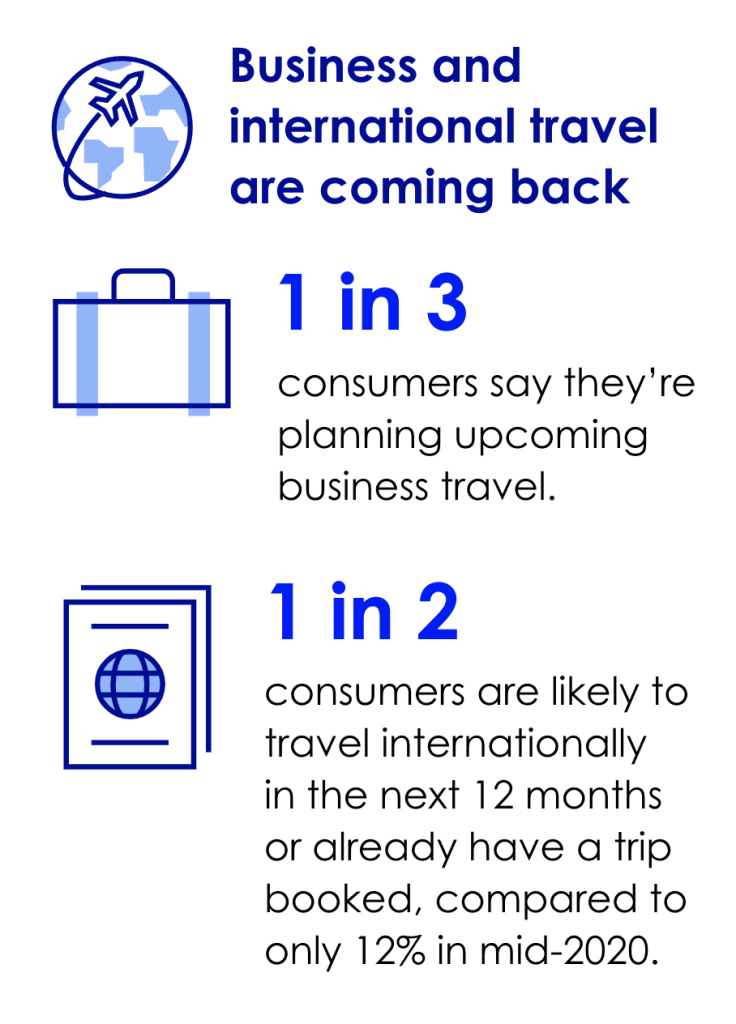 Travelers are upping their budgets as well, with 43% of consumers saying their budget for the next 12 months will be higher than last year. However, air travel professionals overestimated the increase in consumer travel budgets the most, with 70% predicting an increase, meaning some may need to adjust their expectations on consumer travel spend in 2023.
The price must be right
When it comes to booking air travel, it's all about price, with atypical, low pricing being the top thing consumers value. However, many airline industry professionals underestimate the impact of price and overestimate other things like the impact of contactless experiences.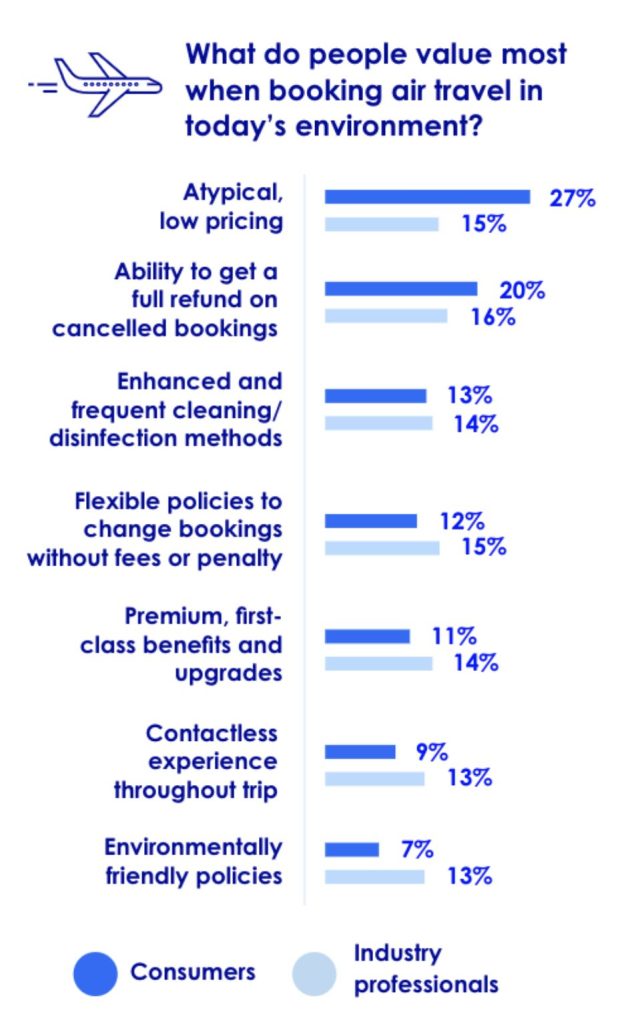 As economic pressures rise in 2023, price will continue to impact how travelers make their decisions. This means there is an opportunity to stand out by offering competitive pricing or including specific deals in your airline advertising strategy.
In addition to price, consumers also care about the ability to get a full refund when booking flights, which is another area industry professionals underestimate the value of. When thinking about shifting away from refundable options as COVID concerns ease, it's important for airlines to understand consumers still value the ability to get refunded if plans change.
The increasing importance of mobile 
Searching and booking travel on your mobile phone has been a popular option for some time, but the preference for mobile increased even more in 2022. Compared to 2021, there has been more than a 20% increase in mobile app and browser bookings for flights in 2022. In 2023, we expect this number to continue growing for air travel.
This reliance on mobile for booking travel emphasizes the need to enhance the traveler experience across all possible touchpoints. And, prior to booking, mobile is a key platform for travel inspiration, meaning that optimizing your advertising campaigns for mobile is essential to connect with travelers.
A sustainable and inclusive future 
Sustainability is a priority for the travel industry in the upcoming year. In fact, it is tied with marketing as the highest area of investment for 2023, with one in five industry professionals saying sustainability will be their top investment priority next year.
The air industry is particularly tuned into sustainability. Air industry professionals are more likely (49%) to provide a great deal of sustainability information to consumers than travel professionals overall (29%). By doing things like offering carbon offsets and incorporating your business' sustainable practices into messaging and advertising, you can better resonate with conscious travelers.
The air industry is also committed to accessibility and inclusivity, with 71% of air professionals saying they have made changes to ensure their services are more inclusive and accessible. Communicating these enhancements to travelers will be important in 2023, as travelers want to know the airlines they are flying with, and the businesses they are supporting, are making a positive impact.