How Can Hotels Improve OTA Rankings? – 11 Surefire Ways
For hoteliers, the question always arises whether; do you really need to have OTA connections for your property, or should you just rely on direct bookings. However, the emerging trends in the hospitality industry have seen a revolution with the upcoming online booking sites.
NB: This is an article from eZee Absolute
Additionally, if we take the online market share into consideration, then OTAs, thus, have become a source of easy marketing for hoteliers. As they allow hotel rooms to be sold to a larger audience and gain higher revenue. However, this can be done optimally by taking effective steps to improve OTA rankings, and of course, by selecting the right OTAs for your property.
What is OTA ranking?
An OTA ranking is a way of ranking properties based on the quality and completeness of their text and visual content. These scores are used by OTAs to rank properties on various attributes like:
Photos and text descriptions
Reviews
Commission
Conversion
Quality of their content
Also, several OTAs allow hoteliers to log in and check their property rank to know and improve them better.
To add on, a higher content score for a property means it has a greater potential to rank better in search results on OTAs. So, it is important to do what you can to DRIVE UP YOUR SCORE.
Tip: One of the easiest ways to rank better is by improving your content quality.
Why is it important to improve OTA rankings?
With time and growing competition, OTA rankings have become more important than ever. OTAs always see to it that their users have a great experience on their sites, and compel them to make bookings ASAP.
Moreover, OTAs also consider various parameters mentioned above to promote any property. For OTAs now, quality holds a higher importance than quantity.
Thereby, you need to have a solid presence on OTAs. This helps you to get more worldwide visibility as well as increases your bookings and revenue.
So, it is VERY IMPORTANT to improve your rankings as the OTAs push customers to properties with better reputations.
How can you improve OTA rankings?
Every hotel business is always on a lookout to improve its performance, whether offline or online. Improving OTA rankings is also a subset of that.
However, you need to primarily focus on having the RIGHT DISTRIBUTION of the rooms, at the right prices to SELL the right room to your guests.
Important:One factor that doesn't vary while improving your OTA rankings is the CONVERSION RATE. If your property converts often then its rank would naturally be higher. This is because booking platforms want their customers to find what they want and find it fast. And so, such properties are always rewarded with higher positions.
Moving ahead, let's have a look at the various ways through which you can improve your OTA rankings:
Step ZERO: Select the right OTAs
Consider this as a prerequisite!!
There are multiple numbers of OTAs available in the market today and, each of them works on a different booking model. Hence, it is vital that you just don't register on any random OTA but select the ones that are actually RIGHT for your property.
Furthermore, limiting yourself to fewer OTAs gives you fixed online visibility; thus losing several booking opportunities for you. So, always consider listing your hotel on MORE THAN 8 OTAs.
What you should do to select the right OTA?
While selecting an OTA, keep in mind about your target audience, property type, commission model.
Also, consider updating these the same on all OTAs – total rooms, star rating, room types, cancellation policy, check-in and check-out time to avoid any disparity.
1. Keep your listing and content up-to-date
OTAs will not show incomplete listings to its users. Also, if the content hasn't been updated in a while, or the photos are terrible, or if room types are not similar then the OTA penalizes such hoteliers. This can create confusion among your guests and hamper their experience.
Hence, the better your listings are updated the more likely it is for you to receive more bookings and improve your OTA rankings.
What you should do?
To keep your listing and content up-to-date:
Make sure that you update fresh content as well as listings on your connected OTAs.
Always consider the end-user experience when updating any detailed content to your channels.
Do think about how you can adjust and put your property in the best light if someone is searching for your hotel.
2. Post HD photos and videos
Photos and videos act as "social proof" for your guests!!
High-quality pictures on OTAs will provide your guests with a 360-degree virtual tour of your hotel. And, will give them a clear idea about your hotel's location as well as the environment.
Also, posting good quality videos will help your guests in exploring your hotel more, thus resulting in faster bookings.
What you should do?
Improve your rankings and quality score by posting photos and videos of your hotel's exterior, interior as well as your location.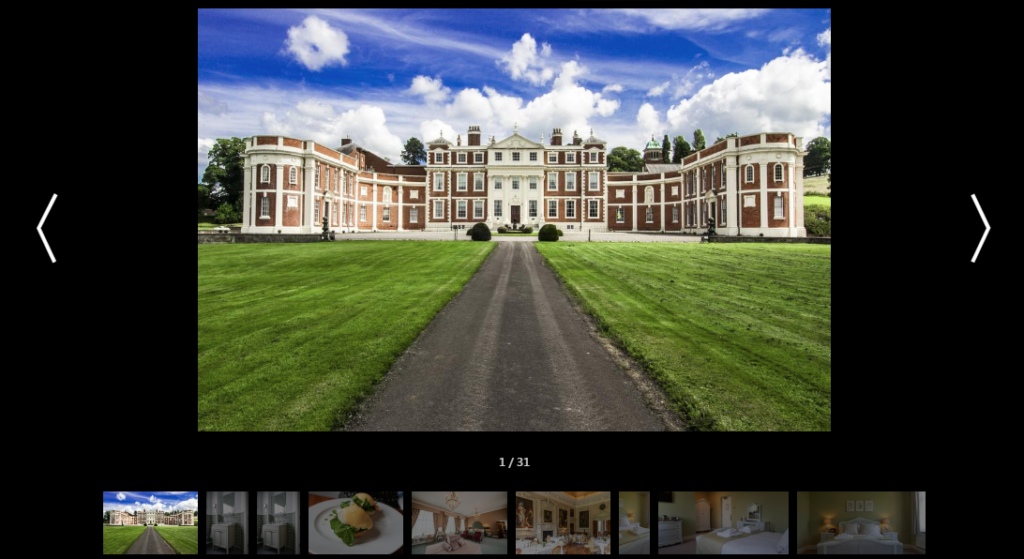 For this,
Ideally, you should add MORE THAN 25 pictures of your hotel on all the OTAs.
Of which, do consider adding at least 4 high-quality pictures per room.
3. Collect reviews and respond to them
Positive review responded lately or no response to a negative review is often seen in a bad light. So, whether it is a negative or a positive review make sure that you reply to it on time
What you should do?
MAKE SURE you actively reply to all reviews received on any OTA in order to gain more trust of your guests. Also,
Consider approaching your guests for reviews.
Regularly respond to reviews you get on TripAdvisor, Booking.com and more.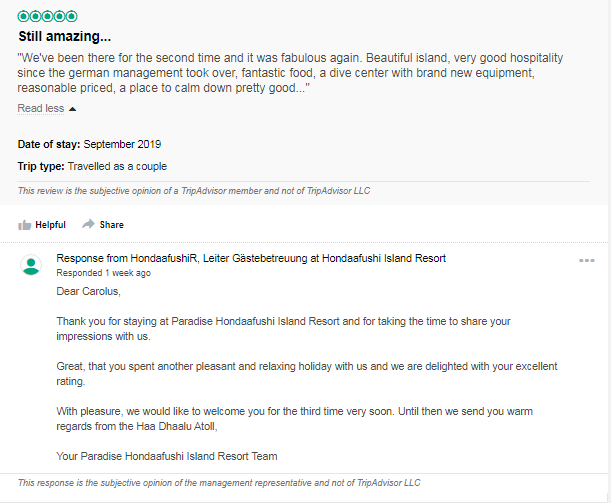 Having trouble doing so? Start responding to your guests faster with our hotel review response templates!
4. Maintain rate parity
Rate parity is another very important factor. OTAs determine this by comparing your hotel rates mentioned on their site with other OTAs as well as with the competing hotels to determine your ideal rankings.
However, not keeping the same rates on all OTAs affects your OTA rankings. Not doing so can get you warnings, or ban notice, or discontinue your listing forever from the OTAs.
What you should do?
Don't risk disciplinary actions from your most important OTA distribution channels. Always follow your agreements, and have clear differentiation for the rates that you offer. Lastly, maitain effective rate parity to improve rankings and get more bookings.
5. Reduce cancellation ratio (%)
Devise a proper and fool-proof cancellation policy before rolling out your availability on various channels. Be careful while forming your cancellation policies.
Try not to be over flexible as well as ultra-strict with it. This will help you to improvise on your policies, get more confirmed bookings from the OTAs as well as reduce your cancellation ratio.
What you should do?
COLLECT and ANALYZE the reasons for cancellation from your guests. Also, find when you get those cancellations. Is it done just before their arrival, or days before that, or is it from the third-party's end, or is it because of overbooking?
Do apply tactics to reduce your last-minute cancellations for maintaining consistency in the bookings you receive and enhance your room occupancy.
6. Work with your market manager
OTAs usually assign market managers to get more bookings for your hotel. The market managers have a wealth of information and can really help you in planning your online strategies.
Remember as they work with a wide range of hotels they know what is and isn't working. So, they'll often
Update you on the latest trends in your region.
Make sure that you offer travel packages that target your preferred audiences.
Help you with paid advertising campaigns between your hotel and the OTA.
What you should do?
Study says, bookings go to hotels mentioned on the first two pages. So, seek to meet with your market managers regularly to figure out the best way to accomplish goals.
MAKE SURE you keep open lines of communication with your market managers; since they are constantly aware of booking patterns and trends within your market.
7. Participate in OTA promotions
OTAs often run deals, offers, promotions, loyalty or reward programs to promote the hotels. Taking part in these will help in increasing your bookings as well as improve OTA rankings.
Offering discounts and free items on OTAs will make your property more preferable over your competitors and help you to upsell your extra services as well as amenities.
What you should do?
Run effective deals and regular promotions on the OTAs to increase the number of bookings. Make sure your promotional structure is set-up well and you keep a check on it. Do offer promotions per booking, or a free night, or on a group booking, etc that draws guest's attention.
8. Paid advertising
Customers often prefer going directly to OTAs to compare hotels, read guest reviews, and accordingly do the booking. So, advertising on such OTA sites can help you to easily gain more bookings and thereby boost ranking.
For example: When someone searches XYZ Hotel in Google, the result is headed to the OTA ads that they buy from Google. The OTAs charge commissions to these hotels or sometimes run ads on their own with the idea to get ahead of hotels' website offers.
What you should do?
DO consider paid advertising for your property to see a rise in revenue as well as your OTA ranking. Also, improve your hotel marketing with these paid ads by reaching out to a larger target audience.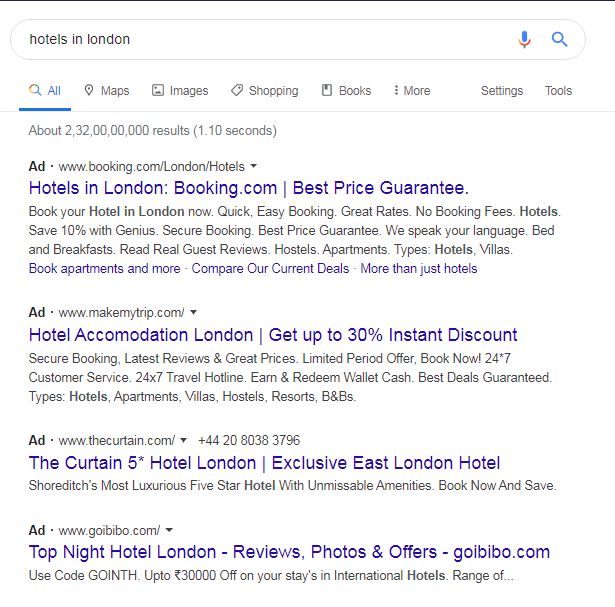 Study says, Booking.com is the biggest spender on paid search advertising (effectively Google ads), while TripAdvisor takes the top spot for organic search.
9. Competition analysis
It is important to know your hotel competitors in the market. This will keep you informed that you aren't underselling or overselling any rooms.
Also, being aware of their activity may provide you an opportunity to catch up extra bookings on OTAs and improve rankings.
For example: If your competitors have received a good amount of bookings or fewer bookings then; they'll obviously increase or decrease their room rates. So, changing rates on OTAs could indicate the occupancy of your competitor.
Additionally, opt for an ideal way to monitor your competitors through a rate shopper tool.
What you should do?
Reach out to your local travel agents or agencies, tour operators, event organizers, and other business partners with whom your competitors may deal with.
Furthermore, Google is the best option. Simply search for 'hotels in your location'. You will get details of hotels that appear in the search results along with your hotel. Start comparing this with your OTA channels as well!
10. Considering getting into the preferred partner agreement
Through a preferred partner agreement, an OTA will rank your hotel better in return for a higher commission. Now you'll think of paying more commissions, right? But, understand that this is just a short-term strategy only.
By doing so, your goal should be to get on to page 1 or 2 of an OTA, so that the long-term benefits can far outweigh the short-term costs. Once you increase your conversions, you can pull back on your commission rate as by then, your hotel will organically increase its OTA rankings.
NOTE: Properties with an average rating score of 7.0 or higher are categorized as "preferred" and get extra visibility in the search results, next to a 'thumbs-up' sign. Booking.com's Preferred Partner program is one such established approach to boost visibility.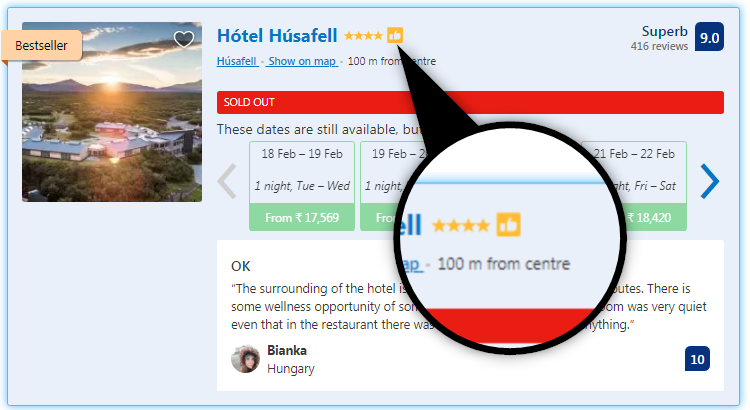 What you should do?
Give your hotel a unique push towards better visibility and bookings with the preferred partner agreement. Allow a larger number of customers to easily see that your property is recommended and is booked by many travellers.
Such programs are an added advantage when listing your property on OTAs and should be taken into account when selecting the right mix.
11. Keep your inventory bookable
A well-structured inventory distribution strategy is the key to sell more rooms. Not only that, but it also helps the hotel to increase its online visibility.
Keeping your inventory open on OTAs will get you advance bookings and even improve your rankings on the OTAs.
For example: If a guest plans to book a hotel that he would be visiting say after 3 months. Then in such a case, if your hotels' inventory is not bookable you would naturally lose the booking.
So, keeping your inventory bookable this benefits the guests who prefer to book well in advance as well as increases your hotel occupancy.
What you should do?
Keep your hotel's inventory open for the next 12-24 months. This will rank you better and get more bookings comparatively. Additionally, receiving a good amount of advanced bookings will also help you to plan for better pricing strategies for the upcoming inventories that are available.
FAQs
Let me answer a few of your questions that might arise in relation to this blog:
What are the OTAs in the hospitality industry?
OTA a.k.a Online Travel Agency are online companies whose websites allow consumers to book various travel related services directly via the internet. They are 3rd party agents reselling trips, hotels, guest houses, villas, vacation packages, etc.How many OTAs are there?
Currently, there are over 400 OTAs, including all global OTAs, meta-search websites, OTA for hostels, vacation homes and properties, group bookings, business travel websites and many more.How do I improve my TripAdvisor score?
The three main factors to improve TripAdvisor ranking are:
1. Quality (refers to the overall "bubble" describing the TripAdvisor rating),
2. Quantity (refers to the number of reviews you've received), and
3. Recency (means more recent reviews are given more weight than the older ones).
While we can't know the exact TripAdvisor ranking formula, we can break down these major components.How can I improve my ranking on Booking.com, Expedia, Goibibo, etc.?
Put as much relevant content as you can and see what content top-ranking listings have put. Implement these various steps mentioned above and improve your rankings consistently. In addition, such OTAs might run several programs; so do participate in them!When does the OTA change or update rankings? How often should you check this?
Rankings depend on several factors like season, hotel performance and much more. So, you may check your property's ranking either weekly or monthly. Do maintain consistency in applying the various strategies mentioned above to gain a better ranking on OTAs.How much do OTAs charge hotels?
When OTAs entered the market, commissions were typically around 5 percent. However, now they have increased to the range of 15-30 percent.Which are the best OTAs?
There are N number of online travel agencies available today. Of which some of the best ones are Booking.com, Expedia, TripAdvisor, Agoda, Skyscanner, Airbnb.com and a lot more!
Conclusion
Online travel agents, or OTAs, are a vital part of your hotels' marketing. Although, OTAs charge a commission for bookings made through their platforms; it is crucial that you optimize your hotel listings and maximize the value these services provide.
Analyze and take time to improve OTA rankings for your property. Share exceptional hotel photos on OTAs as high-quality pictures would make a huge difference to improve your ranking.
In turn, better ranking can make a huge difference in reaching out to a wider range of potential customers who would book your hotel room as well as enhance revenue.