How can you set your hotel up for success and capitalize on the new opportunities opened up by the travel rebound?
NB: This is an article from Triptease
As the person responsible for managing your hotel's daily operations and financial performance, you're probably facing a number of challenges right now. On-going staff shortages are placing pressure on time and resources. The rapid pace of change is also making it difficult to know what direction the market is going and what you should be doing to attract guests and fill rooms.
Subscribe to our weekly newsletter and stay up to date
But none of this should prevent you from taking your hotel to new heights – with the right tools and guidance, you'll feel confident to make decisions that drive bookings and revenue while freeing up time so you can focus on the things only you can do.
That's why we've assembled some key market insights and customer trends you can act on today to secure your hotel's success as we enter a new diamond era of travel. Read on for our advice to help you spot the key opportunities for your hotel and create relevant experiences that attract the right customers in these rapidly changing times.

1. Prepare for the new customer behaviors taking hold
The pandemic has given birth to new breeds of travellers with a vastly different set of expectations. It's essential you're able to cater for them if you want to capitalize on bookings and ensure the needs of your guests continue to be met. Two important new travellers to be aware of are the 'hybrid traveller' and the 'outdoor enthusiast'.
Global business travel is seeing some early signs of recovery but the form it's taking is diversifying. Hybrid and remote working practices are now the norm in many parts of the world, with the 'bleisure trip' (a combination of business and leisure) likely to become a mainstay for hospitality.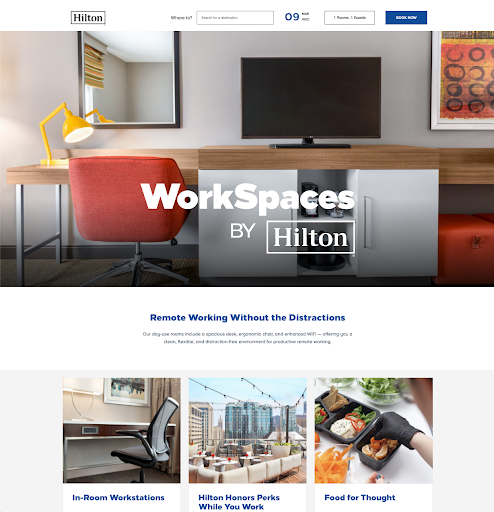 Likewise the past few years have taught many hotels the importance of maximizing outdoor space. Air quality, outside socializing and connecting to nature will continue to be a focus for guests.
Where bleisure trips are concerned, make sure you're optimizing remote working facilities in rooms – this includes having free, reliable WiFi and more desk space. Consider investing in specialized packages like 'Workspaces by Hilton', which includes spacious desks, ergonomic chairs and enhanced WiFi. You'll also want to leverage your hotel's outdoor spaces as much as possible by investing in facilities.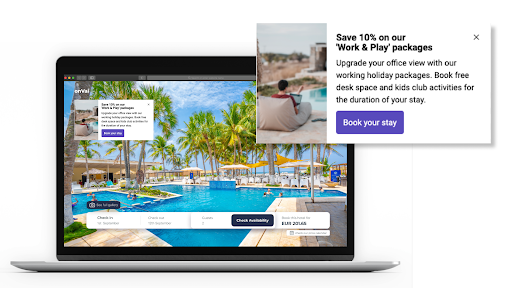 Don't forget to highlight these facilities in your online marketing to ensure hybrid travellers and outdoor enthusiasts can easily find you. Target guests on paid search with relevant keywords and invest in personalized website experiences that convert using targeted messages (as shown in the image above). Partnering with the right provider can automate all of this for you, freeing up valuable time that can be better spent elsewhere.