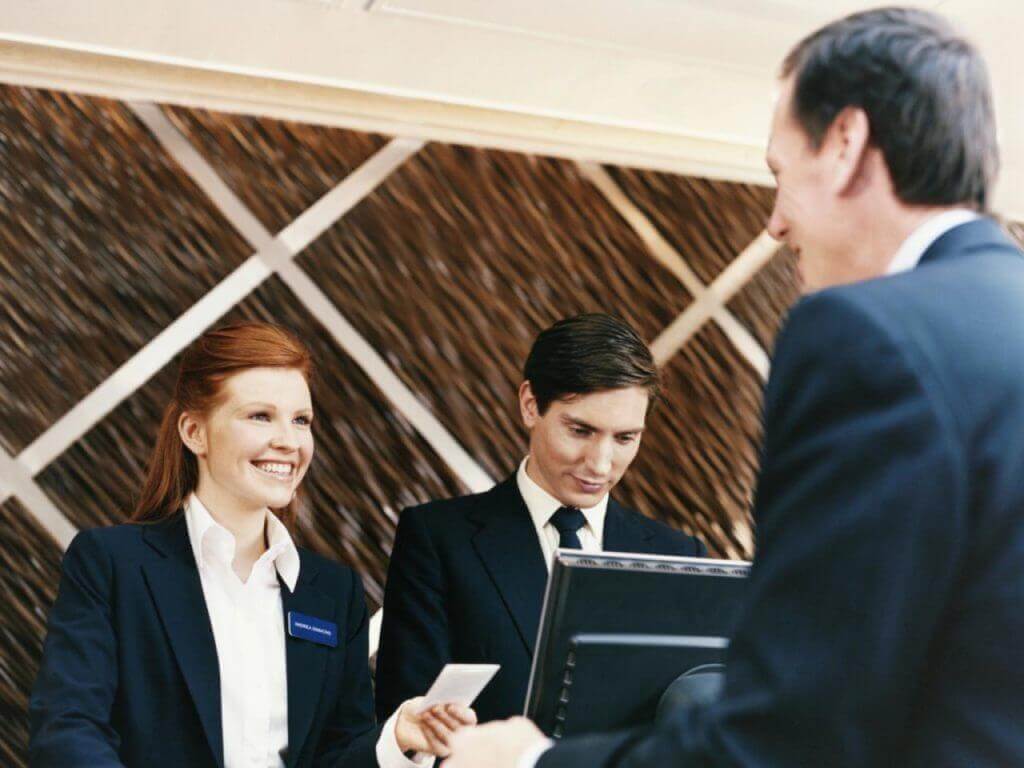 The front office of a hotel works in real-time with every guest. Unlike marketing, who focus on engaging with guests before and after their stay, the front desk must ensure that everything is in order for the guest's arrival and acts as the key point of contact throughout the stay.
NB: This is an article from Cendyn
The front office team plays a vital role in CRM because they interact with guests in person and on the phone. It's the job of front desk staff to keep guests coming back by wowing, dazzling and charming them with efficient, attentive, intuitive service.
The front desk is also a key touch point for data collection. Staff should check guest profiles and update information during check-in and other points of contact.
The front desk builds guest satisfaction and loyalty by taking ownership of the guest experience
Key areas of responsibility
Planning. Works with the CRM team to set goals, objectives and strategies for the coming year and align them with front office operations.
Leadership. Ensures that front desk staff have the knowledge, skills and training they need to use the CRM system to provide the highest levels of guest service.
CRM monitoring. Ensures that the CRM system is monitored 24 hours a day, 7 days a week and that guest requests receive prompt attention.
Pre-arrival prep. Reviews the arrivals list each morning and flags guests that require special attention, including VIPs, group organizers and requests like early check-in, preferred room types and in-room amenities.
Interdepartmental communications. Brings guest requests and special arrangements to the attention of appropriate departments for follow-up, including housekeeping, guest services, room service, the bell desk and the concierge.
Arriving guests. Leads the team to ensure that every guest receives a warm welcome upon arrival and that requests and preferences are acknowledged.
Loyalty. Prioritizes frequent guests for preferential treatment such as upgrades, early check-ins and late check-outs. Ensures that employees recognize repeat guests and invite new guests to join the loyalty program at check-in.
Profile management. Ensures that staff input the guest's email address, mobile number, mailing address and interests into the guest profile at check-in.
In-house guests. Reviews the in-house guest list daily and flags guests requiring special attention, following up with the appropriate departments.
Departing guests. Reviews the departures list daily, following up with guests that require special attention.
Guest feedback. Reads guest surveys and reviews as they are submitted and takes appropriate action, including following up with employees, contacting the guest, or revising policies and procedures to prevent recurring issues.
Data analysis. Works with the CRM team to review performance metrics in guest engagement, satisfaction, loyalty, advocacy and profitability, making the improvements necessary to achieve objectives.
Pass-on. Ensures that relevant information is passed on to incoming staff during shift changes.
CRM tips and best practices for the Front Office Manager
Lead by example. Don't allow technology and meetings to prevent you from maintaining a regular presence on the front desk. Remember that staff are observing your actions and emulating your approach. Smile, maintain a positive attitude, and use CRM software to personalize interactions and enhance guest experiences.
Heads up. Keep CRM software open on every computer, but don't allow technology to distract employees from their top priority: the guests in front of them.
Surprise and delight. When reviewing arrivals and in-house lists, look for opportunities to surprise guests with an upgrade, amenity, welcome note, phone call or other unexpected personal touch. Prioritize frequent guests, special occasions, long stays, direct bookers and big spenders—and perform random acts of kindness.
Get sign-off. A critical step at check-in is getting the guest's signature on the registration card (print or digital) and permission to send them messages. Without permission, you may be prohibited from sending digital communications. Keep up to date on privacy laws applicable to your property, including the European Union's new General Data Protection Regulation.
Respect boundaries. People can be sensitive about how their personal information is handled. Don't overwhelm guests by asking too many questions or divulging personal information (such as details from social media profiles). Be alert to signs of discomfort, and limit questions to need-to-know information. Over time, as guests learn to trust your hotel, they will be more willing to provide information.