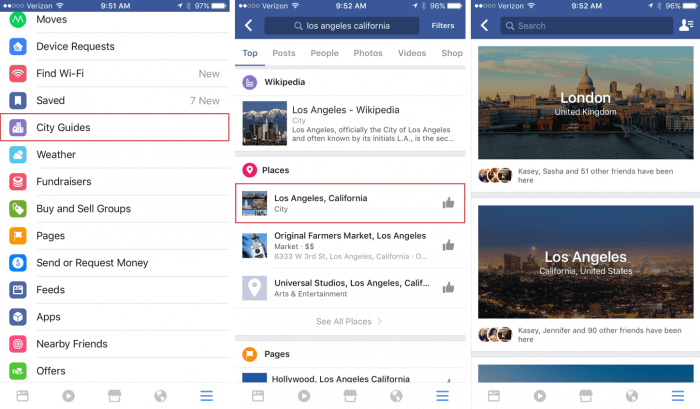 There's never really been a forceful value proposition for a social network for travelers – Facebook's global dominance has pretty much kept the competition at bay.
Why invest resources in a network entirely dedicated to travel – which most people only do on occasion — when you can use the network you invest in every day to make those same connections?
The global scale of Facebook has never been more relevant than with its new City Guides. The network has doubled down on mining its data to create a painless way to plan trips.
As Facebook itself pointed out in a statement to TechCrunch, the company has this rich data already:
"This content already exists on Facebook, and during this test we'll be centralizing it in a way that is more personalized and relevant to you. So, this new feature can help people get a better sense of their city, or a city they're visiting through their friends' eyes."
Rather than actively ask your network where you should see or where you should go, Facebook compiles relevant data into individualized City Guides.
Each user will see a unique list of interesting places within a city, all curated by the user's friends.
Each of these recommendations can then be bookmarked. This simple integration of existing content into individual city pages makes it much easier (and way more fun) to plan a trip on Facebook.
City Guides is a response to Google Trips. There's no denying the value of Google's standalone trip planning app, which helps travelers "plan less, see more" by automatically pulling trip information into an itinerary and making suggestions for activities.
Yet the barrier to downloading a standalone app is high, and Facebook has the most engaged user base in the world.
Now that users see recommendations straight from their networks, hospitality businesses (especially experience-based ones, like hotels) must carefully consider how to build themselves into this new travel planning flow on Facebook.