The onset of the COVID-19 Pandemic and its impact has rippled across the globe—resulting in businesses coming to a screeching halt and a market slump. What this moment of crisis has made everyone realize is that for a business to stay afloat, it needs to have a strong digital marketing presence. You could argue that COVID-19 has shifted marketing and brand messaging, and it has to some extent as companies sympathized with their audiences and spread awareness to build a stronger relationship than before and stay together in this fight.
Given the tumultuous year, we decided to do a mid-year trends check in to help our audience hasten its recovery from this pandemic.
COVID-19 Impact:

Digital Transformation Accelerated During COVID-19
This trend is not hard to spot all around us. Businesses adapted quickly to the shelter-in-place and started or enhanced their online shopping, ordering, experience or added delivery to survive. Customers have taken such changes in their stride as well and may have come to appreciate the new options and experiences.
While the COVID-19 pandemic spread like wildfire and affected millions of businesses, we carried out Crisis-Recovery-Growth to help businesses cope in these troubling times. While the Crisis stage was all about empathy and a time for businesses to build a relationship with their customers – by reiterating that we're all in this together, the Recovery stage has brought about a new sort of approach and a digital transformation – one that banks on building confidence in customers to step out and book with the goal being 'safety and togetherness'.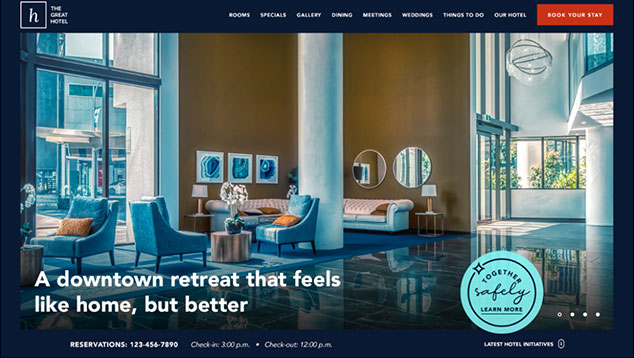 The message is clear and businesses are now emphasizing on cleanliness and hygiene and the guidelines that are followed to instill confidence in potential customers. We've created a recovery funnel for businesses to follow to help them out of the current situation, that is focused on building confidence, demand, conversions, and trust. Click on the link to know more.
Recommendation: Optimize digital experiences and keep expanding digital infrastructure as a differentiator that delights your customers. Generate demand by addressing customer concerns for safety and cleanliness.

Mobile traffic growth decelerates with people sheltering-in-place and using desktop more during COVID-19
We mentioned that the COVID-19 Pandemic has made changes to the digital landscape and this is a fine example to prove it. While businesses have stressed on optimizing their mobile websites and rightly so, during COVID-19, due to a drop in demand and people working from home, desktop websites experienced a surge and took over mobile websites in terms of traffic ratio. Based on our research data and this trend, having the perfect balance of both desktop and mobile websites is the trick to ensure your business is visible to customers at all times.
Take a look at some of the Milestone Research findings:

Recommendation: Stay focused on mobile and assume it will reverse the traffic ratio in a reopened economy.

Startup valuations and multiples are down with COVID-19 and recession
This was predicted. Even before COVID-19 spread across the globe, the market was staring at a recession and the onset of the pandemic rubbed salt on the wounds of startups. According to Global Data, as of 29 March 2020, venture capital funding dropped by 22.5% in just a week, precisely due to the double-whammy of the imminent recession and the spread of COVID-19.
PitchBook reported that deal-making was down -26% in March as well, and while venture capitalists are largely risk-averse during this period. Some are looking to see if startups can weather the storm, or have a solution that could be fit to serve customers even during the pandemic or in situations like these.