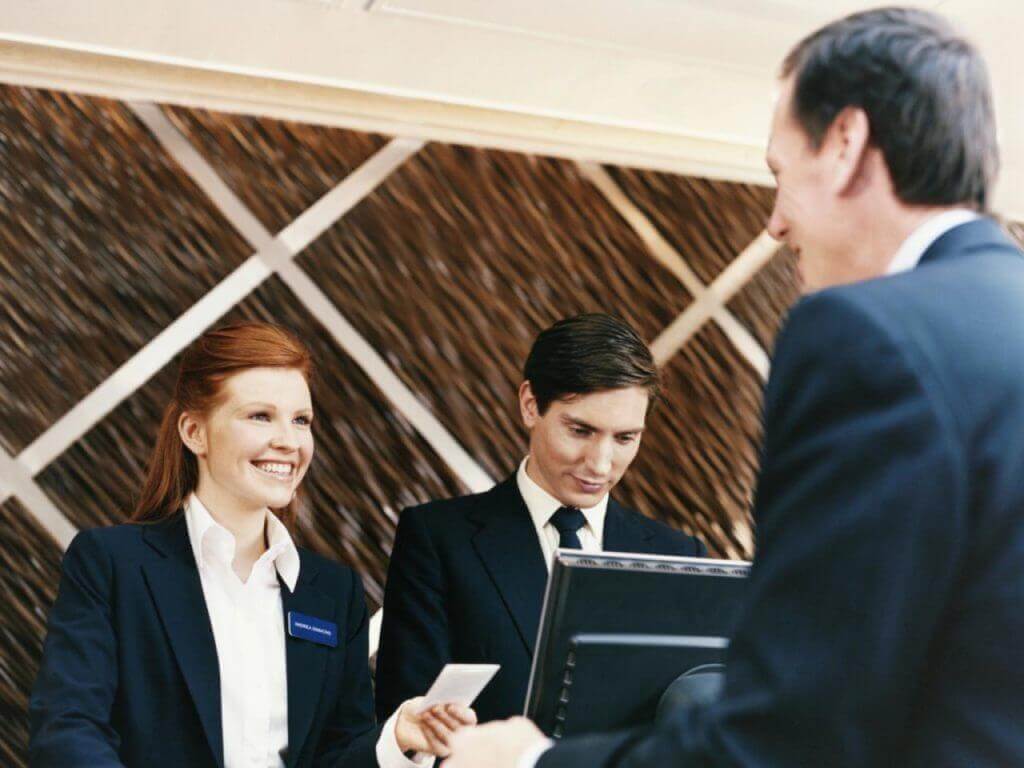 In every hotel, the hotel front office management is considered to be one of the first points of contact for a guest.
NB: This is an article from Hotelogix
They are also major contributors in ascertaining that every guest in the hotel has a memorable experience – whether it is checking hotel guests in/out, making bookings or answering guest queries. However, there is always room for improvement. And, as the hospitality industry continues to boom, it is imperative for hoteliers to have a robust front office system. That is not all, they also need to learn how to improve their front office operations and provide top-notch guest experience.
In order to improve your front office operations, you have to have a great team. Here are a few tips and tricks to improve the front desk employee performance which further leads to delivering better guest experience.
Guest Specialist
When every member of the front desk team is a guest expert, it results in making the guests feel welcome. So when they call the guests by their name (keeping in mind the name-addressing etiquettes) this can act as a great step. Furthermore, the front desk team will also need to have access to maximum guest information which may include :
* Stay history of the guest
* Whether the guest has any food preference, or s/he is allergic to something specific in the room that needs to be taken out etc.
* Purpose of stay in past bookings which may include leisure or business or to celebrate a special occasion.
* Information related to the purpose of current stay, etc.
This is where a PMS comes into the picture. All the above data can be retrieved when you have a reliable PMS. It not only helps in facilitating a much higher level of customised service, but also helps in making every guest in the hotel feel welcomed just like at home.
Keep Training Your Front Desk Team
When the staff that takes care of the front office operations in hotel gets consistent training, it inculcates better guest hosting etiquette in them that helps in delivering better guest experience. To help initiate the never ending training, you can consider using the following ways :
Create a Training Manual: when you create a front desk training manual it will clearly communicate the best practices and roles for your front desk employees. You can use it as the grid point for the current and future front desk staff.
Have A Dedicated Trainer : Most hotel owners and senior management folks don't have the time to conduct training sessions on a regular basis, so having a dedicated trainer would definitely drive significant value.
Offer Software Training : Having an expensive operational software doesn't solve all the issues, you also have to know the nuts and bolts of the tool. Therefore, it is advisable to ask your PMS vendor to train your employees which will help them to make the most of its features.
Read the Cues
Every member of an efficient front desk team can pick up on subtle signs from guests. In case the guests have children, the front desk employees can offer them information on hotel amenities like the pool hours, cribs for newborns and toddlers, special snack bars for kids, etc. This kind of information will be greatly welcomed and appreciated by the guests.
Make Optimum Use Of Technology
By arming your front desk employees with latest technology, hotel front office system can definitely make a direct impact on the overall hotel guest experience. When you power them with technologies like mobile key, you can bring down considerably the queues of guests waiting, thus reducing the overall front desk traffic.
Speed is Crucial
Fast and efficient service by hotel employees acts as a major customer satisfaction booster. This doesn't imply that the front desk has to push the guests through the process of check-in. Rather, what we mean here is that the work which the front desk employee does should be fast, giving due respect to the valuable time of the guests.
Be Present At All Times
The guests arrive at hotel at erratic hours. This means that the front desk staff must stay in sight at the reception to prevent unnecessary and impatient waiting of guests. The front desk should always respond to guest requests at a faster pace— whether its pillows, blankets, towels, etc. Even at the time of check-out the front desk employees should be as friendly as possible and should try to keep conversations to a minimum as the guests mostly look for a quick exit.
Right from booking room to check out, the front office in hospitality industry plays a vital role in keeping a hotel's end-to-end operations on the right track. However, it has to be done the right way with a robust and reliable hotel property management system or a PMS in front office. Having a hotel or property management system in front office helps your front desk employees gather significant information related to a particular guest's reservation, preferences, habits and the capacity of room in your hotel. Therefore, it is considered to be a good practise to invest on the right kind of front office software used in hotels as it drives value and result in big revenues, better guest experience in the hotel.