When will the travel and hospitality industry get back to pre-pandemic levels? When it comes to leisure travel, the answer is sooner than you might've ever thought possible.
NB: This is an article from Conductor
In summer 2021, vacationers got their beach on, with tourist hotspots like Miami and Virginia Beach topping their 2019 occupancy rates. The Transportation Security Administration logged more than 2.1 million people at airport checkpoints on July 2, 2021, topping 2019 volume.
Subscribe to our weekly newsletter and stay up to date
Business travel and cruise lines still have some catching up to do, but the signs are optimistic, with Carnival Cruise Line's bookings for the second half of 2022 outpacing 2019 levels.
Yet here's a catch: travelers today are booking their trips sooner. That means getting ahead of the competition is more important than ever before. These travel and hospitality search trends from 2021 will help you better understand the reasons why some domains drive more online traffic than others. It will also help you identify future travel trends faster.
Which domain attracts the most search engine traffic for flights?
The domains winning the online conversation about hospitality trends and travel share a common bond: They invest in well-optimized content. For example, when it comes to flights, monthly search volume (MSV) data from August 2021 shows that two Online Travel Agencies—Kayak and Expedia—are winning the highest portion of market share, earning 17.93% and 16.67% respectively. American Airlines is the only branded carrier to make the top five.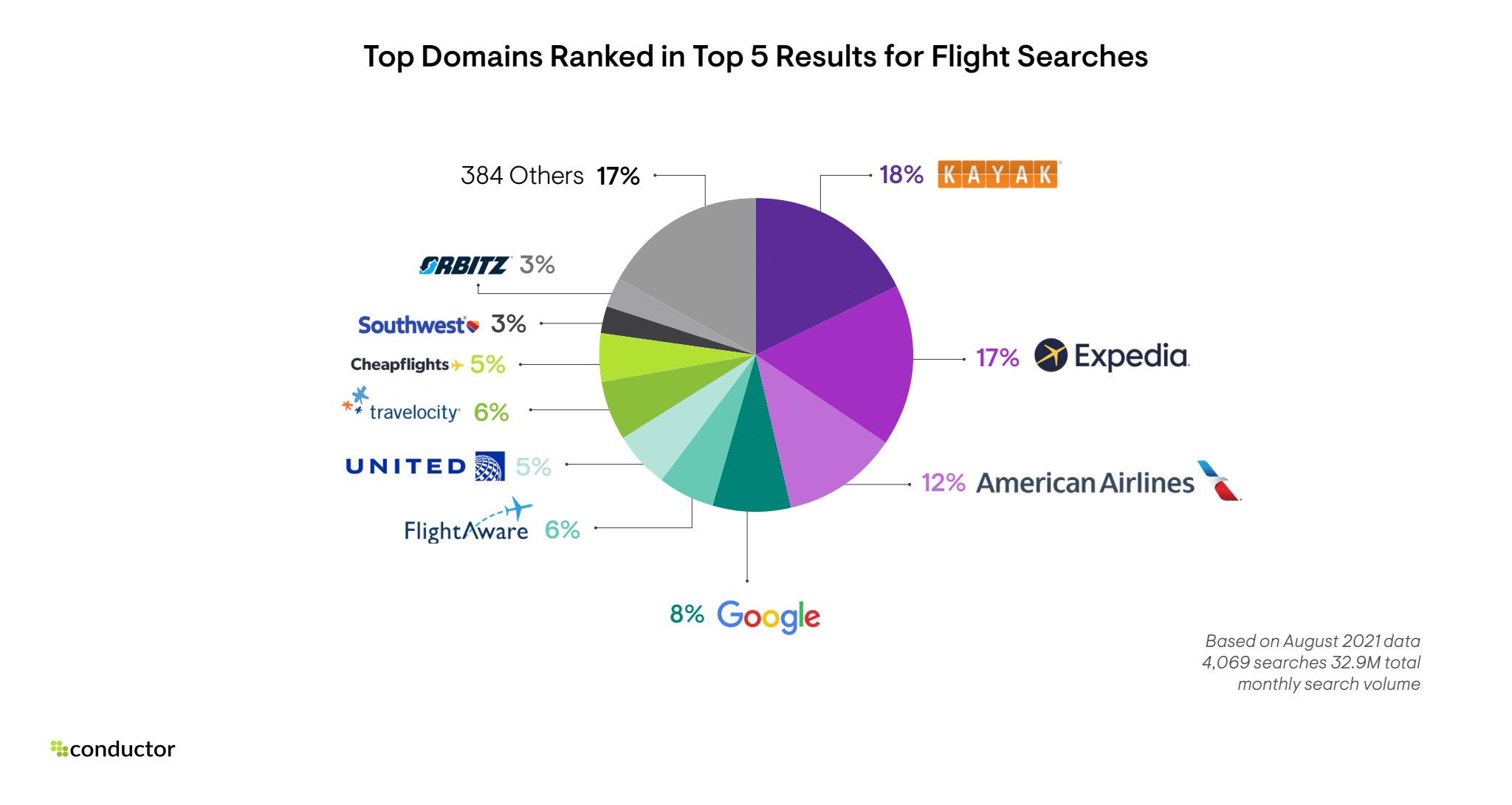 Kayak is outpacing even Google in terms of market share! One reason why is because they create specific content for travelers' most sought-after destinations centered around the words "cheap flights." These route-specific landing pages drive tens of thousands of clicks.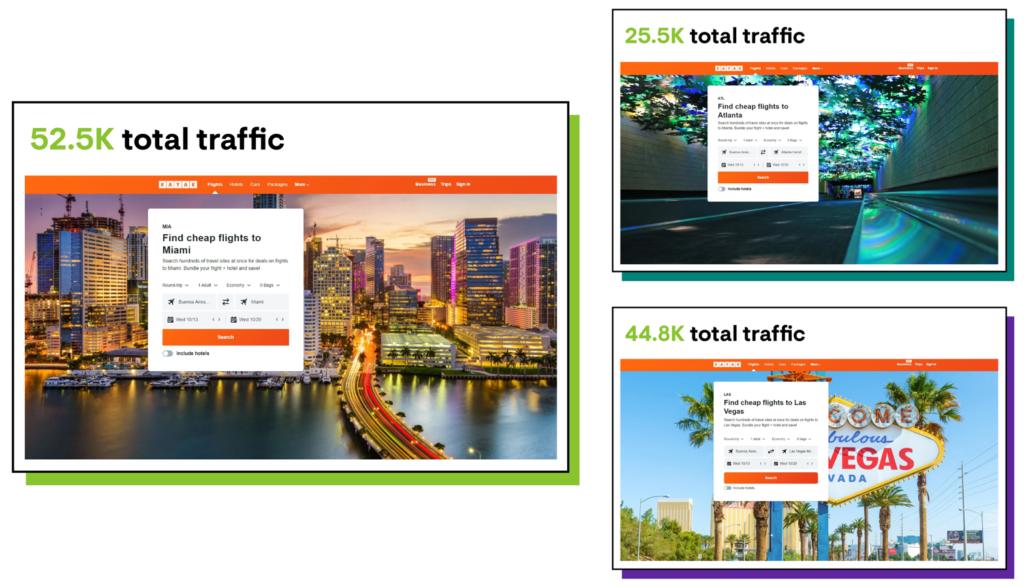 Which names top the list in branded hotel and vacation rental searches?
From established hotel brands like Hilton and Marriott to vacation rental platforms like VRBO and Airbnb, today's travelers have plenty of options when it comes to accommodations. While searches for all accommodation types (hotels, motels, resorts, and camping) hit their ebb in April 2020 at the height of pandemic lockdowns, searches for both branded and non-branded accommodations have increased across the board ever since.
Searches for "hilton garden inn" and "marriott courtyard" are up more than 500% from August 2019 to August 2021, even though searches for "marriott" alone are down 18%. Interestingly, searches for Airbnb are equal to where they were pre-pandemic. While the brand took a hit for their rigid cancellation policies early on in the pandemic, they're expected to report their strongest quarterly revenue level in Q3 2021 even though bookings remain below 2019 levels.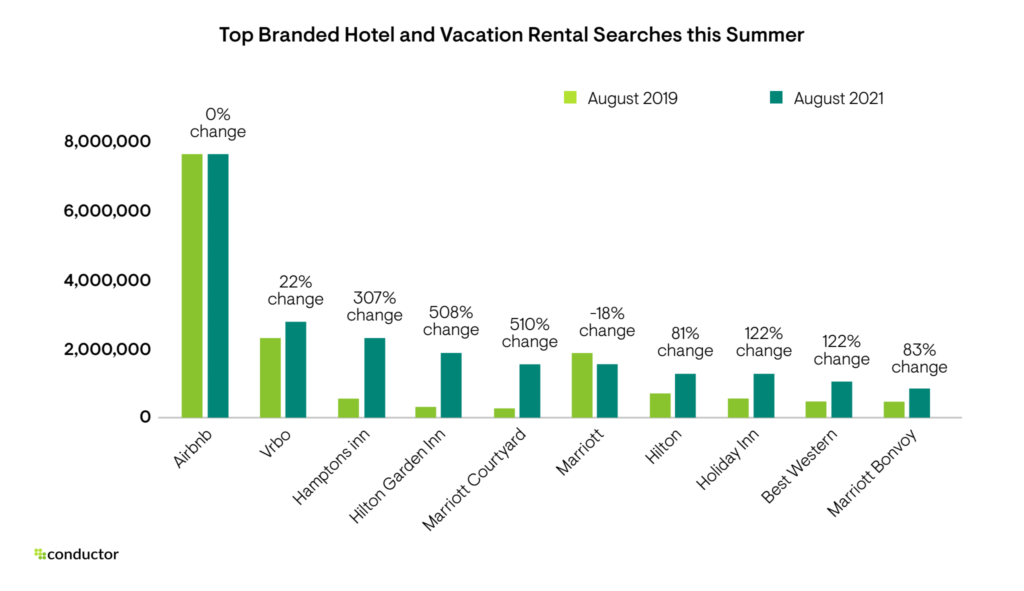 The pandemic also created greater interest in private, outdoor, socially distant trips, as evidenced by a sharp rise in camping-related searches since April 2020. The search data dovetails with travel trends. According to a Kampgrounds of America report, the proportion of first-time campers has grown fivefold vs. 2019.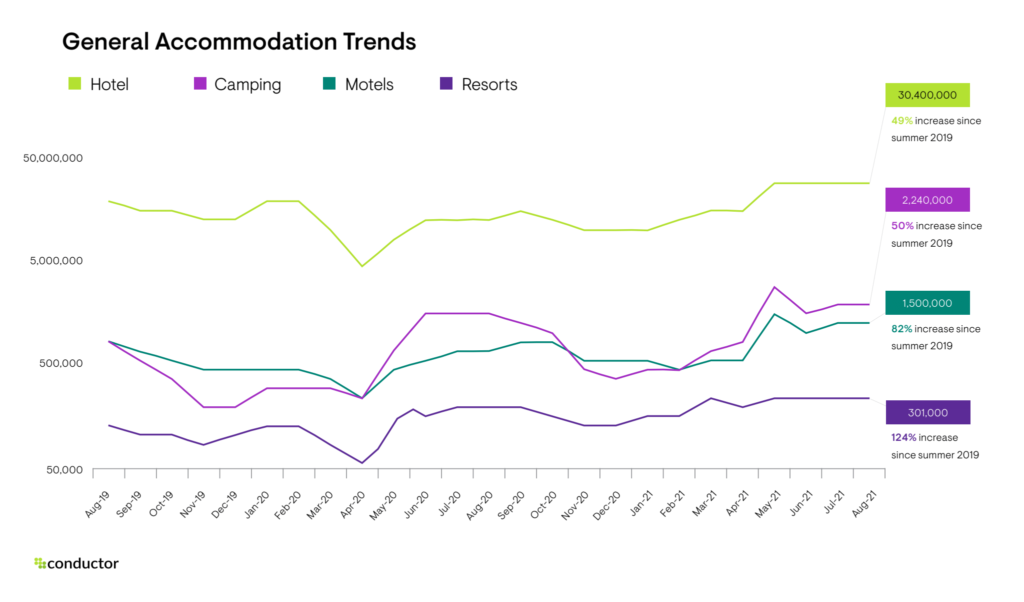 Which factors drive hotel choice for travelers?
Pet-friendly policies, in-room jacuzzis, pools, and extended stay options top the list of amenities people want when it comes to trends and travel in 2021. Proximity also drives lodging choice, with vacationers seeking hotels close to popular theme parks and casinos.