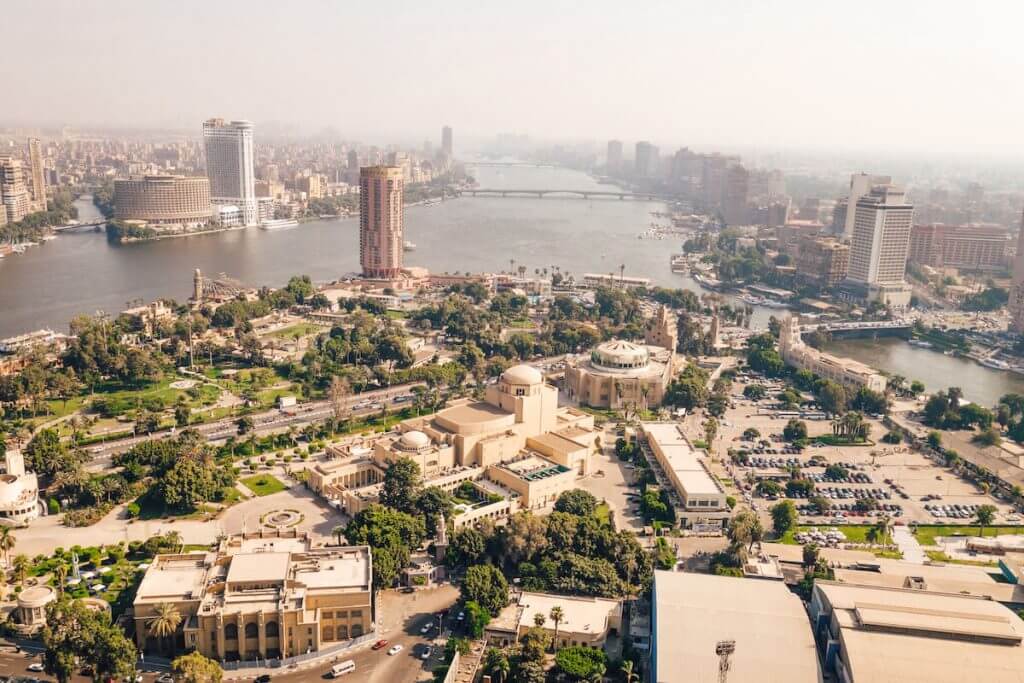 With our access to real-time traveller audiences and unmatched visibility into global travel demand, we're in a unique position to share the current travel trends at the forefront of marketers' minds.
NB: This is an article from Sojern
In this blog series, we'll take a look at the data in order to aid travel marketers in their assessment of this worldwide event. They can use these trends to inform their marketing strategies during this period and be prepared for the recovery once the situation stabilises. 
These insights are based on data collected on the 18th May, 2020. We will be reviewing our data on a weekly basis in order to provide a regular view of trends and patterns in consumer behaviour. Sojern's insights are based on over 350 million traveller profiles and billions of travel intent signals, however it does not capture one hundred percent of the travel market.
Luxury Hotel Staycations Continue to Lead the Way  
Over the past week there have been more changes across the region with regards to lockdown measures, travel restrictions, and local holidays.
As we saw last week, pool and private beach access is at the top of mind for a lot of locals, and we have continued to see hotels reopen and promote resident staycation offers. Hotels including FIVE, Sofitel the Palm, and Jumeirah Al Naseem have all reopened providing access to their outdoor facilities. As a result, luxury hotels continue to see the biggest spike in interest in terms of searches and bookings from all origins to the United Arab Emirates (UAE). Luxury hotel bookings, although 48% down, are displaying better recovery than economy hotels which have dropped by 67%. These figures have been indexed to 5th January (reducing volumes to zero) in order to show a better reflection of the impact COVID-19 has had on the search and booking levels.
United Arab Emirates Hotel Searches and Bookings Split by Class – Indexed to 5th January 2020
Travel Restrictions and Social Distancing Curb Festive Holiday Bookings 
Generally, lockdown measures have been loosened across the region. However, the announcement of Eid Al Fitr 2020 holidays has resulted in Saudi Arabia introducing full lockdown during this period, and the UAE government issuing a warning against celebrations, reiterating the need to adhere to strict social distancing measures. In addition to this, they have adjusted the sterilisation measures to begin two hours earlier than previously stated, now due to start at 8pm and continue to 6am as of 20th May until further notice, with revised fines for those who violate the rules.
The end of Ramadan will be celebrated with a five-day break starting on 22nd May. The Moonsighting Committee will meet on the 22nd to decide the date of Eid Al Fitr. Traditionally, this is a big holiday which would usually see great celebrations and festivities with families and friends. This year, with restrictions on social gatherings, as well as limited intra-regional and international travel, we are seeing much lower searches and bookings compared to last year.
Year-Over-Year Global Flight Bookings to Key MEA Markets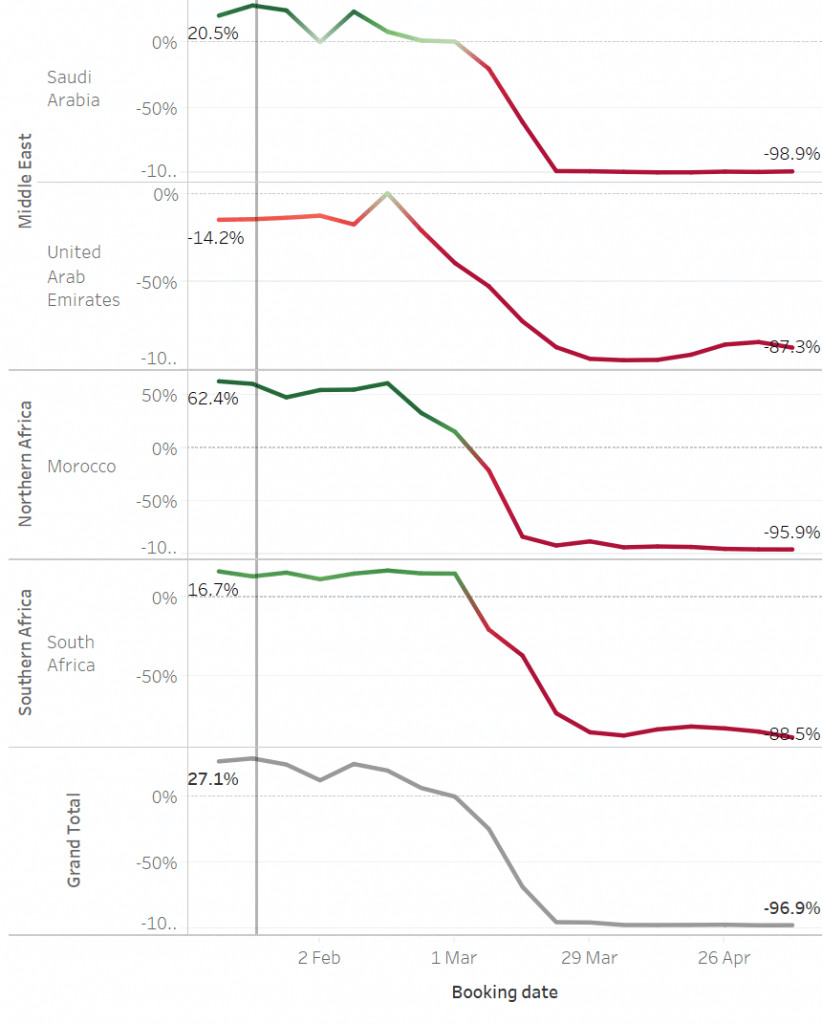 Travel Intent Begins to Gain Momentum in August
It has been announced that scheduled passenger flights in the region will resume from 21st May. They will be flying to nine cities in eight countries, including connections from Australia to the UK, via Dubai. We can expect to see flight searches and bookings pick up as more airlines make announcements like these. Although bookings are a better indicator of travel confidence, we can already see that travellers are dreaming of travelling to the region, and, as of August, there is a steady upward trend in searches across the region. Although search volumes are still down approximately 50% year-over-year, this is a great sign that customers will be increasingly more open to hearing from travel brands in order to help them plan their future trips.
Future Departure Months for Flight Searches to Key MEA Markets Over the Last 28 Days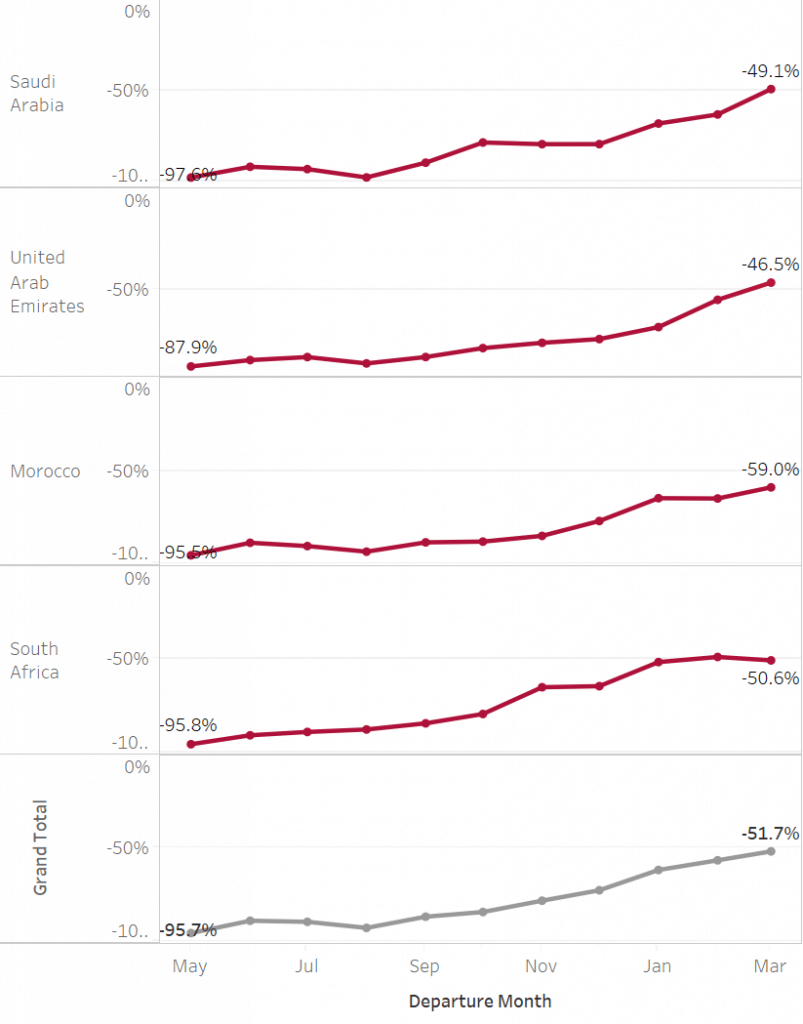 Lifted Restrictions Lead to Strong Uplift in Hotel Searches 
When looking at the weekly year-over-year trends for hotel searches, the steep decline began to plateau towards the end of March across the region. Looking more specifically at the UAE market, there's been a clear uplift correlating with the week when restrictions were lifted (week commencing 19th April). As more hotels open up in the country and continue to promote staycations for residents, searches will likely continue on this incline.
Year-Over-Year Global Hotel Searches to Key MEA Markets
Luxury hotels continue to show positive signs of early recovery from the domestic market. As flights are resumed, this will likely be reflected with regional, and eventually international travel. There are already signs that people are dreaming of their future international trips, and searches for future departure dates suggest that travel will gain momentum in August. We will continue to share more insights as we monitor the situation. These forward looking insights will hopefully help travel marketers shape their strategies when the industry starts to recover from this outbreak.