There is mounting evidence that consumer behaviors and preferences are largely returning to "normal" as concerns regarding COVID-19 continue to subside.
NB: This is an article from STR
An increasing appetite for travel, the return of city breaks and waning importance of cancellation policies are just a few indicators highlighting tourism recovery as well as a return to pre-pandemic tendencies. Throughout the pandemic, most forms of accommodation have been disadvantaged as consumers have sought to minimize their interactions with others when restricted travel was allowed.
Subscribe to our weekly newsletter and stay up to date
As such, short-term rentals is one sector that has benefitted to a degree during the pandemic as these accommodations provide seclusion from others and self-contained spaces.
As we enter a new chapter of the pandemic, with decreasing concerns regarding infection combining with pent-up demand for travel, how do consumers view different types of accommodation today? Our latest consumer research conducted in May 2022, which polled nearly 1,300 global travelers, uncovered attitudes towards hotels and other forms of accommodation.
Accommodation still in negative territory overall, but the mood is improving
While travel sentiment has picked up strongly in recent months, overall attitudes toward accommodation remain somewhat stubborn as many forms of accommodation continue to be perceived less positively compared with before the pandemic.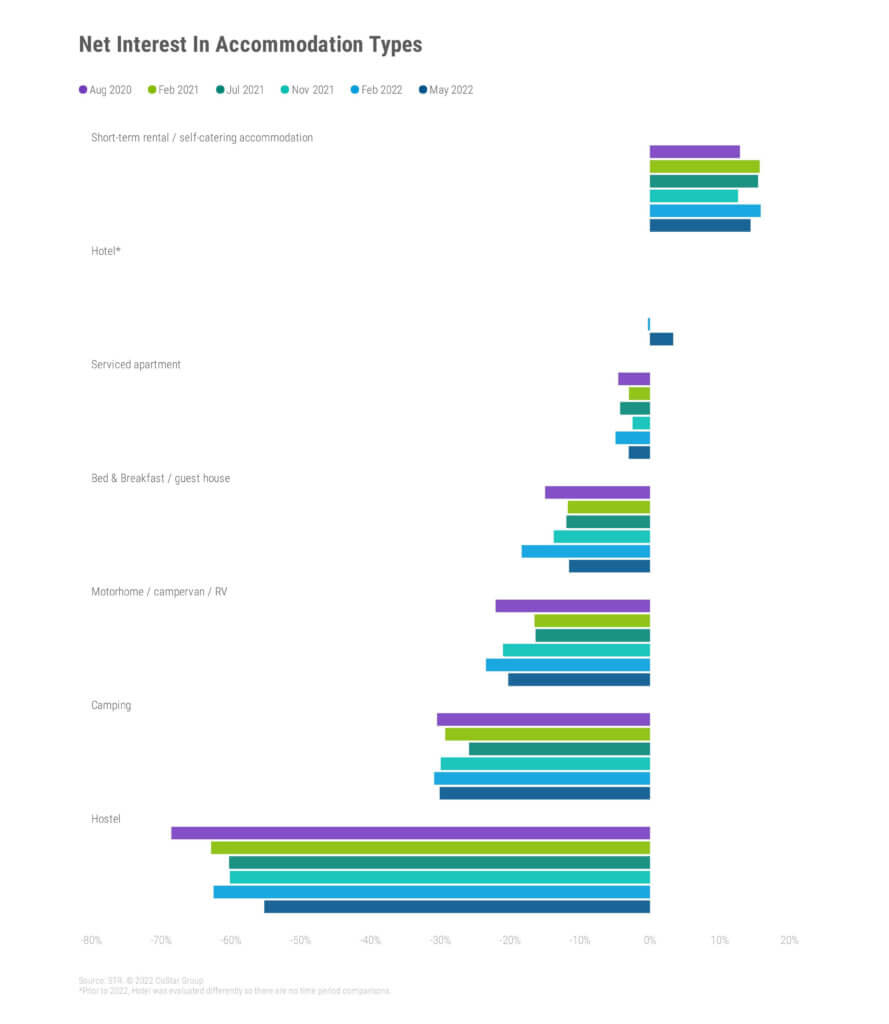 Hostels remain the least favorable accommodation type as 57% of respondents said they are less interested in this accommodation now than before COVID-19. Only 1% said they are more interested in hostels now. While this marked a significant negative net result of -55%, attitudes improved in this most recent survey as net interest was previously -60% or below.
On the other hand, short-term rentals continue to lead the way being perceived most positively in the current situation as consumers remain cautious regarding COVID-19.
Meanwhile, hotels are regaining popularity. Overall, consumers are slightly more interested in staying at hotels now than compared with before COVID-19. This positive finding supports STR's latest Market Recovery Monitor which shows continued hotel occupancy growth across the globe.
Consumers crave full-service and smaller hotels
During the pandemic, budget hotels generally were the least impacted as they maintained more of their existing business, including business travelers. Another hotel type which has outperformed others in recent years is the smaller property, fueled by consumers seeking the most socially distanced option when choosing accommodation.
There is a sense now that full-service and smaller hotels are positioned most strongly to benefit from a surge in demand for travel, while economy hotels may see a less sharp recovery path having not fallen as far during the pandemic. Around 30% of respondents stated that full-service and smaller hotels are more appealing in the current environment compared with before COVID-19. Similarly, 22% perceived upscale and luxury class hotels more positively now while only 14% indicated the same for economy and budget hotels. These findings suggest that consumers are continuing to value a sense of space, despite decreasing COVID-19 concerns, and that they are more experiential now as they want to make up for travel and leisure inactivity.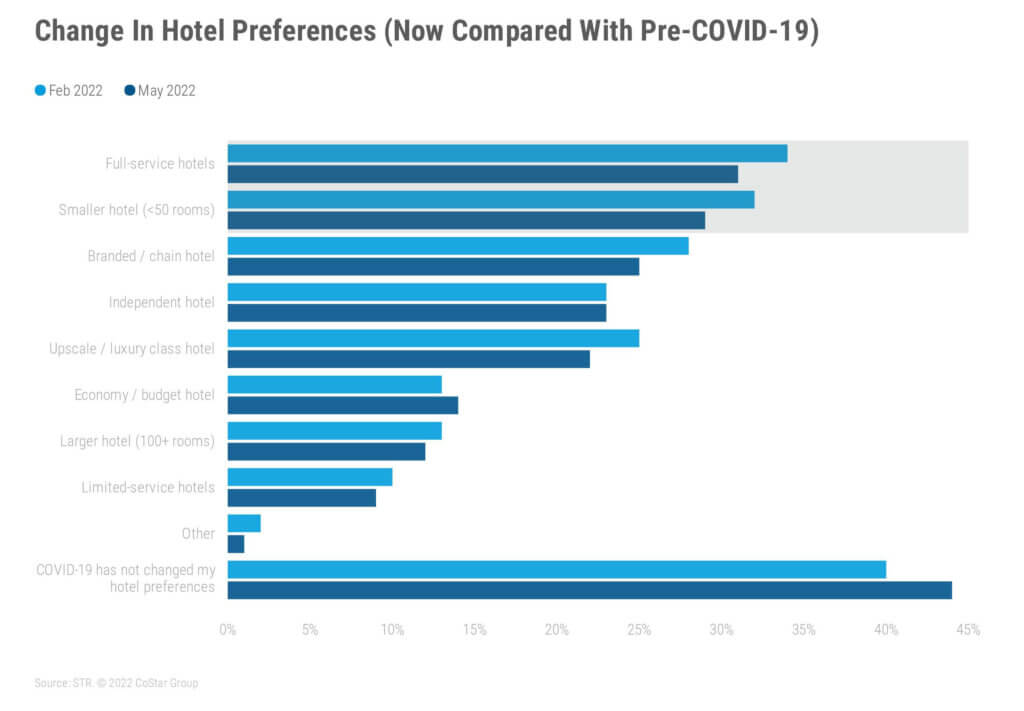 However, while different types of hotels are piquing interest among travelers due to COVID-19, there is evidence of a return to pre-pandemic attitudes. Views on all hotel types generally softened compared with the February 2022 findings. Meanwhile, more respondents indicated that their hotel preferences had not changed in May 2022 (44% compared with 40% in February).
A bellwether indicating a return to normality or, at least near normality, could be when a majority of consumers indicate that COVID-19 has not changed their hotel preferences. This result may even emerge in our next survey later in the year.
Cancel cancellation policies?
An aspect which has gained traction during the pandemic is cancellation and flexible booking policies. Interestingly, despite diminishing concerns and travel disruption linked to COVID-19, flexible bookings continue to remain popular. Similar to previous survey findings, around 60% of respondents agreed they would be willing to pay for flexibility with their accommodation booking.
A preference for flexibility may be an enduring outcome of the pandemic as consumers, some who were perhaps short-changed due to travel disruption and cancellations during the pandemic, seek an extra layer of protection in a new age of travel after COVID-19.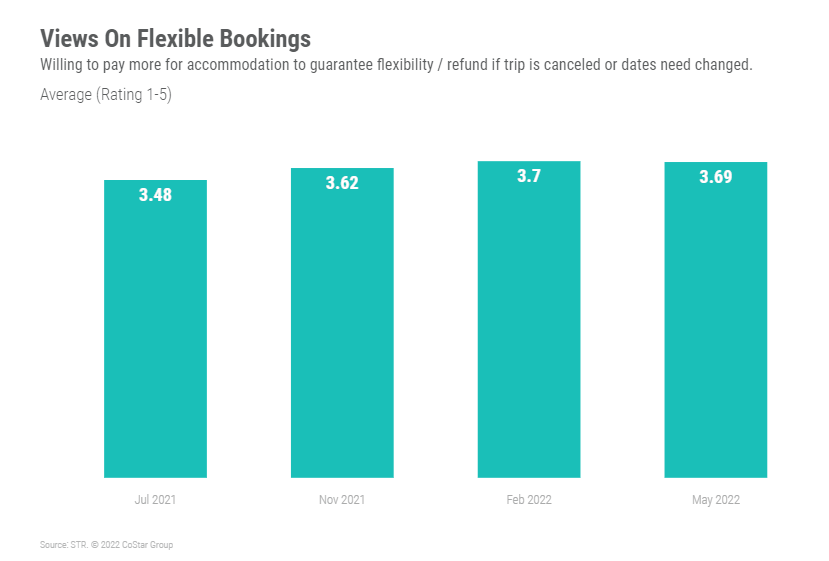 Improved attitudes towards all forms of accommodation seem likely in the future given the speed of recovery seen so far and strong underlying demand for travel. However, the extent to which views and behaviors will revert to those of before the pandemic remains unclear. COVID-19 may have irrevocably shifted preferences, which poses new opportunities as well as challenges for the industry.