They say that genius is in simplicity. This conventional wisdom has been proven true many times.
NB: This is an article from Oaky
However, you might be surprised to discover that it also holds true when it comes to upselling.
From our experience, we have learned that for many hoteliers starting with upselling doesn't seem easy and is viewed as something that requires a lot of time and effort. Let's dive in and see which upsells can help you achieve higher revenue targets and should be set up in the first place.
Subscribe to our weekly newsletter and stay up to date
1. Breakfast
As for most people having breakfast is the usual way to kick off the day, it is no wonder that this upselling deal is accountable for 29% of total ancillary revenue generated by our customers.
Tapping into your guests' expectations and preferences is key to making this deal successful.
For this, you have to research your target guest segments and be well aware of the type of food they will appreciate for breakfast.
Catering to business travellers? Provide healthy breakfast options, as business travellers might want to balance out the food they eat at airports or in meetings with clients. Is your hotel popular with families with kids? Then kid-friendly meals are a must.
As modern travellers are concerned about sustainability, establish connections with local vendors and give preference to locally grown ingredients. Working with local suppliers will decrease the shipping timing and costs and help reduce the carbon footprint. Make sure to add vegetarian and vegan options — this will not only help you highlight your thoughtful approach but will be beneficial for the environment as well.
Your guests will also be delighted to find breakfast deals with a pinch of creativity. Make sure to include a breakfast-in-bed deal or a unique breakfast experience (for example, floating breakfast in the pool) to help guests celebrate special occasions or just spoil themselves.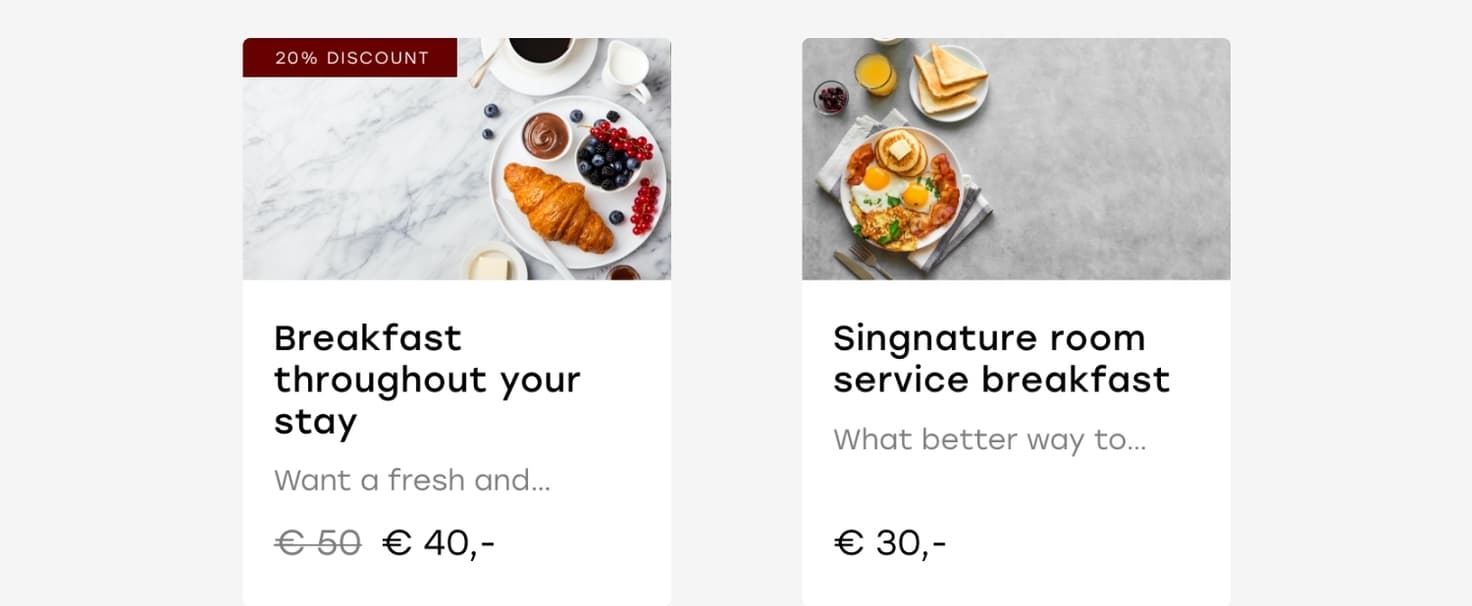 2. Parking
Travelling by car is still one of the most popular ways to explore the world. However, looking for an available parking space, especially in a new place, might turn into a headache for your guests.
If you manage or own a parking space or can make an arrangement with local parking nearby your hotel, you can include this deal as an ancillary service to your upselling deal selection. The opportunity to use a parking lot nearby will give guests peace of mind, as they won't have to stress about finding a secure place to leave their car.
Parking upselling deals are accountable for 16% of total ancillary revenue earned by our hotel customers. So don't miss out on your chance to ramp up your revenue by offering this sought-after service.