Delivering great guest experience leads to loyalty and while rewards systems, points and discounts can help they aren't the natural way to build guest loyalty.
At Experience Hotel we work with hundreds of hotels to help them with technology and tools to improve guest experience. We've worked with hotels for most of our professional lives and came to notice that hotel marketing works best when hotels deliver incredible service.
When we built Experience Hotel we did so because we saw a need on the market to improve the guest experience much much earlier than on arrival.
Guest experience begins right after booking and continues way after they've left the hotel.
We recently analysed over 100,000 hotel bookings to look at how guests travel, how they book, what they want and how that affects guest loyalty, the results were interesting.
With all that data we put together an infographic that you can download here. But we wanted to go over some of the information from the infographic to explain it in some detail.
Understanding the Guests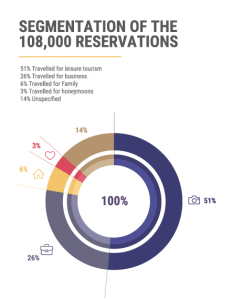 From the 108,000 reservations we analysed mainly to independent hotels or hotels of smaller chains in larger European cities, 51% travelled for leisure and 26% travelled for business.
What is interesting with the data is that of those 26% that travelled for business almost half of them booked using private email addresses (gmail, hotmail, yahoo etc). The chart has the exact figures.
The reason it's interesting is that many hotels use the professional emails as a way to know the guest better and know if they are coming for business or not. In this case there is no way to predict what kind of guests are staying at the hotel.
What we also found was that 30% of the profiles in the hotel's PMS lacked guest email addresses, which makes it quite difficult to communicate with them or even identify them on future reservations.