Today, the line between work and play is blurred. Freelancers and remote team members are no longer the only ones free to find a comfortable place to work, rest, and communicate.
NB: This is an article from Altexsoft
Even office employees can stay at home, rent a desk at a coworking space, or deposit themselves at a coffee shop booth if the company policy allows. In these circumstances, people are more likely to combine business and leisure when traveling. The chances they do so are even greater if they don't travel much during the year, aren't sure about having a decent vacation, or if they frequently work overtime.
Subscribe to our weekly newsletter and stay up to date
Really, it would be a crime not to spend a couple of days on a beach or wander an unknown city's streets after several days of negotiations. For others, it's tempting to sit at a desk with an ocean view. People who have a hard time choosing a future trip's goal while filling in the search form on Booking.com can call themselves bleisure travelers or workationers.
Business travel in the post-Covid era: Bleisure vs Workation
Bleisure is the travel trend of combining work commitments with entertainment. Having emerged around a decade ago, it continues to grow. Increasingly more people consider exploring new places while traveling for business. According to the survey by the education and research branch of the Global Business Travel Association (GBTA), 67 percent of North American business travelers thought it was important to add leisure to a trip in 2016. Thirty-seven percent of them did so.
The trend can bring new opportunities to the travel and hospitality industry. Such trips require more thorough planning. For instance, someone will have to find a suite available for both weekdays and weekends, read about the area to schedule leisure activities, and book tickets to get home. In this situation, travelers could use help from OTAs, hotels, and other travel providers.
But in 2020, both business and leisure travel nearly died. While there's no substitute for a Caribbean vacation, it turned out that you can easily replace in-person work meetings with Zoom calls, almost eradicating the need for in-person communication.
The newfound ability to enjoy a more flexible work policy allows people to reimagine what work should look like. And it's no longer sitting in your cubicle for eight hours. Buffer's 2021 survey revealed that 97.6 percent of people would like to work remotely for the rest of their lives! And almost 30 percent of them list the ability to work from any location as the biggest benefit.
This trend of freely deciding in which part of the world you want to work is called workation. It's not a new concept by any measure. It's similar to another trend of recent years – digital nomads – people working remotely from different countries and locations and combining travel with their tech jobs. In turn, having a workation means traveling for a longer period of time than a normal vacation would allow without taking a break from work.
According to Brian Chesky, the CEO of Airbnb, 20 percent of nights booked on the platform are for 28 days and longer – a huge increase since pre-pandemic times. They've also noticed that people are now traveling with pets and care more about the Wi-Fi in their accommodation.
Bleisure trips and workations are two sides of the same coin, but they're also completely different. Because people experiencing them have different motivations and expectations. While business travelers will take their spouse for an extended weekend in Las Vegas, workationers can bring their whole family to a vacation rental in a national park.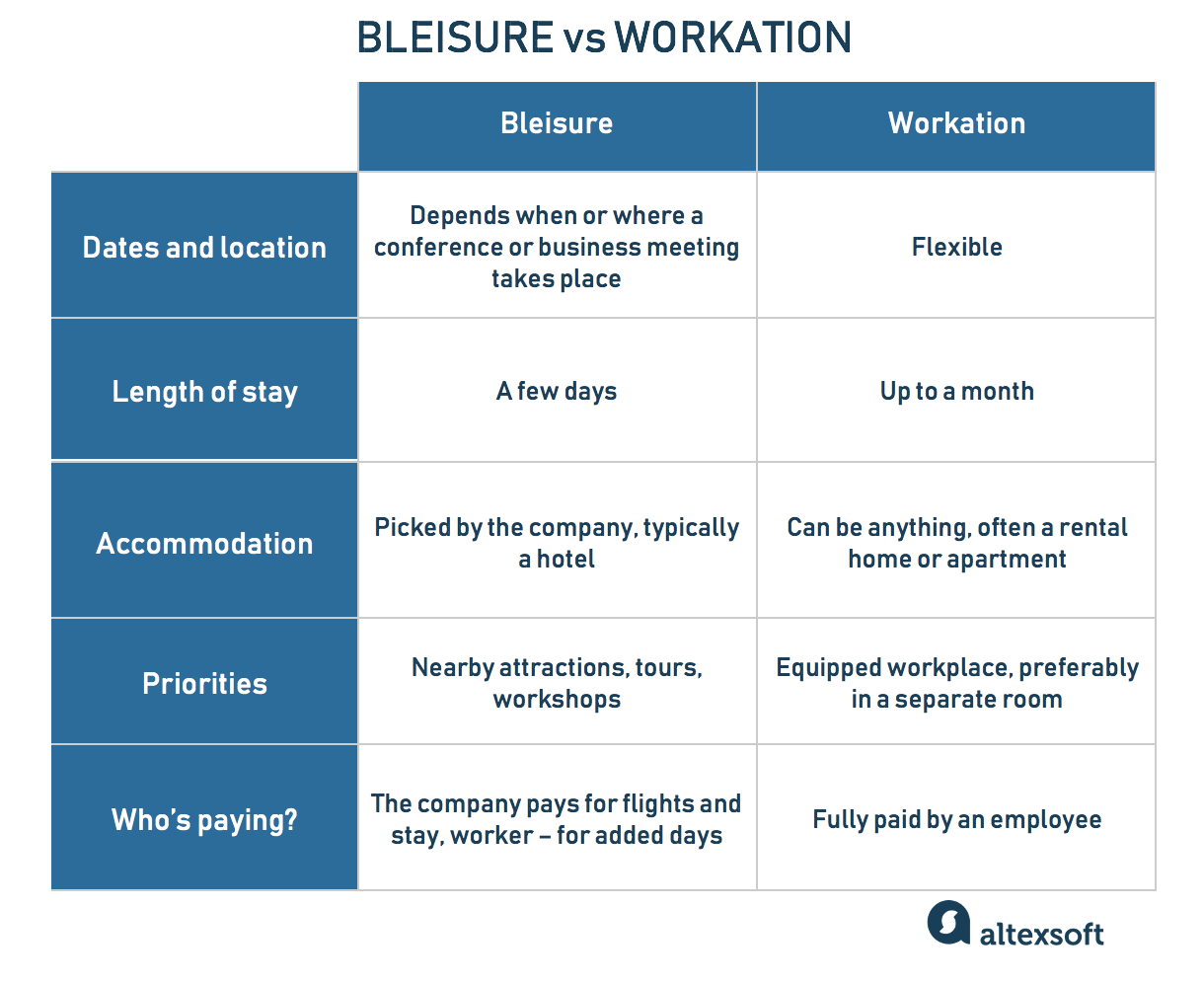 The differences between bleisure and workation travelers
A workationer is a new beast, so travel and hospitality organizations have yet to figure out how to effectively cater to them. In this article, we want to talk about who modern corporate travelers are and how hotels, OTAs, and tours and attraction businesses can address their needs.
1. Define business travel personas
To understand if business travelers are motivated to extend their trip with leisure or want to work in the vacation environment, you can analyze their behavior and the personal information they provide when looking for travel options. You can also rely on these complementary categories to offer a certain customer a deal he or she would likely accept.
Trip time frame. US specialists from Expedia Media Solutions and Luth Research conclude that a trip lasting three or more days is 30 percent more likely to turn into a leisure one. They also report those who arrive at the destination on Monday-Tuesday or Thursday-Friday usually extend their stay. The closer the trip is to the weekend, the higher the probability of making it a bleisure trip. These customers first book airline tickets and then look for accommodations.
Carlson Wagonlit Travel analysts underline that bleisure trips include "a Saturday night stay at destination either at the beginning or at the end of a trip, or both."
As for workationers, Airbnb's Brian Chesky notes that Mondays and Tuesdays have become the fastest-growing days of the week for travel, meaning that people start treating first days of the week as the extended weekends, afforded by remote work.
Destination and route length. Sixty-six percent of travelers agree that destination matters. If a business meeting takes place in a city included in a traveler's personal must-see list, he or she would likely extend a trip for a couple of days.
When traveling internationally and for long distances, people expect to immerse in a different culture. A higher bleisure rate for international (52 percent) over domestic (46 percent) trips proves bleisure attractiveness depends on a trip itinerary and an origin city. For instance, Londoners like visiting San Francisco (24 percent bleisure rate), and residents of the latter, in turn, enjoy the UK capital (23 percent bleisure).
The relationship between longer distances and higher bleisure rates applies to domestic trips as well. Keep in mind, some destinations are better for business, and the others are great for vacation. In the survey by Expedia and Luth Research, major cities are rated according to bleisure attractiveness.