Guest reviews form a major part of a hotel's online reputation along with your presence on digital media platforms.
NB: This is an article from eZee Absolute
In a world where everyone's a critic, reviews are the face of your hotel. While hotel review responses indicate your acceptance of the feedback you received.
Most importantly, with the increasing number of platforms to write reviews, it has become a trend these days to "check out" a property on platforms like TripAdvisor, Booking.com, even Facebook; before making a booking.
And even more so, many a times properties miss the fact that your hotel review responses are equally important for a better guest experience.
This blog will guide you on how to respond to hotel reviews, especially the negative ones. It also has free templates inside.
And we'll get there step by step. But let's start with basics first.
Online Hotel Reviews: How important are they?
Imagine running a hotel with no reviews. Guests come and go, no review recorded anywhere! You don't know how did they feel about the stay. What are they going to convey to people about your property?
Doesn't this sound like a half baked fortune cookie? 🤨
Needless to say, a guest review has a significant impact on how travellers book for their stay. Figures have it all:
A whopping 93% of people check hotel reviews before booking a room.
AND
33% of guests do not prefer to book a hotel with no reviews.
Isn't that huge? And isn't it enough for you to make all possible efforts in collecting and maintaining good reviews for your hotel?
In addition, there are a few other reasons why online hotel reviews are important for your property:
To improve your hotel's online ranking and visibility: In this era of content driven business, reviews add a lot of value to your hotel. Reviews also show up on top Google searches. This helps improve your hotel's rankings, brings awareness and visibility to your hotel. More visibility means more bookings and hence more revenue!
Know where you stand: Guest reviews can constantly improve your hotel's performance in terms of service, operations and management as well. Improve on the problem areas and work towards maintaining what guests are liking.
Reviews are everything: To say the least, reviews can make or mar a booking. Online reviews have a significant impact on people's booking decisions. Studies have shown that almost 70% of people's purchasing decisions are influenced by online reviews.
And moreover, a recent Barclays study also reveals there is an extra £3.2 billion to be earned over the next decade if the hotel sector becomes more attentive to online reviews.
With these reasons and figures, it's time to ask guests for reviews after their stay, as it adds value in terms of unique, interesting and helpful content around your brand.
Our blog on Hotel Reviews and Reputation Management will give you a detailed insight on how to maintain the reputation.
Types of hotel reviews you may get
We are sure you and your staff make all possible efforts to maintain a good reputation, but there are good days and bad days.
There are times when guests do not like the service, food, rooms or there might be other complaints in spite of your best attempts.
On the other hand, guests might appreciate your endeavors and give reviews out of will and joy. Let's see the type of reviews you may get:
Positive hotel reviews
Happy or positive hotel reviews are not a rare thing to happen. If your guests are happy, had a good time at your property, have had excellent service that has made their stay memorable; they'll go ahead and give you those 5-stars which you wait for.
Here's a positive hotel review sample: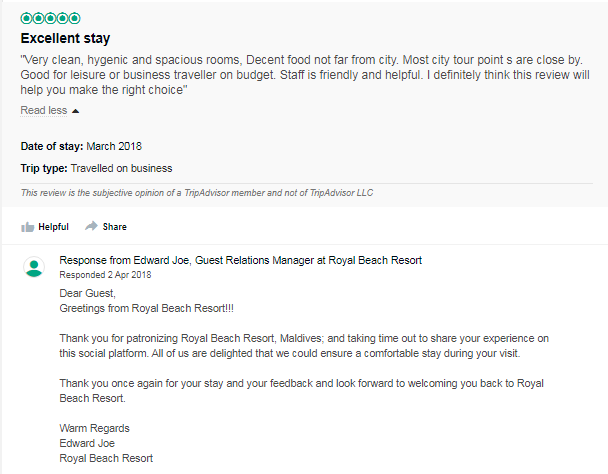 Neutral hotel reviews
Neutral reviews arise when guests are satisfied with one of your facility, but are not happy with another aspect. These guests do not wish to complaint strongly, but at the same time wish to bring their experience to everyone's notice.
Here's an example of a neutral hotel review: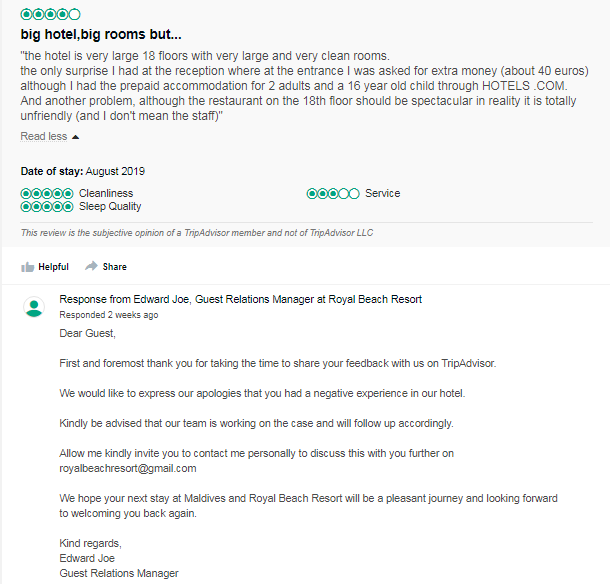 Negative hotel reviews
Whenever a guest has had a bad experience during his stay at your property, they express that in negative hotel reviews.
However, do keep this in mind. People giving negative hotel reviews are more active than those giving positive reviews. Because those guests would want to share their experience to the world as soon as possible. Afterall, you were not able to meet his expectations.
Most of the times, negative hotel reviews are genuine. But at other times, people might not be truthful about the negative reviews. What do you do in such cases?
Here's a genuine negative hotel review example: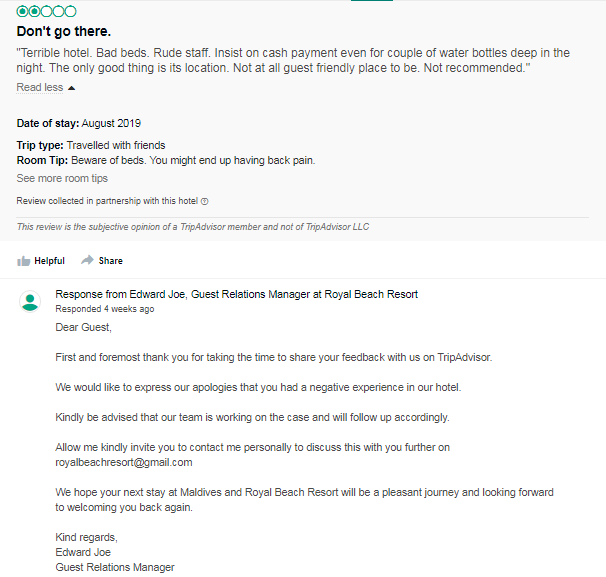 Negative hotel reviews are very sensitive, and responding to a negative review might pose as a whole new challenge.
Reviews matter a lot. But you should not let a fake, non genuine negative review affect your reputation.
Why do hotels get negative reviews?
There are a number of guests that visit your property and all of them have different requirements and expectations from your property. Of course there are shortcomings, but not all guests overlook those small things.
That is to say, you might be able to satisfy some, and few might not be happy with what your property had to offer to them.
This is the main reason, along with few others mentioned here; why, in spite of all your efforts, there are negative reviews:
Delay in check-in/check-out or other services
Improper (unclean) rooms and housekeeping
Staff's mistakes (complaints about staff behaviour)
Maintenance issues/complaints
Additional charges or billing errors
Bad customer experience in general
There might be more reasons for a negative review. You need to figure out the reason of a bad hotel review when you read them and respond to them accordingly.
Reviews are like a mirror of your property. That's why it is important to get more number of good reviews which also act as a driving force behind your future bookers' decision to stay with you.
Why should hotels respond to reviews?
As a matter of fact, reviews when published are open and public for the world to see and act on. A study says that:
A difference of 1 star in the ratings can result in 9% difference in revenue.

CONVERT WITH CONTENT
Therefore, your hotel review responses will not only show your credibility, but also indicate your acceptance towards the feedback you get.
Here are a few more reasons on why you should respond to hotel reviews:
To show that you have a great customer service: Replying to a review shows that you are listening and you care about your guests. The social world we are living in demands to be heard and to be responded to. Guests are more likely to visit and book your property if they see your responses on reviews.
To build a relationship and maintain reputation: Because you responded, you are now registered in the mind of a future guest. Besides, you also have the opportunity to build a relation and increase the chances of that guest coming back to your hotel or recommending your hotel to his friends and family.
To change the perception of reviewers: When you respond to a negative review which is fake and stand for yourself, you change the mindset of people reading the review. In this way, they get more inclined towards booking your property.
To gain insights: When responding to a negative review, you have a great chance to gain insight from the interaction with the guest. If the problem mentioned by the guest is true, you have a chance to dig deeper, take the conversation offline and fix the problem so that future guests do not have to face the same thing.
A review once posted publicly cannot be undone. Yes, it can be edited on some platforms, but deletion might not be possible.
So, the ideal way to let the guests know what went wrong or what can be improved in the future is to respond to a hotel review in the best possible way.
How should you draft your hotel review responses?
The importance of writing a response is pretty much evident by now. Each portal has guidelines, decorum and good behaviour norms that should be adhered to while writing a response.
Positive hotel review responses might be easier and straightforward to draft. But as I mentioned previously, responding to negative hotel reviews is a tougher nut to crack.
And firstly, most of the hotels ask this one question very frequently:
How to respond to a negative hotel review? OR How can I reply to negative TripAdvisor reviews?
And why not. Negative hotel reviews not only show your property in a bad light, but also influence your future guests to not book with you. For this reason, before anything else, negative hotel review responses should be mandatory in your list.
So let's focus on that first.
How to respond to a negative hotel review?
While responding to a negative hotel review, or in fact any kind of your hotel reviews online, you need to follow certain guidelines.
I mean, you cannot just respond to all the reviews in the same way. Because each guest is going to talk about something different or the other. One may point out the perfect location of your property, and the other may highlight your staff's unattentiveness.
Accordingly, we've drafted an ideal hotel review response formula, which can be primarily used to respond to your negative reviews. Here you go: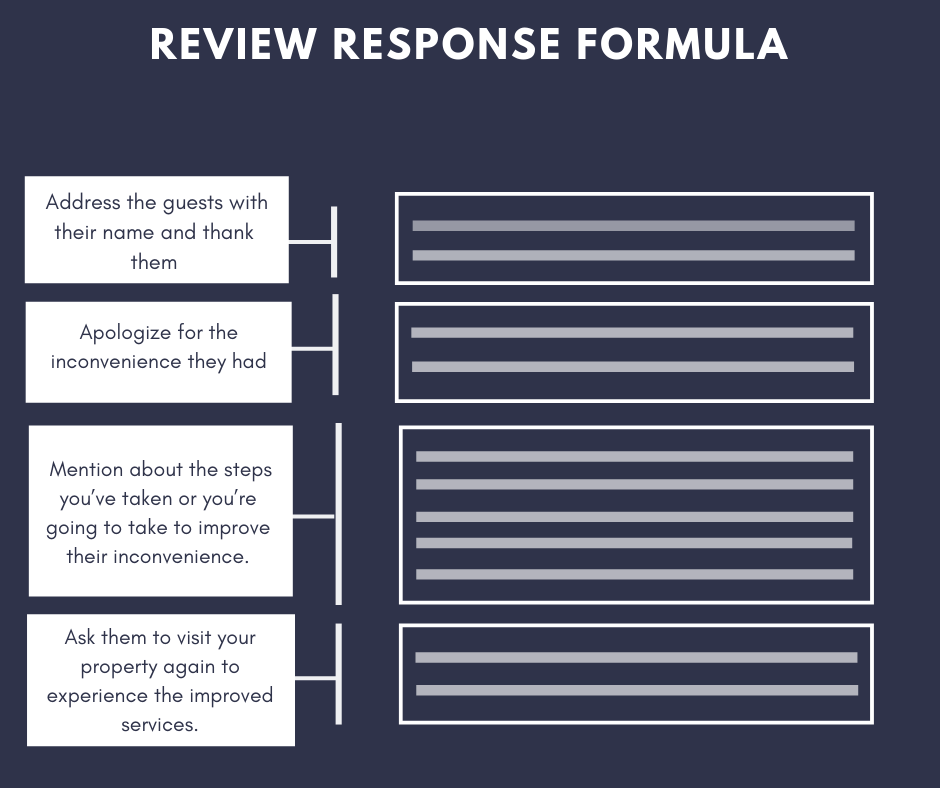 Besides this, I've got some additional tips to draft effective hotel review responses:
Tip 1: When you offer a solution to the problem, take those conversations into a private space. Contact them directly if you can, or ask them to email you.
Tip 2: Your entire response should be written in a respectful tone. It should NOT sound rude to the guests.
Tip 3: See if you can have your hotel's guest relations manager or general manager respond to your reviews. This will leave a better impact on the guest and viewers.
Now let's come back to a positive and neutral hotel review.
How to respond to neutral and positive hotel reviews?
Unlike negative reviews, responding to a positive hotel review is most of the times simple and straightforward.
So, you'd want to thank the guest for giving you a positive feedback, and even welcome him back at your hotel at the same time.
And neutral hotel reviews, well these kind of reviews are a mix of positive and negative. You know, those with 3 – 4 ratings where you are confused whether to thank him for the good things he said or apologize for the experience he had.
How should an ideal hotel review response be?
An ideal review reply should contain everything that you want to tell your guest.
Our free templates to hotel review responses will help you immensely in writing response on any of the portals viz. TripAdvisor, Google, Booking.com, Facebook, anywhere.
These templates are made for a go-to use and are hassle free so that you can reply quickly to all the reviews you receive online.
Let's see an example. Say you get a negative hotel review as below:
Disappointing experience
The Hotel Manager is extremely rude. The facilities inside the room are horrible. Even the appliances don't work properly. I will never come to this hotel any more and will advise everyone not to commit the mistake of choosing this hotel for staying - you will repent.
In our hotel review response templates, you'll find the best ways to respond to these and mostly all kinds of reviews you get.
Using the negative review response template in our document, the response to the above review can go like:
Hi Guest, 

Thank you very much for making time to give us feedback. We're really sorry for the inconvenience you had. We have addressed this straight away to our staff and escalated it to the management for immediate action; to ensure that this incident is not repeated again. At present we're taking steps to upgrade our room facilities, and also implementing utmost care in our appliance maintenance. We'd like to invite you again at our hotel and experience the improved stay. If you have any further concerns, please share it with us at: grievances@royalbeachresort.com. Your feedbacks and suggestions are always welcome.

Hoping to see you soon!

Regards,
Edward Joe
Royal Beach Resort
We're sure, these free hotel review reply samples will answer all your questions viz.
How to respond to reviews on TripAdvisor?
How can I effectively respond to hotel reviews on Google?
Our templates will work for any platform, may it be TripAdvisor, Google, Facebook, the OTAs you are listed on.
Above all, as there is an abundance of platforms to write reviews on, you might loose a track to reply to reviews everywhere. A lot of hotels these days use review management software to track their online reviews and respond to them quickly.
Some systems also have an option to save your templates, and use them to automatically respond to reviews with minor edits.
Questions while writing hotel review responses?
We have gathered and addressed a few frequently asked questions by our customers which they encounter while responding to reviews.
They might be of help to you as well. Let us know in the comment section below if you have more such questions in your mind. We will be happy to answer.
Q. Should I respond to all the negative reviews?
A. If possible, yes. You should try to respond to all the negative hotel reviews. It gives credibility to your hotel.
Q. How do I even know if a review is negative?
A. A negative review has criticism about your property, your staff behaviour, services, low ratings, etc. Look for negative words, ratings lesser than average and treat it as a negative review. Then respond accordingly.
Q. Should I wait to respond or should I respond immediately to a negative review?
A. You should respond to a negative review as quickly as possible. Take some time to analyse "what went wrong" and then respond within 24-48 hours. This allows you to quickly fix any hurt relationships with the guest as well as reduce the number of potential future guests that read the negative review without your response.
Q. Can I flag reviews as inappropriate?
A. Sometimes bad hotel review is not genuine. They might be from your competitor hotels, ex employees, might be posted to a wrong location and were not meant for you at all. In this case, you can mark the review inappropriate and the portal can remove the review after some investigations. 
Q. Should I respond to positive reviews at all?
A. Yes. Your future guests are seeing them. And besides, your current guests may come back at your property. On seeing your response, they understand that you value them even after they check out.
In conclusion
Reviews give a picture of your property to future guests and your responses to those reviews build a good reputation and trust in your property.
So, while your hotel review responses would be great, but it is equally important for you to ask humbly for reviews when customers check-out.
Give them the best possible service so that you have to deal with less of negative reviews. A good review is the best way to do a word of mouth publicity for your property.
Take tips from a negative hotel review to improve your services and experience they get.
Use our free template which contains positive, neutral and negative hotel review examples for you to use.