The Travel Industry Toes the Line Between Using Data to Its Full Potential to Create Customer Experiences and Safeguarding That Data to Preserve Customer Trust.
NB: This is an article from Adobe
Travel is, and always has been, about the experience — it's why concierge desks exist, hot towels are handed out on intercontinental flights, and chocolates are placed on pillows. In today's digital age, travel companies have more powerful tools than ever before to deliver truly standout customer experiences.
The travel industry is, thus, at a crossroads of digital self-discovery. Customers expect digitally enhanced, personalized travel experiences — whether they're browsing targeted content as they plan, receiving customized mobile offers from their hotel mid-stay, or posting trip photos for social media to salivate over.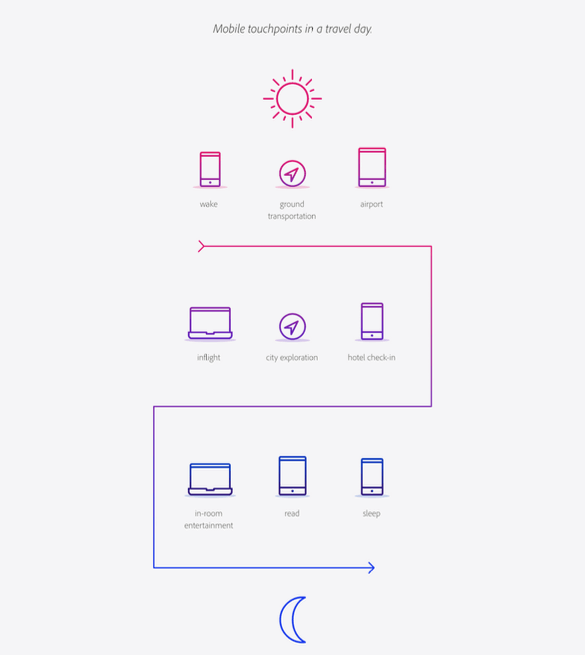 Savvy travel companies are leaning on data-driven insights to power the unified digital foundations that can support the customer experience, and data and security go hand in hand to bring this to life. Although security is far from glamorous, the capabilities data unlocks for travel brands enable the opportunity to delightfully surprise throughout the entire guest journey.
Qantas Airlines, for instance, gathers information on each one of its customers, their preferences, their flight histories, and their frequent-flier data. Then, it shares that information with its flight attendants, so they can positively personalize each passenger's flight experience as much as possible.
In another example, Marriott Hotels has established a series of "predictable data points" for each of its guests, searching for ways it can improve everyone's stay. The data anticipates simple touches — such as anticipating how a guest takes his or her coffee or remembering that he or she always arrives on a redeye flight and would appreciate an early check-in.
These brands are putting troves of data to brilliant use, but any digital asset is only as good as it is secure. To drive a great customer experience, these brands must maintain sensitive and personal data about travelers who are placing their trust in the brands who collect this data. While most customers don't care how their profiles, payments, and room-service proclivities remain secure, they absolutely expect it to be secure throughout their digitally enabled experiences.
This leaves the travel industry toeing the line between using data to its full potential to create customer experiences and safeguarding that data to preserve customer trust. Insecure data puts companies' reputations at risk — and, according to IBM, the average cost of a data breach in 2016 was $4 million.
The burden is, thus, on travel companies to stay abreast of data-security standards to limit the impact of a breach. Travel companies should be able to identify requirements specific to online booking, payment compliance (Payment Card Industry Data Security Standards), and customer profile information. The industry is a particular hotbed of credit card fraud — a recent study found that 38 percent of data-breach attacks were aimed at hotels.
Large organizations with expansive marketing programs need to align resources for security programs and personnel that can monitor and protect both customers and intellectual properties.
The great news is that a strong digital foundation lends itself well to data security. Brands with unified platforms are off to strong starts when it comes to reducing risks over time. Content and information can then be updated or modified across all channels, within moments, and at scale — allowing speedier go-to-market delivery and eliminating IT and developer resources.
Travel brands playing host to sensitive data should also have weekly risk-management assessments to determine where improvements might be needed. They can prioritize compliance initiatives, find ways to minimize potential downtime for services, and keep communication lines open with customers regarding risks and prevention measures.
If travel brands chart paths to digital-marketing greatness, using smart platforms with security measures that stay one step ahead, they're poised to do what they really do best. They can smooth the blistery pain points of travel and dish up jaw-dropping moments that would do the most discerning concierges proud — and, they can do it all while upholding customers' confidence and trust. Because that's what hospitality's all about.